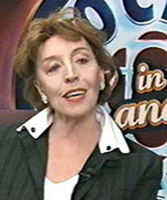 How much is a song worth? Hockey fans from coast to coast obsessed over the question last week. They extolled and excoriated the theme from CBC's Hockey Night in Canada. They found it priceless and worthless.
One Globe and Mail story on the subject has 500 comments. Canadians invoked everything from the New Coke to the humanitarian crisis in Darfur in making their case. "The HNIC theme makes me vomit. Replace it with 'Battery' by Metallica," wrote "Green Milos." Okay, so Canada's other national anthem, the song that sends chills up Wayne Gretzky's spine, isn't everybody's hockey song.
How much is respect worth? Somewhat lost in the debate over the song's monetary and symbolic value is the CBC's long-standing ungraciousness in dealing with the composer of the theme, Vancouver-born Dolores Claman.
Elderly composer wanted 'respect'
The 80-year-old composer, who now lives in London, England, and wrote the song as a jingle in 1968, allowed her agent, John Ciccone of Toronto's Copyright Music and Visuals, to represent her as the controversy heated up. But when CTV bought all rights to the theme on June 9 for an amount that may have approached $3 million, Claman offered this in a brief written statement: "CTV displayed a tremendous amount of respect for my family and the song."
Dolores Claman has been looking for respect from the CBC for a long time. Twenty years ago, not long after complex changes in rights began to earn her royalties for the song, there was another controversy. She wanted a credit at the end of the broadcast. You know, "Theme Song: Dolores Claman." Even though the federal government had just introduced a law requiring such credits, CBC refused to add her name to the long list of gaffers and knob-twiddlers. "People forget it was written," Claman told the Georgia Straight's Maja Grip at the time. "They think it just growed like Topsy."
Media coverage changed CBC's tune, but Ciccone told The Tyee the CBC continued to regularly omit Claman's name when it ran full credits, despite a contract that required it. "They give credit to catering. Everybody but Dolores. It's insane."
Birth of a law suit
Ciccone also says CBC failed for years to provide a requested accounting of numerous uses of the song outside the terms of their contract. That prompted Claman to sue the CBC in 2004 for $2.5 million. The statement of claim, which also alleges that CBC interfered in Claman's efforts to sell the theme as a ring tone, gives a pretty good idea of the cloud that, according to the CBC, hung uncomfortably over the negotiations.
CBC, of course, blames the other side. CBC Sports executive director Scott Moore told CBC on June 5 that he thought there was a deal, and that Ciccone wouldn't communicate with them. Ciccone's website, HockeyTheme.com, provides a compelling alternative version of events.
Claman's daughter lashes CBC
On June 10, Claman's daughter Madeleine Morris, once a Vancouver alt-rock singer now living in Vietnam, posted a broadside on the Internet that also suggests the issue is mainly one of respect. "They kept bullying us, telling us the song was worthless, threatening to drop the song altogether if we didn't give them exactly what they wanted, absolutely on their terms," Morris wrote in the blog post In Response. "If not, they'd hold a national contest and replace the song.... No matter what they say publicly, they really, clearly, didn't give a shit about the theme. Their only concern was they should not be seen to be the villains in getting rid of it."
Morris said Claman became a convenient scapegoat. "My mother was so depressed, she just said 'No, they don't really want the song. It's better at least if it dies a dignified death.' "
Claman shouldn't be too depressed. The song has certainly garnered her a handsome income, now and in the recent past. She was paid $500 per game broadcast, and there are a lot of them. Moore described the licensing deal as the most generous in the country. CBC said Claman made $65,000 from the song last year. One Internet wag said the publicly owned CBC shouldn't "give some old bag more of our money."
Saving taxpayers' dollars?
Certainly the CBC has won some friends for taking a hard line with the "demanding" Claman. A Vancouver Sun editorial praised the CBC's economy. Many agreed with the CBC's contention that the song would have little value without Hockey Night in Canada.
Ciccone won't disclose the numbers, but he said his negotiations with the CBC were based on industry standards that suggest all rights to a song are worth 13 times its recent average annual income. Add to the CBC payments revenue from sheet music (it's topped the sales charts), ring tone downloads (which once exceeded 18,000 in a single month from Bell and Telus alone, says Ciccone), and other sources, and a figure in the millions for all rights suddenly doesn't seem so out of line. What's more, Ciccone believes the CBC could have recouped the cost of buying the song through collecting fees, once it owned the new rights.
CBC Sports regularly operates in the realm of millions -- Globe sports business guy William Houston pegs Ron McLean's annual HNIC income at $600,000 and Don Cherry's at $900,000 -- but according to Morris and Ciccone, it hardly came down to that kind of dough.
They say, as a last-ditch effort, they offered to drop the lawsuit and simply extend the terms of the existing contract if CBC would cover Claman's legal expenses. But, they say, CBC rejected their offer.
Instead, CBC announced a $100,000 contest to replace the theme. Then they declared that they had hired a sports lawyer to try and mediate a settlement.
That came way too late.
CTV's promise to Claman
Ciccone says CBC's all-rights offer, which CBC Sports executive director Scott Moore pegged in the "high six figures," was "less than a third of what anyone else offered us." He says CBC negotiators told him no one would care if they dropped the song, and that a CBC lawyer once told him "I could give a kid in his basement with a synthesizer $20,000 and own the song for life."
Not something that a composer of the caliber of Dolores Claman, who was granted free tuition at Julliard and wrote music for an Oscar-winning short film, likes to hear.
"When CTV made an offer," wrote Morris, "they promised that they'd use the song, and they'd use it in association with Canadian hockey. Of all the things, this mattered most to my mother....
"To a composer, their music is like their baby -- they don't want to see it buried, or forgotten, or sidelined. And my mother, being a rather strong woman, just wasn't willing to be bullied and threatened any more. A lot of people are going to call her greedy and opportunistic. Well, they just don't know her at all.... Life, and people, are a lot more complex than that."
Hard hit for Hockey Night?
Now, of course, it doesn't matter what the song is actually worth. There are issues besides whether Moore or Ciccone is telling the truth.
For example, how much damage has CBC done to its Saturday night hockey franchise? Is it true, as Scott Moore said, that everything beyond the game itself on Hockey Night in Canada "is just window dressing"? How do Don Cherry's suits feel about that? Will the new theme be as unbelievably awful as the alternative that the HNIC window-dressers briefly used a few years ago? Does anyone in English Canada even care that the theme is being returned after a four-year absence to francophone Quebec, where French broadcast rights are held by CTV affiliate RDS?
And then there's the big question: is this another step toward the end for Hockey Night in Canada? CBC and its audiences remain hopelessly conflicted about the place sports should take with our national broadcaster in this era of netcasting and ceaseless reruns of classic NHL games on channel 118. Foster Hewitt is dead. Danny Gallivan ("and Lapointe will be playing another visitation to the box of punition") is just a wonderfully anachronistic memory.
Will the new song contest be another failed CBC excursion into the realm of reality TV? Will the nostalgia that many Canadians still feel for Hockey Night in Canada turn to annoyance if the new theme is performed by Nickelback? Will hearing Claman's iconic music on TSN and CTV make it easier for English Canadians to detach themselves from CBC's Hockey Night in Canada tradition -- and for CBC to write off sports entirely?
I think so. I agree with the guy whose post on the Globe and Mail website said Hockey Night in Canada is a brand that depends on its symbols. "If a brand intentionally loses its symbols, the owners have lost their marbles."
Related Tyee stories: