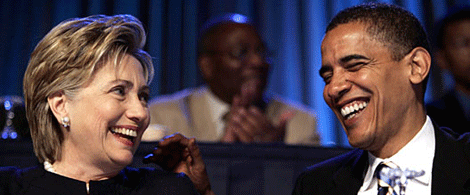 [Editor's note: The Tyee's popular Trendwatch feature will have a new byline. Replacing Angus Reid is Mario Canseco, director of global studies at Angus Reid Global Monitor. "We look at hundreds of polls a week to create the ARGM database. I have not missed a day of updates since Mar. 26, 2003. My goal is to catch Cal Ripken Jr. (2,632 consecutive days in my case, games in his) before officially taking a day off," says Canseco, who graduated from the UBC School of Journalism in 2002 and has worked at CTV and with famed journalist Peter C. Newman. Canseco brings a revised yet still brief format to Trendwatch, including more analysis.]
Next year's United States presidential election will be the first one since 1952 to have neither an incumbent nor a current or former vice-president on either of the two main tickets -- unless Al Gore suddenly decides to run again.
As of now, national polls place New York Senator Hillary Rodham Clinton as the favourite candidate for Democrats, followed by Illinois Senator Barack Obama and former North Carolina senator John Edwards. On the Republican side, actor and former Tennessee senator Fred Thompson is almost even with former New York City mayor Rudy Giuliani, with Arizona Senator John McCain and former Massachusetts governor Mitt Romney further back.
When it comes to seeking America's highest office, any candidate who isn't a Christian white male is trying to break the mould. But this race offers more than a few such contenders. So which is the biggest "negative," being a woman, black, of Mexican descent ... or Mormon?
Hillary Clinton's gender, Barack Obama's race
A question that has been featured extensively by pollsters -- particularly with the high level of support for Rodham Clinton -- is about the possibility of a woman becoming the head of state. In a Siena Research Institute survey conducted in February, two-third of Americans said their country is ready for a female president.
Obama, the son of a white mother and a black father, is seeking to become the first African-American to be nominated for president by either of the two main parties. In a January survey by Rasmussen Reports, 79 per cent of respondents said they would be willing to vote for an African American president.
It could be argued that these responses represent a "politically correct" way of answering a poll, and that -- faced with a woman or an African American in the ballot -- many Americans would react differently than when responding to a survey. Still, when it comes to other characteristics, the rejection levels are particularly high.
Bill Richardson's ethnicity, John McCain's age
New Mexico Governor Bill Richardson, the son of a Mexican mother, is seeking the Democratic presidential nomination. In a July poll by Princeton Survey Research Associates published in Newsweek, 48 per cent of respondents said the U.S. is not ready for a Hispanic president.
In a February 2007 poll by TNS released by the Washington Post and ABC News, 58 per cent of respondents said they are less likely to vote for a presidential candidate who is over age 72. McCain would be 72 when Americans head to the voting stations in November 2008.
In a May poll by Scripps Howard News Service and Ohio University, respondents were almost equally divided over supporting a presidential candidate who has been married three times, with 46 per cent thinking the U.S. would accept such a contender, and 44 per cent saying it would not. Giuliani married his third wife, Judith Nathan, in 2003.
Mitt Romney's Mormonism: better than Godless
Still, the biggest controversy has nothing to do with gender, age, ethnicity or number of marriages. Late last year, only 38 per cent of respondents to a Rasmussen Reports poll said they would consider voting for a Mormon presidential candidate. Romney, who has been successful in early voting intention surveys conducted in Iowa and New Hampshire, is a member of the Church of Jesus Christ of Latter-day Saints.
Still, none of them are professed atheists. In an August study by the Pew Research Center for the People and the Press, 61 per cent of respondents said they would be less likely to support a presidential contender who does not believe in God, and 45 per cent feel the same way about a Muslim.