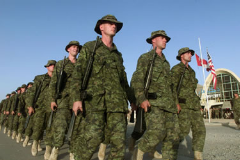 [Editor's note: This is the second in a new series sharing with you the global scan of Angus Reid Consultants, the Vancouver-based leaders in public opinion analysis. TrendWatch columns will offer quick, concise context for developing stories in BC and beyond.]
Prime Minister Stephen Harper is back from Afghanistan and his trip may not have been as successful as he had hoped. But while Canadians' support for the mission slipped, it's still strong. Despite Canada's shift from a peacekeeping to a combatant role, 70 percent of respondents say they perceive Canada's role to be the former. Does that account for the support? And what do Afghans and other nationalities think about the war on terror in Afghanistan?
In Canada
Before Harper's trip: 70 percent supported the involvement of the Canadian Forces in the peace-support operation. Click here for more.
After Harper's trip: 55 percent support a Canadian presence in Afghanistan. Click here for more.
In Afghanistan
83 percent of Afghans think things in the country are going in the right direction, 70 percent rate the security situation in their area as excellent or good. Click here for more.
57 per cent of Afghans say economic conditions are getting better. In the global poll, Afghanistan is fifth (after Canada, India, Finland and South Africa). Click here for more.
41 percent of Afghans see the Taliban as the biggest threat, followed by drug traffickers, local commanders and the United States. Click here for more.
Elsewhere
In Australia - 45 percent support Australia's involvement in Afghanistan and 48 percent are opposed. Click here for more.
In the Netherlands - 45 percent oppose the deployment of more Dutch troops to Afghanistan. (The government deployed them anyway). Click here for more.
TrendWatch will run twice monthly on The Tyee.