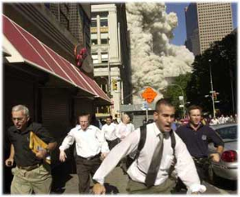 [Editor's note: This is the latest in a Tyee series sharing with you the global scan of Angus Reid Consultants, the Vancouver-based leaders in public opinion analysis. TrendWatch columns offer quick, concise context for developing stories in BC and beyond.]
The tussle between Canadian and U.S. officials over how much identification to require at our shared border raises the broader question of how much faith people have in governments' ability to prevent terror attacks. And how much people are willing to change their lives to accommodate security measures. Some views at home and abroad.
HOW LIKELY AN ATTACK?
In Canada last year, 38 percent of Canadians thought an attack inside the country was more likely due to the fact that Canada has troops in Afghanistan. For more, click here.
In the United States, two-thirds of Americans expect a new terrorist attack before the end of this year. Also, the satisfaction with the way the Bush administration has acted in preventing an attack has dropped from 62 percent in September 2004, to 52 percent this year. For more, click here.
In Russia, after years of fighting Chechen rebels, and several deadly incidents, 44 percent of Russians expect a terrorist attack in their area. A controversial regulation that allows the military to shoot down hijacked passenger planes is supported by just 26 percent. For more, click here.
In Spain, two years after the Madrid bombings blamed on an Islamic group, more than half of all Spaniards believe a similar attack could take place again. The government is currently in the early stages of negotiations with the armed group Basque Motherland and Liberty (ETA), which has killed more than 840 people since 1959, in its fight for an independent Basque country. For more, click here.
In Italy, which backed the military operations in both Iraq and Afghanistan, a poll taken last July after the London subway bombing showed four out of five residents had worries about terrorism. For more, click here.
In France, where President Jacques Chirac enjoyed a surge in popularity after refusing to support the coalition effort, the terrorist threat was deemed high by 55 percent of respondents. For more, click here.
In The Netherlands, which has had its share of controversies over the integration of foreign-born citizens and the assassination of filmmaker Theo Van Gogh, 51 percent expected an act of terrorism. For more click here.
In Austria, terrorism barely registered on the radar screen. Only 18 percent of Austrians were worried about an attack. For more click here.
HOW TO DEAL WITH AN ATTACK?
In Canada last year, almost six in ten Canadians thought all levels of government, as well as police, emergency and medical personnel were inadequately prepared to deal with a terrorist attack in a Canadian city. For more click here.
In the United States, The Patriot Act, a policy that enables the federal government to gather information on suspected terrorists through court-ordered wiretaps and searches, is still supported by a majority of Americans. For more click here.
In Britain, The Anti-Terrorism Law designed by the Labour government after the July 2005 attacks in London was revised in the House of Commons, to allow for a 28-day detention period for suspected terrorists instead of the 90-day period sought by British Prime Minister Tony Blair. The public is almost equally split on the issue. For more click here.
THE I.D. CARD DEBATE
In Australia, most believe issuing an identity card would be a good idea. The plan is expected to be introduced later this year, as Prime Minister John Howard currently holds a majority in both the House of Representatives and the Senate. For more click here.
In the United States, uniform guidelines for driver's licenses became a reality in December 2004, but a national ID card has not been approved. Fifty percent of Americans would support the idea. For more click here.
In Britain, people are mostly supportive of the identity card scheme, but 63 percent believe it will not reduce the chances of a new terrorist attack in their country. For more click here.
TrendWatch runs twice monthly on The Tyee.