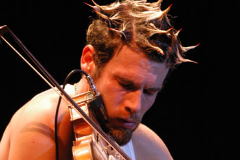 [Editor's note: This is the third in a new Tyee series sharing with you the global scan of Angus Reid Consultants, the Vancouver-based leaders in public opinion analysis. TrendWatch columns offer quick, concise context for developing stories in BC and beyond.]
What do Canadians want in a leader? It's no small question, given the range of currently announced and un-announced candidates for the Liberal leadership, including border-hopping intellectual Michael Ignatieff, wealthy businesswoman Belinda Stronach, hockey great Ken Dryden, and (fill in your own descriptor) fiddler Ashley MacIsaac.
And do Canadians look for qualities in leaders different from people in other cultures? Well, somewhat. But a couple of traits seem to have universal appeal: honesty and the common touch.
In Canada, the first item on the list is "the common touch" with 29 percent, followed by being a great communicator with 25 percent. Other traits, such as decisiveness, intellect and bilingualism, rank lower. Click here for more information.
In Finland, voters where asked to rate the character of their three main presidential candidates. Incumbent Tarja Halonen, who eventually won in a run-off, came in first as being "humane with an understanding of the everyday life of people." Click here for more information.
In Russia, respondents to a survey were given a choice: a strong and independent leader, or a person who would govern in collaboration with other public bodies. 51 percent chose the first option. Vladimir Putin's presidential term expires in 2008. Click here for more information.
In Mexico, voters will choose a new head of state in July. A long wishlist of traits for Vicente Fox's replacement is headed by honesty, keeping promises and supporting the people. Click here for more information.
In Brazil, voters will elect a new president in October, with incumbent Luiz Inacio Lula da Silva expected to seek re-election. Almost a third of respondents demand a leader with a good moral standing. Some of Lula's collaborators have been affected by a corruption scandal, but he has emerged unscathed. Click here for more information.
In Peru, voters clearly prefer honesty over solving problems and 31 percent would welcome a political neophyte into the presidential office. Click here for more information.
In Kenya, where the government has also been hit with corruption and fraud allegations, 36 percent of respondents have a clear wish for their next president: integrity and invulnerability to corruption. Click here for more information.
In Australia, Prime Minister John Howard outranks opposition leader Kim Beazley in four character traits -- including decisiveness and vision -- yet voters perceive Beazley as more likeable and trustworthy than their own head of government (who just celebrated a decade in power). Click here for more information.
In Britain, people are getting ready for the retirement of Tony Blair, and a poll gauged reactions to an impending duel between Labour leader-in-waiting Gordon Brown and Conservative leader David Cameron. Less than 40 percent of Britons think either politician is in touch with the people. Click here for more information.
In New Zealand, Prime Minister Helen Clark dominated against opposition leader Don Brash in topics such as honesty, personality and judgment, yet voters felt he was more capable of handling the economy. Click here for more information.
TrendWatch will run twice monthly on The Tyee.