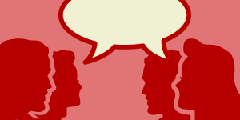 We've made some changes with the hope of improving our reader comment culture.
Before explaining our new approach, let me be clear in expressing appreciation for all you who have posted your views to this site for many months -- in some cases, many years. You have been key to the life of the The Tyee, and you remain essential members of our community.
We simply want to broaden and enrich that community. The thought came to us when we came across this statistic. Out of 100 Tyee visitors, 90 will read posts (either occasionally or regularly), nine will comment occasionally, and one will comment regularly. That's not so unusual for sites like this, but it makes you wonder: What's holding back the others? And how much more lively could our comment threads be if we changed the circumstances some?
Feisty is good
That line of thought quickly brought us back to some core principles at The Tyee. We are welcoming of argument and dissent -- "feisty" is part of our identity. Convinced that corporate media is too top down, we believe deeply in democratic exchange. And if our journalists are going to hold power accountable, we should be held accountable by our readers, too.
So no, we aren't about to begin censoring to enforce mere niceties.
And yet, we have established some firmer ground rules at The Tyee. Let me explain them. Racist, sexist or homophobic remarks are not allowed in Tyee threads. Nor is libel. This isn't the place for personal spats that play out the length of a thread or keep resurfacing. Personal insults of either Tyee writers or commenters are not allowed. We will be moderating threads more closely than in the past to enforce these expectations.
That out of the way, let me explain the new system we have created to reward those who pour real effort into their posts while respecting our ground rules.
And how you can play an active part in making this approach succeed.
Showcasing the best
Starting today, there is more than one way to read comments on The Tyee.
The first is the All Comments tab, which looks and acts similar to the commenting thread you're used to. Your post automatically goes to this thread along with those from other readers. If you want to read everything people are saying about a Tyee story, just click this tab. New to this thread are buttons to tell us when you think a comment is especially good. And to alert us to offensive remarks that violate our guidelines.
The second is the Best Comments tab, which displays by default at the bottom of every story and includes comments we have selected from the All Comments thread.
How does a comment become one of the 'best'? By being on topic, presenting fresh insights or arguments, no matter what position taken. Who decides? Tyee editors do. Certainly, we will be guided by your recommendations. That is why we gave you the power to make them. But the decision ultimately falls to us.
The system we are trying out now is the result of months of effort by various Tyee staff and contractors. Resources are tight at The Tyee. Focusing time and money on this comments project meant that other initiatives had to wait or be put aside. But we think this is worthy of top priority, because we believe a healthy interaction with our readers is a vital component of this experiment in independent media. Many people have told us they judge The Tyee's quality in good measure by the quality of the audience we apparently attract.
You might win a book
If you are a "lurker" who has yet to post a Tyee comment, we would like to entice you to join the conversation. And we are sweetening the pot with a little contest. If you register to comment any time in the next four weeks, you might win one of five copies of The 100 Mile Diet -- A Year of Local Eating, signed by authors J.B. MacKinnon and Alisa Smith. (Only appropriate, since their success started as a conversation with Tyee readers.)
If you run into technical troubles, or want share your opinion about this privately, please e-mail info@thetyee.ca. In the meantime, thanks in advance for your patience and good faith as we try out something new here.