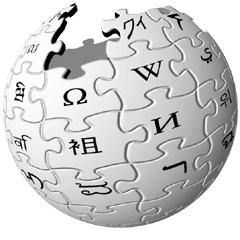 I first started editing the world's free encyclopedia this past January. My writing career had hit the skids, and everywhere I looked on the site, the little editor inside of me screamed out to take action. The atrociously incomplete list of British Columbia Crown Corporations, and the circa-2005 edition of provincial ministers of the Crown were two of my earliest targets, and following some high-profile advice, I amended them.
Those corrections made, I soon began to realize that a lot of B.C.-related articles needed a little bit of love and elbow grease on Wikipedia, so I dove in and started fixing.
Three thousand edits later, I'm ready to pack my wiki bags and leave.
Eagle droppings
In case you don't know much about it, Wikipedia is a web-based, free content encyclopedia project. It's written by anyone who wants to volunteer, and in fact you can sign up and start editing within minutes if you feel like it. As I write this, Wikipedia boasts 7.2 million articles in 251 languages and has grown into the biggest experiment in collaborative knowledge-building in history.
At first, I wasn't sure if there was an accepted level of education or subject knowledge required before a person could start editing. I asked around and found that in actuality, one's pet cat could publish to the site if his or her paws happened to pounce on the mouse and click the "save page" button. So I figured my journalism ticket and a healthy knowledge of Canada's westernmost province would at least satisfy my own concerns about increasing common knowledge on the Internet.
One of the first conflicts I ran into was in adding the B.C. government agency Forestry Innovation Investment Ltd. to the site. This is a company set up in 2003 by the Campbell government in order to promote B.C. wood products. One of Wikipedia's editing administrators, a person who goes by the handle Eagle 101 who, like other admins, has the power to delete articles on site, did just that to Forestry Innovation Investment Ltd. He claimed that it was blatant advertising for a private company.
Admittedly, at just a few lines the article was far from sexy, but the notion of my words plugging the company was a stretch. I managed to get the article reinstated, but the process was already beginning to get frustrating.
BC sockpuppets
Earlier this year, Global TV's News Hour ran a story on just how easy it was to edit articles on Wikipedia. "Anyone could do it," the reporter opined into the lens of the camera. Well yes, anyone could, if they were desirous of an exercise in annoyance.
User-friendly as it may be, vandalism and political posturing are far too commonplace on the site. A notable homegrown example is the entry pertaining to BC Liberal insider Erik Bornmann. His article was continually purged of any material related to legislature raids by a series of edits that were later determined to be 'sockpuppet' accounts, the latter being Wikipedia users who edit under more than one name.
The offending accounts were blocked, and a little brouhaha ensued before things subsided. Sometimes, however, the troublemakers are more unrelenting, like mad dogs that just won't let go. For example, seemingly innocuous people like Mark Allan Robinson have had their eponymous articles repeatedly vandalized by persistent attackers. Robinson, you may recall, was the successful proponent of a recall petition against Paul Reitsma back in 1998, when the latter was exposed for writing letters to the editor of a Vancouver Island newspaper praising himself under a fabricated name. For his civic activism, Robinson earned the ire of an anonymous troll, who has continuously posted unrelated sexual histories on Robinson's page.
That these articles still exist in a usually unvandalized state does say something in Wikipedia's favour. Each article's entire edit history is transparent and subject to verifiability. But do these factors make up for anonymous editing, inherent contradictions in the site's direction, authority and the frequent snarky spats commonly found on the site?
Offenders Sine Occasu
Here on The Tyee and elsewhere, much has been written about Wikipedia's shortcomings, about its pesky trolls and anonymous vandals. Well, take it from me, it's all true. But what might be worse still is an illusory idea Wikipedia lets run unfettered among its contributors: that they are building something worthwhile and lasting and that they are nobly volunteering to do it.
The reality is that far too often substantial contributions are either deleted or whittled away over time by other editors, who often declare subjects "not notable," a much-ballyhooed verdict on the site that means the entry in question is turfed. Anyone can be an editor and any article is normally open to editing, except in the cases of persistent vandalism, such as entries for the little-loved American presidents. The only system of guidelines are loose adages to attribution and keeping a neutral point of view. What one sees on the screen at a Wikipedia page is actually only as authoritative as its most recent edit which, as that TV news report alluded to, could be by anyone, anywhere.
Then there's the way things meltdown and devolve. What passes for discussion often becomes sandbox tantrums, where users lob site guidelines and essays back and forth, or the same users nominate scores of articles and categories for deletion. You see, in the world of Wikipedia, you are a "deletionist" -- someone who believes the encyclopedia is better off with less, or an "inclusionist" who feels the unique format of an online encyclopedia ought to allow for an unlimited number of topics to be covered. You sometimes leave the site for a "wikibreak" to actually partake in the "real world"-- with its own cute article to explain what the real world actually is, to those who might have forgotten.
For a time, I may have needed reminding. I was an unabashed "wikiholic," caught up in the idea that I was part of a vast army doing something noble. I was an editor adding articles, checking sources and helping to build the most amazing information project in the history of humankind. It was thankless work, but noble. It was a learning experience, it was helping me keep my writing up. It was helping the world or myself in some way. Wasn't it?
Oh the humanities
Well, yes, sometimes. If you can stand the mudslinging and see through the inherent shortcomings, you catch the odd gem. Like the volumes of dialogue added by one local user named "Skookum1," whose historical knowledge and abundant "B.C. sense" have contributed immensely to framing the Internet identity of this province. Or the young guy who has added his raw perspective to the history of his Squamish and Kwakwaka'wakw people, a point of view that often gets mediated several times before reaching an international audience. I've never met either of these people, but they were proof of the project's potential.
The same couldn't be said of a lot of other Wikipedia contributors I came across, who seemed to only pre-occupy themselves with patrolling new articles, criticizing them or displaying little boxes on their user pages, detailing how they dislike "intellectual property."
That of course opened another can of worms. How much time and effort should I spend on contributing material -- accrued through years of education -- to Wikipedia? Hmm, is there a better place to park my writing, the result of $10,000 of college tuition I finally paid off a short time ago?
It can all be a bit dehumanizing.
Devil's in the detour
During the hard-core bouts, I increasingly began to interpret the world through the lens of Wikipedia. Everything I read, everywhere I went, everything on TV had to be noted and checked on the site. I was becoming perhaps more pathetic than even the most ruthless deletionist, I was exhibiting signs of becoming what they call an "immediatist wikipedian" -- someone who wants to remedy everything on the site as soon as possible.
The pitfall of that attitude is that the work is endless. To properly edit B.C. alone could take multiple lifetimes. And even then, the devil is in the details.
The article for Victoria, for example, claimed that its land area, as a city, was the second smallest in the country after Abbotsford. There was even a little footnote kindly directing anyone curious to know more to Statistics Canada. It sure didn't seem right and not surprisingly, it was way off the mark. The website didn't compare cities at all, it just displayed the size of Abbotsford itself in a box of numbers. Abbotsford is of course much larger in area than Victoria as well as many other cities. When misinformation and phantom citations like that pop up and stay on the site for months, it makes you hesitate to contribute to something students turn to. How many people actually check the sources?
Square one fun
Some wikipedians take great pains to establish credibility, proudly displaying how they possess Master's degrees in this or college diplomas in that. I started along that road too until it hit me one day: Hey, I'm just another nickname on here with absolutely no 'real-world' credibility, no matter how many illustrative user boxes I plant on my page!
(All those little userbox assertions caught up with American Wikipedia administrator 'Essjay', Ryan Jordan, who earlier this year quit the site after his false credentials were exposed.)
The real devil, however, is what's called the "watchlist." This is a roll of articles of your choosing that you can keep tabs on in order to see any recent edits to the pages and who has made them.
That mini-feed works well during one's early baby steps around Wikipedia, when you're merrily occupied editing a handful of articles. But many weeks and hours spent on the site later, and I've added so many articles to the list that it now numbers 300. Every hour an article on the watchlist gets touched by the hand of some editor, whether it's a routine maintenance robot, a vandal or a budding high-school journalist. You see, even though you're not supposed to feel ownership over Wikipedia articles, one feels a duty-bound sense of stewardship over some. Therefore reading almost every change that takes place -- to ensure quality, you tell yourself -- seems justified. It's a vicious and time-consuming cycle, really.
Take the editor from California (sporting one of those flashy, textured user-names) who began insisting that "streets" needed to be categorized on a list with "squares" in Vancouver, despite the fact that no other city on the continent besides New York uses that scheme on the site. Debate followed over whether malls that call themselves squares should be included in the same category beside such places as Victory Square and even Tiananmen Square. One editor opined that Maple Tree Square in Gastown should be our version of Times Square, if Vancouverites had any "panache."
Loved and left
Truth be told, I've learned a lot from the world's free encyclopedia. And hopefully I've helped others to do so as well. I'm satisfied with my additions to the site (a fur trader, a few ferry terminals, several northern communities and lots of photographs.) Wherever Wikipedia is going, I've probably helped it get there. But on a basic level of selfishness, has Wikipedia helped me get where I'm going?
If there's one thing to be learned from involvement with the site, it's that there is still plenty of diversity in human nature. Despite everything I've cited as annoying about the place, it's kind of refreshing, in a way, to know that free thought is alive and well -- albeit too tied up in debating crazy trivia like the circumstances surrounding the death of colonial-era B.C. Governor Frederick Seymour. Was it dysentery or alcoholism? And was he already dead in the official photo taken of him?
Free thought is alive, but it's arguably more bitter, trivial and anonymous than ever. So perhaps contributing to it is as much about entertaining oneself in a weird sociological study as it is with leaving any sort of legacy to the collective brain trust.
At any rate, it seems to me that the anonymous amongst us aren't quite ready to ascend to journalistic and information supremacy yet. Thankfully.
Related Tyee stories:
Beyond Wikipedia
Larry Sanger wants to keep it honest. Get ready for Citizendium.
Wikipedia's Watchdog
Truth rests on teen who lives with parents and volunteers to zap lies.
Blogged Out?
Veteran bloggers fatigued by trolls, small bankrolls.