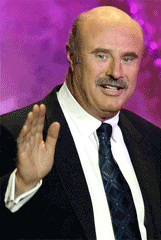 If there is any guilty pleasure more delightfully mundane than the double-dip of playing hooky from work and taking in an afternoon episode of Dr. Phil, I have yet to discover it. Truly, the man is all things too all people -- broad shouldered and overtly manly, charmingly southern yet somehow affably patrician, shockingly blunt yet delightfully helpful. Yes, the "tell-it-like-it-is," "get real" Doc is my favourite talking head, dropped in our living rooms by the golden talons of Oprah herself, his ring of receding hair a crown signifying both wisdom and omnipotence.
Though he first appeared on Oprah in 1998 (following his involvement in her legal battle with Texas cattlemen), the Good Doctor has, in fact, only had his own syndicated eponymous program since 2002. Think about that: ubiquity in less than five years. My kingdom for a talk show. Guiltily yet frequently, I've watched him since then, baffled by my interest but not alone. Along with middle America, I tune in to Dr. Phil with many others who should know better: friends who hate TV, educated, media-savvy colleagues -- hell even my own mother, who despite a psych degree, admits to watching with her hands over her eyes. But this week, I'm tuning out for good.
Like others, I blanched at his show originally. Dr. Phil McGraw's social-Darwinist, ostensibly behaviorist psychology, was premised on the fact (few of us remember this, now) that too many families get divorced. There seemed to be something stiflingly right wing about him and his show, preaching predominantly old-fashioned family values to white, upper-middle-class housewives. And the show has, as R. Danielle Egan and Stephen D. Papson, professors of sociology at New York's St. Lawrence University have noted in their study "You Either Get It Or You Don't," all the hallmarks of televangelism: confession, rebuking of evil and, at last, redemption and salvation via Philip Calvin McGraw. Whether the ails are physical (obesity, alcohol addiction) or emotional (cheating, spousal abuse), there is always the pop-psychological hand on the forehead of guests, with Phil healing them of their troubles before walking off into the glowing graces of domestic bliss with his wife Robin. To that end, it's no wonder Phil came along when he did -- in the irony-averse times following 9/11, Phil and his wisdom were a panacea to a troubled nation too disabused of religion to turn to the gods, yet searching enough to need a sermon on the Mount.
Big hunk of compassionate man-meat
But Dr. Phil won the audience over -- that big hunk of compassionate man-meat -- partly because he didn't appear to have patience for the trifling indulgences of the women he preached to. He seemed, if marketing ploys were to be believed, to be both high-brow and low trash, a welcome, caring voice with little time for spectacle or nonsense. Dr. Phil was the afternoon appointment with voyeurism you could feel good about. Even with the undertones of Republican family values and moral rigidity, Dr. Phil was and is the pop-cultural equivalent of Diet Coke: if you consumed enough and avoided his junkier counterparts, you could actually convince yourself it was good for you.
Lately, though, Phil has taken a turn. Last year, Phil dropped from the number two spot in syndicated afternoon show ratings, second only to Oprah to a regular placing of fifth or sixth. The show doesn't seem to be drawing the crowds it used to, and the desperation of a waning cult is evident. Since her passing earlier this year, Dr. Phil has had not one but three shows dedicated to the life trials of Anna Nicole Smith, including one that firmly encroached on the baby-daddy detecting turf of one Mr. Maury Povich.
Last fall, Dr. Phil created "The Dr. Phil House" in Wilshire Hills, L.A., and vowed to lock truly spectacular guests -- racists and counter-racists, fatists and fatties, homophobes and angry lesbians -- up together in a temple of confrontational mental health. Later, when the house had been relocated to a sound studio due to neighbours' complaints, Phil took meth-addicted prostitute twins, aged them with the help of computer software, confronted them with the image, and then remarked in his trademark twang: "that's a scary-ass crack ho right there!" (that Don Imus' head was placed on a pike for using the word "ho" just months later speaks to Phil's gospel of meritocracy-- hos deserve to be called hos, after all, and only deserve to be treated with respect once they've converted to the right-living ways Dr. Phil proselytizes). Yes, watch Dr. Phil these days and you will see a new show -- less spend-aholic suburban moms, more cross-dressing husbands and drunken sluts in need of a righteous debasement courtesy America's de facto moral authority. You half expect to tune in and see a witch-burning.
Sinners and saviour
And it's not just the guests that have changed. The doctor's demeanor has too. More often than not, you can find Phil raising his voice in upright anger at the sinners who grace his studio. In the past months, he has kicked off guests for lying to him, demanded that a woman convicted of drunk driving serve a conditional one-week jail sentence before he paid for her rehab, hauled out the lie-detector to catch a child molestor and my own favourite, conducted a sting operation on a scam artist who was using the Dr. Phil name to bilk money out of the Phil-worshipping audiences at home (the scammers promised their telemarketing victims an hour-long telephone counseling session with McGraw or his wife for $1000). It's not that these people don't require help, but the program seems much less about help and more about punishment. When did Phil earn the purchase on parading the wicked?
What's more, the doctor is seemingly everywhere these days -- when Alec Baldwin was caught on tape tearing a strip off his 11-year-old daughter two weeks ago, McGraw publicly offered to provide counseling to the troubled actor. After the horrific Virginia Tech Massacre, Larry King piped in Dr. Phil via satellite while interviewing the father and brother of slain student Reema Samaha, as if pithy tell-it-like-it-is advice from a celebrity shrink was what a grieving family needed at that moment. The next day, the doctor, who built his reputation on common sense and sensitivity, was weighing in on the tragedy, offering the ol' chestnut of "video game violence" as a singular cause for the slayings (why he didn't just go the whole gambit and blame Ozzy Ozbourne biting the head off a bat is beyond me).
But this week is where it really ended for me, ironically, not because of anything the doctor did (it seemed a normal week of stalker husbands and families cooped up in the Dr. Phil House like cats in a Skinner Box). No, this week I decided to stop watching, because of Al Sharpton. Recently, in a debate with Christopher Hitchens, Sharpton made an offhand remark about how Mormons aren't true Christians, proving he's just as bigoted and hypocritical as the people he rails against. Watching that damn fool spouting off as the self-appointed spokesman for both Christians and African-Americans, made me cringe and think there can't be many African Americans who feel that he speaks for them. And I couldn't help feeling Dr. Phil was that for me. He is supposedly the voice of middle class whiteys with a faith in science. But though I still fit that demographic, I no longer feel like he speaks for me. And it's not me who's changed.
Dubious truths
It would seem this doctor who earned a nation's trust with honesty and pragmatism has waded hip-deep into the mire of exploitation, and has become, in some ways, a symbol of the entire authoritative structure of Dubya-era America -- laying claim to righteousness without any demonstrated authority to do so. And while the cult of Phil, an amalgam of pixels, sound bites and our tolerance for them, is easier to get rid of and far less destructive than the Bush administration (just turn off your TV), he's still piping into 7 million American homes every day, mutating the trust of his viewers into his own personal moral majority.
He may be teaching us couch-potato viewers at home to "get real" with our own lives, but, behind the studio-lot façade of Dr. Phil's House, it would seem that there are some very dubious truths. That Phil's cavalcade of freaks is inevitably asked to conform to a white, middle class standard of living is just the beginning. The problem, truly, is that Phil's old-school, blame-the-individual approach to behavioral ails absolves viewers from looking at the ugly fissures in American society as a whole. The disparity between rich and poor, black and white, women and men, can all be solved with some tough-love and rededicating oneself to the rampant pursuit of one's own self interest. Don't mind the Superdome full of black people -- we got a whore pullin' herself by her own garter straps on Channel 9.
Sorry, Phil. I love your shiny pate as much as the next person, but it's time to tell it like it is.
Related Tyee stories: