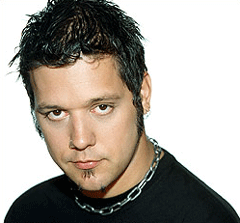 I used to love you, George Stroumboulopoulos.
I couldn't have been any older than sixteen, and there you were on Much Music, the only cool guy on a network that even then was ineffably lame. I loved when you started The Punk Show, and I loved you when you occasionally dropped an f-bomb on The New Music. George, I even loved you enough to forgive your drooling interview with Bono, or your participation in the inane and degrading game shows Much made you host. I loved you because we both knew you were better than anything they could throw at you, and outside the anti-music "Much Environment," you loved music as much as I did.
And so, when you left for CBC, I wrote you a hearty congratulations (in print!) and, though I didn't always watch your new show, I felt confident that I never had to turn MuchMusic on again. Everything was right with the world, George. I even learned how to spell your name.
And now. A few weeks back, I hear that you've got a new gig. You're hosting a new show for ABC, kinda like American Idol, but different in that, um, well, it's more rock'n'roll, apparently. Contestants will play their own instruments! They will attend rock school! They will live together in a Big-Brother- type environment, all competing to become "the one."
Strombo calling
You announce your new job in a typical, almost too-calculated Strombo-fashion.
"I was riding my motorbike outside Chicago and I felt the vibration of the call in my leather jacket, but I didn't answer it," you tell the media. But of course you did answer. And away to Hollywood you went
But then there was a big kafuffle, because, in addition to airing on ABC, The One: Making a Music Star would air on CBC. On Tuesday nights, that would mean bumping The National and Pete Mansbridge all the way back to 11 p.m. The oldsters are in bed by then, George. Bumping the news for American reality TV?! What's happening to the CEEB? What's happening to Canada?
But I am not an oldster. So though I'm a little older than the demographic that CEEB TV is courting, I can watch both. I can stay up as late as I want, you know. So I tune in. And in the first three minutes, I count three "soul patch" beards, including yours, which has dwelled under your chin since the moment I saw you. Oh, this is way cooler than American Idol.
The format is familiar to reality TV junkies. There's a brief bio for each contestant, in which they inform the audience that they overcame poverty/Hurricane Katrina/chronic-persistant cowlick to be here; then their performance, in which they warble their way though an ill-chosen pop song that the producers pick for them.
Uh-Oh
But here's where we get into trouble, George. You move the contestants through quickly, as if they are cattle, and the "critics" (not judges) offer lifeless advice to the performing sunglass racks as to how they can make their rendition of "Born to be Wild" or "Devil With a Blue Dress" seem less like someone's drunk dad at a wedding.
And there's the "twist." As the contestants live together 24 hours a day, we get to see all the tensions arise on camera in between ghastly -- all ghastly -- performances. We see a budding (clearly choreographed) romance between two guitar players: Aubrey, a rock chick with a boyfriend and Nick, a moptoped axeman who somehow makes John Mayer seem threatening and more likeable.
But I am not watching them, George. I am watching you as you do your aging Fonzarelli thing for America. You look uncomfortable. You look like you kind of think the contestants are total wieners, which, let's face it, they are. You look like you think their weinerdom will rub off on you, which, to be frank (no pun intended) it kind of is.
I sense the networks' dirty paws tearing at your "realness" George. I'm guessing you, and the guitars that litter the "One Academy" where the contestants live, are supposed to make me believe these folk are more deserving of fame and fortune than Taylor Hicks, the American Idol winner currently shilling Ford Focuses with his soulful voice. And maybe they are. I really don't have the wherewithal to pay attention to them, stuffed as they are between ads for The National, which Tuesday night explored the escalating crises in the Middle East, and kept running the same exploding cities montage as a teaser, breaking my heart every time.
I don't know who to trust anymore, George. I don't know if Nick and Aubrey will hook up, with Aubrey's poor boyfriend left behind. I don't know if soulful Scotty Granger will ever move back to his New Orleans home. I don't know why one of your judges, Mark Hudson (who has worked with both Celine Dion and Ozzy Ozbourne) insists on dying his beard blue, but I hope you don't follow suit. I don't know what's going on out there in the Middle East, but that's what I wish you'd tell me George.
Let's face it. I don't know, nor do I care, who The One will be. But in my heart, George, and deep down in my very own soul patch, I no longer think it's you.
Elaine Corden is a Vancouver-based writer. She writes the Trifective blog.
Related Tyee stories: Elaine Corden raved about So You Think You Can Dance and ranted about Canada's Next Top Mishap. Dorothy Woodend asks why female bosses are a tricky bunch in her review of The Devil Wears Prada.