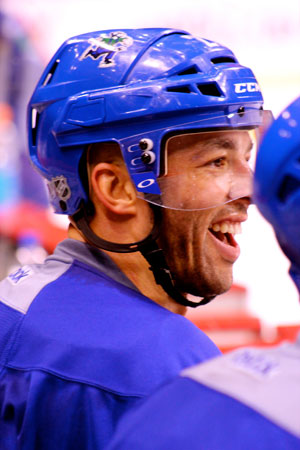 Tomorrow afternoon, as he waves to the Denman Street crowds from one of North America's largest processions of drag queens, leather men, and dykes on bikes, Vancouver Canucks centre Manny Malhotra will play a big role in helping slay the dragon of homophobia in professional sport. Just by showing up at the Pride parade, along with Patrick Burke of the "You Can Play" project and Canucks mascot "Fin," Malhotra will send the message that anti-gay bigotry has no place in Canada's national game or the NHL itself, that gay hockey players can and do play in the NHL -- although still not openly -- and that gay fans, media and advertising are also welcome. This development would have been unthinkable 20 years ago.
Helping to make all this happen is the team I play for, Vancouver's Cutting Edges. As western Canada's only gay hockey club ("Playing the man since 1994"), the Edges are pretty stoked at the idea of marching with a veteran NHL star. The Canucks, for their part, couldn't have chosen a better representative (the Sedin twins and Ryan Kesler, who have also endorsed "You Can Play," spending their off seasons in Sweden and Michigan, respectively). Apart from his much-heralded, saint-like qualities -- sportsmanship and selfless play, dressing room leadership, that inspiring comeback from what should have been a career-killing eye injury, and an all-around nice guy image as team ambassador for community events and charities -- Malhotra is already something of a poster boy for diversity, thanks to his mixed-race Indo-Canadian heritage. So we all look forward to meeting him, having him pose for our team photo, getting his autograph, and sharing our stories with him.
Reclaiming the locker room
For most members of the Cutting Edges, there's a common thread running through our childhood hockey narratives. As pre-teens, we all played and loved the game until puberty hit. Then the "fag" jokes began in the locker room -- the overcompensating displays of machismo, the "don't bend over in the shower" innuendo, etc. On the ice, "homo" taunts became part of the intimidation strategy, a testosterone-fuelled mentality whose unspoken message was that being queer was the worst thing a hockey player could possibly be. It was enough to turn those of us who were gay away from the game, some of us forever.
For a while, I thought I might be one of those kids. After bantam, I quit playing house league hockey and didn't return to the ice until early in 1989, at age 25. A few months later, after I had moved to Vancouver and come out of the closet, I found myself volunteering for the quadrennial Gay Games, which were to be held in Vancouver the following summer. I was surprised to see ice hockey listed as one of the sports, having never met anyone openly gay who was interested in the sport. When I wrote an article for the city's monthly LGBT magazine, Angles, calling for players, I was greeted with sneering derision by gay acquaintances. Hockey was déclassé, I was told; it was an act sheer of self-loathing to consider playing the sport, never mind watching it. What was the Gay Games doing, putting it in the program?
I understood the pain behind this attitude; I just wanted to change it. And so, after cobbling together enough players to ice a team for the host city, and signing up a dozen other teams from throughout North America, we eventually pulled off a successful tournament. One journalist covering the Games, Vancouver Sun multiculturalism reporter Kevin Griffin, was delighted to see hockey being played by gay men and lesbians. He, too, had quit the game at puberty and never considered going near it again. Now he wanted to play. From that moment on, he committed to helping ice another team for the next Gay Games, to be held in New York in 1994. He and I, along with a few others, began recruiting shortly after the Vancouver event, and that's how the Cutting Edges were born.
After New York, the Edges wanted to keep going. So, in 1994-95, we signed up for UBC's "duffer" league. Some of us wondered how the other teams would react once they found out about us, since we weren't exactly parading our gayness in the team name or logo. But that fear went away with each victory. We especially enjoyed beating the teams most troubled by the fact they were losing to "a bunch of fags," but soon even that kind of talk simmered down.
Every now and then we'd hear shouts of "homo" or "faggot" from an opposing player. But eventually the referees began handing out game misconducts for such taunts -- just as they would for racial epithets. For several years, sexual orientation has been a non-issue in the leagues where we play. What's more, several of our players and the opposition can be quite chummy when the game's over, and the Cutting Edges are seen as "cool." So cool that a number of straight players have joined the team.
The big league catches up
Meanwhile, the NHL has been stuck in the Stone Age. I still recall the first time that Brian Burke was asked for his opinion about homosexuality. The year was 1994, and the irascible hockey enforcer-turned-lawyer was between jobs with the Canucks. Asked by a Village Voice reporter what he thought about the local gay community's sudden interest in Pavel Bure, the Canucks' "Russian Rocket" superstar, Burke -- then the NHL's executive vice president and director of hockey operations -- shrugged off the question with the lamest of cop-outs. "I'm just a hockey guy," he said ("Pavel Gazing", August 16, 1994), the implication being that he could not possibly know anything about the subject because hockey and homosexuality were mutually exclusive. Or should be.*
I have an interest in this as the scribe who fanned the flames of gay ardor for Bure by writing a couple of newspaper essays about him. These articles, which poked satirical fun at the Canucks for limiting their marketing of Bure to suburban families, rhapsodized about his much broader sex appeal. Published in 1992 and 93, they came back to haunt me -- and Bure -- the following year when the Canucks met the Rangers for the Stanley Cup. When a Globe and Mail article by Miro Cernetig quoting them was published on the day of Game Three, Bure was apparently subjected to a fair bit of locker room razzing from his teammates. ("C'mon Pavel, why don't you ask him out on a date?") Interestingly, after scoring a goal in the first minute, he erupted with a rare and shocking display of thuggish behaviour -- breaking Jay Wells's nose with a high stick to the face -- that got him kicked out of the game before the first period was over. For years afterward, friends would tease me about the Canucks' loss in that game and, ultimately, the series by insisting that I had distracted Pavel with my lusty gaze, forcing him to prove his manliness to teammates by rearranging a Ranger's face. Ergo: homosexual panic had cost the Canucks the Cup, and it was all my fault.*
Skating out of the closet
Of course, I don't believe this theory for a minute. But the very idea is redolent of the bigotry that continues to plague the NHL. Remember James Wisniewski? He's the former New York Islander who got a two-game suspension for making an obscene gesture toward now-retired NHL bad boy Sean Avery, a well-known "metrosexual" and supporter of gay rights. (The gesture was a simulation of man-on-man oral sex.) Here in Vancouver, just before the Canucks' most recent Cup run, two adult male fans were ejected from Rogers Arena for wearing pink shirts with the words "Hockey Lovin' Homos" in large black letters on the front. Their demonstration was a brilliant example of culture jamming: seated directly behind coach Alain Vigneault and the players' bench, they put themselves in the eye of TV cameras, which couldn't avoid their message if they wanted a shot of Vigneault. This daring idea should have been interpreted as the cheeky, ironic statement it was. But security staffers were tone deaf: the two men were evicted because the word "homos" might be construed as homophobic and thus might offend other paying customers. This incident merely reinforced how the NHL and its fans can work together to preserve a homophobic environment. Call me cynical, but I'm not counting on the Rogers Arena "kiss cam" to feature same-sex couples any time soon.
Brian Burke, of course, has come a long way since 1994. When his younger son Brendan came out of the closet to his family in 2007 -- and then publicly two years later -- the Maple Leafs GM not only expressed total devotion to him but added that he would "stand by him with an axe" when he spoke out against homophobia. Brian's devastation following Brendan's fatal car accident in February 2010 was visible for all to see at the Winter Olympics: the grieving father was distraught. Since then, he has attended Toronto pride parades and spoken at meetings of Parents and Friends of Lesbians and Gays, spreading the message that homophobia is wrong. So the fighting Irishman, who preaches "pugnacity, testosterone, truculence and belligerence" in his Maple Leaf players, is a real softie, after all.
Brendan's older brother Patrick, a scout for the Philadelphia Flyers, responded to his brother's death by continuing his mission to make hockey a safe place for sexual minorities. This past March, he launched the "You Can Play" campaign, enlisting an impressive roster of NHL stars to preach the gospel of diversity: In addition to the Canucks mentioned here, Steven Stamkos, Rick Nash, Claude Giroux, Daniel Alfredsson, Corey Perry and Henrik Lundqvist have all signed on, and so has Stanley Cup-winning L.A. Kings captain Dustin Brown. In a series of short video clips, each of these players declares in his own way that no one who can play hockey should be prevented from doing so or made to feel less adequate because of their sexuality.
All this is good, but there needs to be so much more. The message of "You Can Play" is fairly tame -- targeted at the more conservative end of general public opinion. So it needs to get out there. Unfortunately, I don't recall seeing it once during the Stanley Cup playoffs. And, apart from one impressive TSN ad I found online, in which several commentators pledge their support for the campaign, it's hardly ever mentioned in prime time by the meat-and-potatoes colour analysts (think Mike Milbury or Jeremy Roenick) who need this kind of education most. The day that Don Cherry takes it up on "Coach's Corner" (and don't put it past him: Canada's favourite redneck did respond, on the air, to my 1994 columns by giving the Cutting Edges a thumbs up for the Gay Games), then we'll know that things have really changed.
Perhaps that is when a highly talented NHL star who happens to be gay will shock the world by pulling an Anderson Cooper -- by saying, "Hey, this is who I am, and it has no bearing on the job I do. Deal with it and let's move on." According to Patrick Burke and openly gay former Olympian Mark Tewksbury, this day could arrive as soon as two years from now. If it does happen, I want to be there -- and not just to obtain the book rights. I want to see what happens to that player's endorsements, to his treatment by other teams and, most importantly, to his reception by the fans -- both at home and in hostile arenas.
*Story clarified at 11:45 a.m. on Aug. 8, 2012.