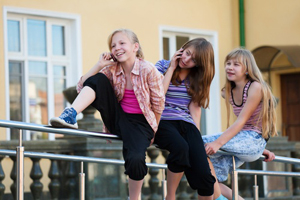 A friend recently asked me what I thought of his decision to get his daughter an iPod touch for her ninth birthday. Being a tech-savvy public school teacher, I get this type of question every so often, and I am always at a bit of a loss.
Whether it's a smartphone, tablet or other mobile device, concerned parents usually want to confirm a decision they have already made. What prevents me from playing the nice guy and giving them their sought-after confirmation is my inability to boil the debate down to a "true/false" kind of response.
The best I can do is say: "Each of these devices can be a powerful educational tool, but I have seen few kids use them well."
Since most parents have already made up their mind (okay, their kids convinced them that everyone else has one, which is almost true), they can do everyone else a favour by setting up some ground rules before handing the shiny gadget over.
Those of us who are going to be around your wired-up kid will thank you for your efforts.
1. Money talk
Raise the topic of money before it raises itself. Agree on what you will do when this expensive electronic item gets lost, broken or stolen. A Grade 8 student I know lent his new iPod to a classmate, never to see it again.
Since credit cards make the handiest method for downloading apps, your kid might ask for your info. One friend of mine, father to an 11-year-old iPod owner, was shocked when his Visa bill came weighted with over a hundred bucks worth of iTunes charges. A 15-year-old student of mine racked up $150 of overcharges by phoning her boyfriend every night while he was on holiday in Hawaii.
As I was getting an earful of this, all I could think is that a few safeguards could have prevented a lot of tears.
2. Beware: these are computers, not toys
Keep in mind that these are not kids' toys but small computers. You know the idea that the family computer should be kept out in the open so that parents know what their kids are doing online? Well, mobile devices defeat that notion by their very design. The CBC documentary Sext Up Kids argues that these devices are "designed for adults," but "are being used by kids as young as nine."
A colleague of mine, Paddy McCallum, happens to appear in Sext Up Kids, where he makes a point that bears consideration. "The challenge now is to get kids to think critically about something that is very much part of their world."
We have to get parents and teachers thinking critically about these devices as well, as they are very much a part of our world too.
3. Discuss your role
If you think that you should be able to check the phone, get that out in the open. Does it go into your kid's room? Where does it stay at night? Find out if your school has a policy around mobiles or if that is left up to individual teachers. Does your school have a BYOD policy?
Thumb through the manual that comes with the device. Know what it can do and what you can turn off. Investigate the parental controls.
4. Talk openly about safety
Talk about safety and set consequences before something happens. If your teen drives, you want him or her to think of a cell phone as a detonator that causes cars to blow up. To drive this point home, you might want to watch this [warning] graphic British PSA together.
The best way to pre-empt sexting is simply to talk about it. Just raising the spectre of you seeing a sexy photo intended for a curious peer will likely horrify your kid enough to prevent any such shenanigans. You should know that sexting doesn't require a cell phone. Laptops, tablets, webcams and iPod touches will do just as well.
5. Manners matter
My fellow teachers and I will be forever grateful if you back us up on some basic etiquette.
Explain why we don't want to get sucked into that virtual world while the real one passes us by. This covers a lot of ground, such as not having even one earphone in when talking to someone, not answering calls during a conversation and not texting or playing games during class.
6. Remember, devices can encourage learning!
Most students just don't envision their electronics as tools they can use for learning. In fact, they can be quite hesitant in changing their thinking around them. It is as though they are afraid to be given permission to use them in an educationally-purposeful way, as they are so used to teachers threatening to confiscate them.
At Spider, the distributed learning school where I teach in Sechelt, having a phone on the desk has become more common than having a pen or pencil. Students use them to text friends and to call mom for a ride home, but I also encourage them to use dictionary and flashcard apps and to use Wikipedia while they are working.
I've had a couple of really sharp students figure out that certain assignments can be recorded in audio or video. An iPod or smart phone can be the quick and dirty way to get these assignments completed. These tend to be the same students who will snap a photo of the note-filled whiteboard so that they can load it into Evernote, tagging it with a key word.
7. Find out the teacher's policy
I don't take away phones. In fact, I make my work cell number available to students via the front page of the online courses that I teach. Students phone, text, message and email me, mostly to work out a time to see me in person, but sometimes they just need a minute to get clarity on an assignment so that they can move on. My own son in Grade 9 uses his tablet to email his math and social studies teachers. Find out which of your child's teachers hand out cell phone numbers and email addresses.
As more high school teachers offer course content online, students will be using mobile apps to access it. As of this fall, my students will be able to take quizzes, check the status of assignments, post to discussion forums and add to wikis from the same handheld device they use to keep in touch with friends and family.
Most parents would do well to open up the conversation about mobile electronics long before their teen (or tween) comes up begging for one. These conversations should sound much like the ones our parents had with us about driving the family car. These technologies can be used for fun, but they are not just toys. They can just be a waste of time, and they can be dangerous. When you know how to use them, they can serve you well.
You just have to know what you're getting into.