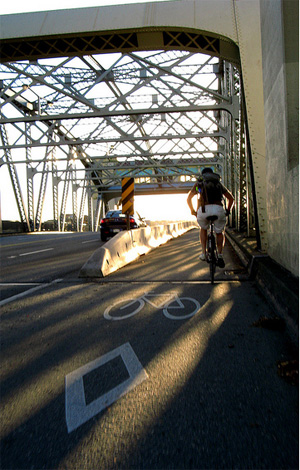 [In the sixth installment of The Tyee's "Self-Propelled Summer," our weekly series on all things cycling from Momentum Magazine, writer Amy Chow looks at the BEAT initiative, a joint provincial and municipal grant program that helped support bike and pedestrian friendly infrastructure. A four-year initiative that came to an end in 2010, the program offered a few examples of how communities can promote healthier and greener living through urban planning.]
Just admit it. You could probably add more physical activity into your daily life. In the winter time, it's easy to blame our sedentary lives on the weather. It's too cold in Canada. Or it's been raining for the 29th consecutive day in Vancouver. Slowly but surely, less exercise can lead to larger numbers on the bathroom scale.
The Built Environment & Active Transportation (BEAT) initiative focuses on design changes in our surroundings that can help us incorporate those important bouts of physical activity into our daily lives, rain or shine.
A joint initiative between the BC Recreations and Parks Association and the Union of British Columbia Municipalities, BEAT provides community planning grants for local governments and First Nations communities to create or amend existing plans for active transportation projects, explained BEAT coordinator Cara Fisher. It also connects community leaders, councilors, planners, engineers and developers to educate them about the link between land use planning and health.
Since 2008, 24 communities in B.C. and 15 aboriginal communities have been awarded grants ranging from $15,000 to $25,000. "A lot of local governments will include the completed active transportation plans into their official community plan, which will guide future development," said Fisher.
A BEAT grant helped the Qualicum municipal government develop a plan, which they then took to the provincial government in order to receive additional funding, Fisher said. "The town of Qualicum created a new bicycle network plan for the community. They evaluated their infrastructure, they surveyed community residents to ask them what they wanted, they contacted local cycling organizations for input and they created a full bicycle network plan which will guide how decisions will be made around the street network, trails and pathway development."
"Wheel-able" communities
Another community to benefit from the grant is New Westminster. There, officials are looking at ways to make infrastructure more accessible to seniors and people with disabilities. Their aim is to make the city more navigable for people using mobility aids, such as scooters, walkers, walking sticks, wheelchairs and baby strollers, according to John Stark, senior social planner for the City of New Westminster.
In 2006, seniors accounted for 13.6 per cent of New Westminster's population, which presently sits at 7,955 people. That number is projected to increase by over 20 per cent by 2031. The largest concentration of seniors is in the uptown and downtown neighborhoods, where steep hills can make it challenging for seniors to get to nearby shops and services on their own steam. The project plans to map the area and analyze its "wheel-ability."
The idea is to develop a map that will identify the best routes seniors can take to get from point A to point B. "From easy to difficult, it will identify gradients, surface treatments, safety features (curb cuts and ramps), benches and public toilets," said Stark, adding that the map will also be a big help for people who are new to mobile devices. And city staff members aren't working alone; a working group of individuals that depend on mobile devices to get around is helping guide the entire process.
Declaring mobile independence
By providing support to city staff, councilors and community members who are working to make their communities more walkable, bikeable and all around accessible, BEAT is simultaneously raising awareness about the need for this kind of infrastructure in our communities and helping inform city policies, practices and design decisions. Public response has so far been positive.
"People want to maintain their independence as long as possible," said Stark. "And being able to meet their own transportation needs, for a lot of people, it's a big part of their independence."
Designing cities where people can get around on their own is one way to ensure that people of all ages and abilities will have access to the physical and mental benefits that come with active transportation. In this case, where there's a way, there might just be a will, even during the long winter months.