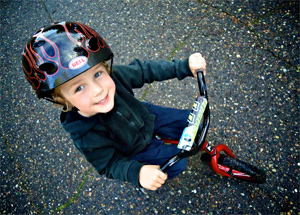 [Editor's Note: Since the launch of "Self-Propelled Summer," a weekly series of cycle-centric articles from Momentum Magazine, no single issue has drawn more heated feedback from our readers than the suggestion, offered in each preliminary editor's note, to wear a helmet. With that in mind, please enjoy this article from last May and always remember to wear a helmet while riding your bike -- or don't.]
In the cycling arena, nothing has been more hotly debated or more polarizing than the debate about the merits of mandatory helmet laws.
Carla Danley is a former emergency room nurse who has seen her fair share of head injuries. She has also been a daily bicycle rider since 2009 when, at age 50, she moved to Portland, OR, and launched headlong into the city's vibrant bike scene. In Portland, bicycling verges on the mainstream.
Danley is one of many who choose to wear a helmet every time they ride. "It's in my marriage contract," she said. Her husband lost his teenage sister after she was struck by a car while on a cross-Canada bike trip. "One of the things I give him credit for is: when we moved to Oregon, I was like, 'I'm going to get rid of my car and ride a bike,' and he has always been behind me 100 per cent," she said. "But he is really clear that he wants me to use bike lights at night and have a helmet on all the time. And I'm good with that."
Across the globe, in Western Australia, Sue Abbott, a 50-year-old mother of four who has cycled for transportation for 46 years, has never worn a bike helmet. Even after 1991 when Australia became the first country to pass a law requiring them for adults and children, she rode helmet-free, an act that soon earned her a stiff ticket.
Abbott emerged victorious last August from a string of court battles over her right to cycle bare-headed in her town of Scone, New South Wales. Aiding her suit was the embattled and contradictory state of scientific research on helmet use.
Since the helmet question is one of the most fiercely debated and polarized issues in transportation bicycling, the question is, which is more important: personal freedom or a precautionary approach that mandates defensive cycling? Should the government step in to enforce head protection or should the onus be on the individual? The science is murky, but the political philosophies in question are sharply delineated.
A brief history of helmet laws
For much of the history of the bicycle there were no helmets, only protective leather caps occasionally worn by bike racers, motorists, aeronauts, rugby players and mountaineers.
Helmets, as we know them today, did not exist until 1975, when Bell Sports introduced the first polystyrene model to the United States market. First constructed to protect the skull by crushing on impact, there has been little aesthetic or material innovation in their design until recent years.
Now, in North America, fanciful or sleek helmet shells with minimal venting, such as those made by Nutcase and Bern, are becoming popular among utility cyclists. In Europe, the Ribcap -- a knit hat with soft inserts that harden on impact -- is all the rage for bicycling and skiing.
The first mandatory bicycle helmet laws that went into effect in California in 1987 and New York in 1989 applied only to young children who were passengers on a bike. Since then, laws passed across North America and the world mostly govern children under 16 years of age.
These laws are increasingly contentious. In Tel Aviv, an attempt to repeal existing helmet laws is being fought as fiercely as successful attempts to impose them in Vancouver, WA, which passed an all-ages helmet law last year. Northern Ireland, Chicago, IL, and Minneapolis, MN, are all considering instituting mandatory helmet laws for children under the age of 16. Mexico City may have had the shortest-lived helmet law -- it was passed in 2009 and repealed a year later in the face of intense opposition.
A heady debate
Pro-helmet advocates compare helmets to seat belts -- a commonsense response to a known safety problem. They have at their service a wealth of data. In the U.S., head trauma is the cause of over half of bicycle-related fatalities, with survival of serious crashes strongly linked to helmet use.
Also to the point, helmet laws have been shown to be more effective than education campaigns at getting helmets on heads.
Opponents of helmet laws see them as a barometer of a society's regard for personal freedom. They point to research finding that helmets do not in fact protect wearers in the most common types of bicycle crashes, which result in scrapes and other injuries to the arms and legs. In some cases, research shows that helmets might even cause brain injuries as a result of the mechanical twisting effect that occurs upon impact.
Others insist that helmet laws lead to more dangerous bicycling conditions. A British traffic psychologist used sensors to discover that when he biked to work without a helmet, passing drivers gave him more room on the road -- though not as much room as when he wore a flowing wig!
Australia experienced a drop in bicycle use after its helmet law came into effect. Commonsense might lead one to believe that this is a good thing, that fewer bicyclists would mean fewer injuries. But studies worldwide have repeatedly shown the opposite to be true: the more people ride bikes, the safer bicycling becomes.
This phenomenon is called "Safety in Numbers." Its core principle is that people on bikes rely largely on the kindness of strangers for their safety -- the ones whizzing past them in their cars. As more people ride, drivers become more skilled, tolerant and aware of the presence of cyclists, making roads safer for people on bikes -- and for everyone else, too, for that matter.
The popularity of public bike sharing systems raises another issue around mandatory bicycle helmet laws: how to have both at the same time?
City leaders worldwide are discovering the appeal of self-service kiosks where bicycles can be rented cheaply for short trips. Bike share systems are an affordable way to boost bicycle mode share and safety nearly overnight. But no feasible means has yet been found to incorporate helmets into such schemes, leaving all-ages helmet law cities, such as Vancouver, B.C., struggling to find a way to reap the rewards of a public bike system.
The anti-helmet league
It isn't just helmet laws that face growing opposition. Increasingly, helmets themselves have come under fire.
Mikael Colville-Andersen, a cycling advocate and marketing consultant in Denmark, took the cultural battle to the next level in a highly publicized speech called "Why we shouldn't wear bike helmets."
In his TEDx talk, viewable on YouTube, Colville-Andersen associates helmets with what he calls a "culture of fear." Helmet use, he said, sends the message that bicycling is dangerous. We'd laugh at wearing helmets for other daily activities that carry a significant risk of head injury, such as walking, driving, bathing and using stairs. Why, he asked, is bicycling singled out as dangerous?
Debra Rolfe, an American-British urban planning master's student in Vancouver, B.C., agreed. North America's helmet culture is the worst, she said. "It's like complete strangers walking up to you and lecturing you about how what you're eating for lunch is going to kill you."
"Most societies in the developed world spend far more money on inactivity-related illnesses than they do on trauma care," she added. "We should be doing everything we possibly can to save lives by getting people to exercise."
Ultimately, Rolfe calls helmets "an unfortunate distraction from the real major safety issue affecting cyclists: cars. Whether or not individuals choose to wear bike helmets is irrelevant, but the cycling community in North America spends a huge amount of time debating it, when it could be doing so much more to improve conditions."
To helmet or not to helmet?
When it comes down to it, the decision about whether or not to don a helmet is often less about scientific studies, political philosophies or even laws, and more about one's beliefs and sense of safety, or lack thereof, on the road.
Elena Findley-de Regt, 29, a Dutch-American citizen who has lived and cycled in the Netherlands, the U.S., Spain and, now, the U.K., has observed a wide range of helmet customs.
"When in the Netherlands," she said, "I don't wear a helmet, never have and wouldn't dream of it."
There, she feels that riding is safe, thanks to "very minimal interaction with motor vehicles due to separated bike paths" and a "critical mass of cyclists with generally low overall riding speeds." And there's a cultural element. "The Dutch tend to have a pragmatic approach to most things in life -- the simplest answer is most likely the best. Fussing with a helmet is an extra, unnecessary step."
"Philosophically," she said, "I believe that cycling should be such a normal, integrated part of transportation infrastructure that no special equipment is required."
But when riding in any other country, she wears a helmet. "This has a lot to do with my confidence in the riding conditions, and especially my trust in other road users to behave appropriately."
Habitual use and cultural norms, as well as compelling personal stories, influence helmet beliefs. Ellen Jacobson said that her husband, also a fervent helmet advocate, began wearing one only when they became mainstream in the 1980s. She doesn't recall exactly when he made the transition, but does remember that he began wearing a ski helmet after the highly publicized skiing death of Sunny Bono in 1998.
One perspective that seems capable of bringing about agreement across the fiery lines of the helmet debate is equity.
Ellen Jacobson, who coordinates the Kiwanis Club's bicycle program in Sparks, NV, is a true helmet believer, having devoted much of the past decade to bicycle safety programs for kids. But she wants to make one thing clear: "I am against having a helmet law in Nevada. Most of the kids who don't wear helmets are extremely low income. If you fine them, what you're really doing is taking food off the table. And the fine doesn't put a helmet on their heads."
Carla Danley, the former ER nurse, leans instinctively towards supporting an all-ages helmet law. "I think it almost has to be something that's legislated so that people are fined," she mused, quickly adding the caveat, "but I'd be concerned about certain populations being targeted more than others."
It seems we have reached a decisive moment in the history of urban cycling. If the pro helmet faction wins, it's likely that we will see mandatory helmet laws sweeping across Canada and the U.S. If, on the other hand, the pro choice group wins, existing helmet laws will soon be abolished, potentially changing the face of cycling in those cities that currently require helmet use by law.
There is a lot riding on this debate, and it's unlikely to fade into the distance anytime soon.