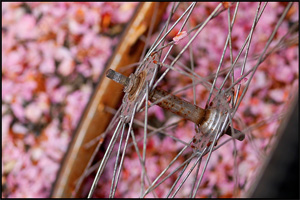 [Editor's Note: So far our "Self-Propelled Summer" series has covered the history of biking, cycle-friendly urban planning, and the affectations and accoutrements of two-wheeled living. This week we get practical. Enjoy the latest installment of our weekly series of cycle-centric articles from Momentum Magazine and always remember to carry a patch!]
The theory of the flat tire is simple; the reality can be maddening to the unprepared. Yet there are many paths to your goal. I hope to guide your journey and help you learn your way around flats.
Common causes of flats
- Sharp thing on the road.
- Underinflated tire: Slamming a curb or pothole with an underinflated tire can cause a "pinch flat" that breaks the inner tube even without any hole in the tire. If you ever got a flat and couldn't figure out why, this is likely the reason.
- If you're riding a junker, a lot more can go wrong: spokes can poke through the rim and into the tube, the rim tape can be out of place or disintegrating (this tape normally protects the underside of the inner tube from sharp bits on the rim), the valve on the inner tube can leak. If you get a flat on a junker, anything can be suspect, which is why your flat kit should include rim tape.
The responsible rider
This upstanding member of society believes in full preparedness at all times. He or she knows how to fix a flat tire and always carries a "Trusty Toolkit." For the budding responsible rider, follow the handy steps below. For the rest of you, I suggest learning about the responsible rider and their Trusty Toolkit.
How to become a responsible rider?
Google "how to fix a flat bike tire." You will find dozens of videos and instructions written by experts. Here are the ones I recommend:
Intown Bicycles: How to Remove a Bicycle Wheel.
Intown Bicycles: How to Repair a Flat Bicycle Tire.
BicycleTutor: How to Fix a Flat Tire.
R.E.I.: How to Fix a Flat Tire on Your Bike.
Etape.tv: Replacing an inner tube.
Always carry your Trusty Toolkit when biking. I recommend the following:
- Two plastic tire levers
- Inner tube patches
- Mini-sized pump
- Bike multi-tool
Your bike shop can hook you up with this equipment, and it will fit easily into any backpack or handbag. You may prefer a spare inner tube instead of patches -- it's bigger, but you don't have to spend any time finding holes in a popped tube. But carry patches even if you have a spare tube.
Practice changing your inner tube and using patches a couple of times at home before venturing out into the world. Try both the front and rear wheels. You don't want to be figuring out what does and doesn't work at a rainy bus stop late at night.
Ready for anything
Now that we've covered the basics, what remains is a vast store of situational methods to help you solve any problem with whatever is at hand.
- Tire levers: Most tires can be removed and replaced without levers. The beginning of this video shows the best method for creating slack in a tire: Bloom Bike Shop: How to Fix a Flat Tire. Once the slack is there, and with a little bit of practice, you can roll the tire off the rim with your palms or thumbs. If you still prefer levers, handy substitutes include your axle quick-release levers or metal spoons. Sharp tools like a screwdriver must be covered in layers of tape or cloth first.
- Pressure gauge: At home, use a floor pump with a pressure gauge. Every time you fill up, check the firmness of the tire with your thumb. You'll learn how to feel the right pressure without the gauge and you can take smaller pumps along with you on the road.
- Rim tape: A double layer of fabric sports tape is a good replacement, and with more layers you can keep a sliced tire together at pressure. Any tight-woven fabric or even cardboard can work for this.
- Pump: There are some really tiny mini-pumps out there, but if you don't have one, a gas station is the most reliable option since they often have an outdoor air pump available 24 hours a day. Your bike shop can get you Schrader-to-Presta valve adapters that will let you use the gas station pump on any type of inner tube. Gas station pumps will fill a bike tire in just a couple seconds, so be ready to stop filling fast! In more remote areas, locals with pickup trucks often have tire pumps.
Fixing the inner tube
Stick-on patches are so small and light that it's hard to find an excuse not to carry them. You can fix an inner tube without patches, but doing so is more for emergencies. You'll need to fix it properly later. What are your options?
- Shoelace and bubblegum: Squish some bubblegum, pine sap or other tarry goo over the hole. This isn't even needed for small holes, but will help with a large hole. Fold the inner tube one or two times on top of the spot with the hole, keeping the hole facing inwards and squashed against another fold of the tube. Wrap the area tightly with your shoelace. When you replace the tube, you must fold over the patched area so the inflatable portions touch. If you don't, the ends will blow out as soon as you inflate. I don't recommend inflating over 60 pounds per square inch (psi).
- Dirt and grass: Remove the tube and pack your tire as tight as possible with dirt, grass or rolled-up newspaper. The idea here is to give enough padding to protect your rim and also keep the tire from falling off. If you have tape, tape all around the tire and rim to help hold the tire onto the rim.
- Secret source: The identical material used by the brand name stick-on patches is available in bulk rolls here. It's also great for fixing tires, panniers, rain jackets, backpacks and other waterproof gear.