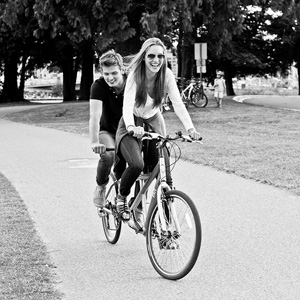 [Editor's Note: We at The Tyee are celebrating these supposedly sunny months with our "Self-Propelled Summer," a weekly series of cycle-centric articles from Momentum magazine. Enjoy our third installment and always remember to wear a (trendy) helmet while riding your bike and a seat-belt while driving your car.]
Momentum has tracked the evolution of cycling culture since its very first issue. Now we're tackling the definition of the "bike lifestyle" head on. Do cyclists across North America have one way to describe how they lead their lives? Or is the experience as unique as each individual cyclist?
The beauty of the bike is the diversity of its application. For those who have integrated cycling into their urban situations, the bike has become a natural extension of their lives, not a label. However, they do share many common experiences and values that distinguish their lifestyle choices.
Meli Grosa, a San Francisco-based graphic designer and author of the Bikes and The City blog, said: "If you just want to commute to work or if you just want to ride your bike to a party, do it... Why keep yourself to a single description when the city has so much to offer?"
Sandra Looft, a lecturer at Iowa State University and author of the Simply Bike blog, commutes daily, even in the snow. She said, "You don't have to bike daily to be a commuter cyclist. If you use a bike every time it makes sense to use a bike, then you're a commuter cyclist."
Probably the only limitation placed on lifestyle cyclists in North America is the distance they can travel. Commuting six miles (about 10 kilometers) one way is the maximum distance someone can feasibly ride with a low-maintenance bike and ensemble. Eric Kamphof, general manager of Curbside Cycle in Toronto, Ontario, calls this the "lifestyle radius."
The bike lifestyle is possible in suburban areas with sufficient public transportation, but Kamphof said, "Where it works best is downtown because where you live, everything is within 10 kilometers of home." Kamphof said it's much safer to cycle on Toronto's bike-friendly city streets than it is to navigate wide, high-speed suburban roads.
A bicycle built for you
The most obvious "requirement" of living the bike lifestyle is owning a set of wheels that is enjoyable to ride. Urban dwellers that habitually cycle around town choose bikes suited to the lifestyle radius, whether it's a brand new imported-from-Europe bike or a vintage Raleigh purchased on Craigslist.
"Anything you have in New York is going to get abused," said Lee Palor of Brooklyn, originally from London. He commutes daily to the clothing boutique he works at in SoHo, Manhattan. "I never had a bike in the city that I really cared about because it will get destroyed, scratched, knocked over or even stolen."
Urban families that live by bike might need an array of cargo, utility and light bikes to meet their needs.
"After a while you know how much each of your different bikes can hold," said Martina Fahrner, co-owner of Clever Cycles in Portland, Oregon. "You know, 'I am going to take our Dutch bike,' means I can take about five shopping bags."
In Toronto, Curbside Cycle sells high-end, year-round urban European-manufactured bikes. They're a worthwhile investment, Kamphof said.
"People can't help but think that a bike is a toy," said Kamphof, "but they have to think of it more like a car." The weight, body positioning and gears of a city-specific bike distinguish it from bikes built for sport or leisure.
There isn't a "one bike fits all" for the urban bicycle commuter. Bike choice all depends on the cyclist's financial, family and living situations and, of course, it depends on personal preference.
Trendy two-wheelers
Bike attire isn't universal either. Concerns about sacrificing fashion for purely functional garb can prevent someone from choosing that lifestyle.
"Clothing was one of the reasons I didn't know if I could start biking every day for transportation," said Looft. "I was hesitant to change how I dressed, but was amazed at how easy it was to hop on a bike wearing what I usually wear."
Outlier Tailored, a Brooklyn-based clothing company, designs clothing for men and women that accommodates the urban bike lifestyle and looks crisp in an urban setting.
"Our approach is that you don't really need to prepare (to ride) as long as you're wearing clothing that responds to the different elements and social settings you'll be in," said Tyler Clemens, Outlier co-founder. "It's a way of preparing without waking up in the morning and planning out what you need for the day."
It isn't a requirement that lifestyle cyclists match their ensembles to their bikes, but when they mesh, the city biking experience becomes more natural and fun.
'Taking life by the handlebars'
Being a lifestyle cyclist has some obvious benefits, including improved wellness, sanity and finances.
"It doesn't take long to save a ton of cash," said urban cycling consultant Yvonne Bambrick, who bikes year-round in Toronto. Plus, she said: "Bicycles are just so efficient, I couldn't get to half the stuff I do in a day if I only used transit. For longer distances you can combine the two, but with a bike you're on your own reliable schedule and can take whatever route you prefer."
Unreliable public transportation in cities like New York and San Francisco make the bike an incredible time-saving alternative. Grosa of San Francisco started using a bike 10 years ago because, "I was working and going to school, and I couldn't sit around and wait for the bus."
Palor of New York City finds the predictability of a bike priceless. "You know exactly how long it is going to take you to get from one place to the next."
Nadia Barrera, project coordinator for the Neighborhood Connectivity Division of the City of Austin, TX, attested that "the best part of being a bike commuter is the freedom to pick up and go."
The bike has helped Dave Feucht, an IT specialist in Portland, improve his life.
"A lot of things I like to do now happen in the course of my day, like exercise and photography," Feucht said. "The bike has helped bring cohesiveness to my life."
Individuals looking for more freedom and outdoor activity are taking life by the handlebars to make it happen. While environmental benefits are more than an afterthought, the bike lifestyle is something people create for themselves first.
"We are seeing people be more individualistic in riding their bikes," said Meghan Cahill, communications director for the League of American Bicyclists.
Biking together
Lifestyle cyclists find strength in the urban bike community that surrounds them while still enjoying the independence the bike offers.
Barrera recalled the support she felt in Austin while biking to a city hall meeting. "I came to a stoplight where there were two other women in work attire next to me, she said. "It's nice to have companionship of people also arriving to work in a different way."
The virtual community has become a vital resource for connecting emerging commuter bike cultures across North America. Feucht, for instance, who lives and blogs in the well-established bike community of Portland, finds that most of his readers are out-of-towners.
Looft finds much more support for her lifestyle in her national and international blog community than where she lives in Ames, Iowa.
"Having that community online that I don't have in person is huge in inspiring me to keep going," Looft said. "It's especially helpful to hear from people that live in places where the weather is like Iowa's. It makes me want to keep cycling."
Streetfilms, a non-profit that produces films about livable cities worldwide, contributes to the online network of committed and aspiring urban cyclists; they have produced 300 films that have received about three million online visitors.
Clarence Eckerson, Jr., who has made 200 of Streetfilms' short films, said "They (the films) cajole cities into a very beneficial rivalry to become better cities and implement best transportation practices."
Communities that foster shared bike experiences make it easier for others to see the benefits of a bike lifestyle. It is often citizen cyclists who drive the dialogue on community wellness issues with decision-makers, all while inspiring their neighbors.
Though cycling culture mostly emerges from the ground up, city planning and design are essential ingredients.
"With improvements in infrastructure in states, businesses and communities, hopefully people will catch on to the bike lifestyle and experience the benefits of riding a bike," Cahill said.
Companies like PayPal use incentive programs and improved facilities to encourage their employees to bike. David Dusatko, a PayPal project manager, said the benefits are clear.
"Our commuters have reported feeling more alert upon arrival, making better dietary choices and having a stress outlet on the ride home," Dusatko said. "Our campus challenge builds camaraderie and provides a healthy, positive and competitive environment."
Benefits such as these are why more and more people are choosing to lead a lifestyle that includes cycling. Whether riding to work, school, with a friend or for a night out on the town, cycling is one element in the daily mix that keeps North America moving. This is the bike lifestyle.
Getting started
If you're not already leading a bike lifestyle, here are some tips that will get you on track to being a successful everyday cyclist in no time.
1. Start Slow: Don't try to travel far distances by bike right off the bat. Take a trip to the nearest convenience store or a friend's place and work your way up from there.
2. Bike Sharing: Many cities have bike share programs -- such as Montreal, Denver and Minneapolis -- that you can take advantage of for making small trips around your city.
3. Get a Lift: Integrated cycling and public transit systems allow you to place your bike on buses and light rail systems. If you live far away from transit and your final destination, you might also consider putting your bike in the trunk or on a rack, driving part of the way and cycling the rest.
4. Choose the Right Ride: There are many different bikes on the market, each suited to a different purpose and riding style. The best way to enjoy your ride is to invest in a bike that meets your needs. Here are a few bikes and brief descriptions of what they are used for:
- City bikes: a comfortable ride for commuters traveling shorter distances, usually less than six miles (10 kilometers). City bikes are also often easy to mount and dismount and good city bikes come equipped with fenders, chain guard, bell, racks, baskets and a kickstand.
- Folding bikes: can meet the needs of people who want to travel by car, public transit, plane, etc. Folding bikes are light and easy to step into and off of. They are also easy to transport and store in small apartments.
- E-bikes: electric-assisted bicycles are ideal for people who travel far distances or who want a bit of help with their commute.
- Cargo bikes: for cyclists that want to haul groceries, kids and other larger objects.
5. Proximity: Living a bike lifestyle might also mean looking for a place near to where you work, shop and play. Finding a home within five kilometers of the places you frequent the most is ideal.
6. Accessories: Enhance your commute by adding the right equipment to your bike, such as panniers, racks, baskets, clothing that is comfortable and stylish to ride in, lights and ergonomic grips.