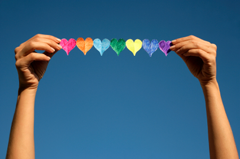 Hello! This will not be store-bought
sentiment nor a fresh baked muffin
or garlic mash. This is not the perfect
martini or single malt.
The stories you read to me in bed
are not here either and this is not a promise
to love you more today than other days.
Nothing can be said that you don't already know.
But something should be observed beyond
the familiar footsteps from one room to another
the ritual brew of coffee and the laundry --
you are the sky the curtains and the toast
of my life, you are the father of my entry
into motherhood, the face I call home
and the arms of my inland security
you are tomorrow and the day thereafter.
-- Janet Vickers of Abbotsford
I'm sitting at Starbucks preparing for a Valentine's Day writer's workshop I've convened on Gabriola Island. On Saturday night, we will hold a "Love Banquet" with a contest to see who can come up with the funniest, the sappiest, the most hopeful toasts to love. Attendee Janet Vickers has sent hers already. Other reflections on love from people in my circle have arrived in my e-mail box, ready to be sorted and contemplated...
But I'm having a very hard time concentrating. The guy at the table next to me is practically shouting into his cell phone. He's telling someone about his upcoming divorce and child custody case and the venom in his voice is so toxic my thoughts about love are becoming less than sweet.
He says his ex is crazy. A male friend once told me that all guys say the woman they just broke up with is "crazy." Women, I've noted, do much the same. This man goes on. She's insane, he says. "It's clinical." He urges the person on the other end of the call to look up borderline personality. He makes the case over and over that this isn't one of those relationship breakdowns where both people played a part in the demise, this is really her fault. She's paranoid. She's scary.
I note the chiseled cheekbones, good haircut, well-chosen clothes and toned body of the guy on the phone, a guy who sounds pretty crazy himself. And yet, it's easy to imagine his passion in another, more desirable form. Surely, he once loved the woman he now says he hates. Maybe, beneath his rage, he still does. It's easy to imagine the trajectory of their story, how this hot looking guy met this gorgeous chic and found much to love in her. He romanced her, he kissed her. Kisses led to more, the world seem to open up. They told each other they were in love. For many months, they even believed it. But at some point, something went wrong. The hormones tapered off, the veils lifted, and these two clearly not well-prepared people hated what they saw. Most of us have been through something resembling this experience.
"I'm just a guy doing the best he can," the man next to me explains.
I move to another table, put in my earphones and tune into my iPod where on my play list I can choose from hundreds of songs concerning themselves with the ups and downs of love. As I listen to Rufus Wainright's "Do I Disappoint You for Just Being Human?," I wonder what it is about love that has, sadly, sent Amy Winehouse, "Back to Black" or is, in the words of author Lynn Schnernberger "more uplifting than Botox, but often not as long-lasting."
I toast love each day, every moment. Done. Absolutely. In love now, and it is after 16 years. Antony and I are poster boys for much of the gay marriage thing.
-- Tom Graff of Vancouver.
Andrew Feldmar has been in the business of counselling the loveless, the jilted and the love weary for years. The Vancouver-based psychotherapist has also been married for 40 years to artist Meredith Feldmar. Before that, he was in two failed relationships.
"Love desires nothing," Feldmar said, when asked to give his comments on love for a Valentine's Day story.
"Love is taking delight in the other as the other is, in his or her is-ness. Love is letting the other be, with some care and concern. Love is conferring survival benefits upon the other, making the other's life easier and richer in a creatively enlarging way. Love mitigates the ruthlessness of desire. You can love somebody whom you don't desire and you can desire someone whom you don't love. When I love you, I can say, and mean it: 'I could hurt you, and I won't.' You can't love someone whom you don't know, and you can't know someone whom you don't love. We have to be devoted teachers and students of each other, for a relationship to succeed."
When I was 14-years-old, Faith Mandel, a girl with whom I was infatuated, invited me to a school dance on Friday night. But at that time, my family religiously observed the Sabbath and we always had Friday night dinners at home. I asked my mother if I could miss just one dinner to go to the dance, and she said absolutely not. And so I told Faith that I couldn't go to the dance with her 'because my mother wouldn't let me.' I have regretted saying this for the last 47 years!
-- Michael Geller of Vancouver.
Kate McCandless is the resident priest of Mountain Rain Zendo in Vancouver. She is also a clinical counsellor practicing in hospice and bereavement care. She runs a support group for teens who have recently experienced the loss of a parent. Recently, she asked her group to write down as many kinds of love as they could think of.
They came up with these categories: friendship, family, brothers and sisters and parent and child love, homosexual love, heterosexual love, true love, romantic love, sexual love and fake love.
"At their age, they're somewhat obsessed with sexual love," McCandless said, "but they already have an idea of what is fake and what is real. There is this kid who I thought was completely obsessed with sex and on his list he had true love. I asked him what true love was. 'True love is when you are faithful to the person, and you respect them,' he said."
In her capacity as Zen priest, McCandless must often deconstruct how to apply Buddhist theories of nonattachment to lives full of fierce love, abiding attachment and loss. "People think, 'Oh, Zen: nonattachment. Does that mean you're not allowed to love?' As if you could stop yourself. To love is to be human."
Love is being willing and able to separate the wheat and the chaff of a person and be there for them when you would rather be somewhere else. I think of my daughter performing all her clowning antics for attention, when all the while it is hers, just for the taking. Romance is the high, the addiction. Love for me happens through my child unconditionally. It is my spirituality. My child is my altar.
-- Renee Friedman of Cumberland
I know a guy who plays piano at a high-end hotel in Vancouver. He talks about the "lavalife table," a table for two situated close to the piano, where, like it or not, he hears the conversations and witnesses the body language of many who appeared to be meeting for the first time after hooking up on Internet dating sites. As he delivers tunes like "Piano Man" and "Feelings," he bears witness to a lot of love affairs that never take off.
"One couple came in recently. He was balding with a comb over. He looked spiffy in a retro way, his tan sports jacket from the '70s back in style with the kitschy, arty crowd. But he didn't say much while his date listed the NFL players she had dated or been married to in the past and the reasons why she felt he was dishonest and had misrepresented himself online. At one point, she got up and went to the bathroom and she never came back."
To love, in all its licks and claws, lure and surrender, supine pleasures and sizzling expectations ... May we all know its cupping joy on our breasts and its stinging metal piercing our heart, for to know both is to know the ecstasy of the phoenix. To love, to love, to life.
-- Tess Wixted of Cortes Island
Mark Matousek, author of When You're Falling, DIVE met his husband through a site called "Manhunt.com." Although the men paired up for anonymous sex, afterwards they got to talking. They liked each other. A year later they were in love and married at the Harvard Club and have been together ever since. Another dear women friend of mine met a man online and began what she described as the most passionate and satisfying relationship of her life. A few months later, still in the blissful first stages of romantic discovery, she was diagnosed with cancer. The online meeting turned into the deepest form of companionship and he has been by her side through operations and illness, helping her recover and cheering her on.
What is the ultimate Valentine? I ask McCandless, the Zen priest. She tells me this:
"There's more to the picture on Valentine's Day than having or losing a sweetheart. About love, you have to have unconditional kindness towards yourself first, and then extend it from there, first to someone who is easy to love, and then to someone who is hard to feel it towards. This unconditional friendliness to yourself and your own experience is the ultimate Valentine."
Related Tyee stories: