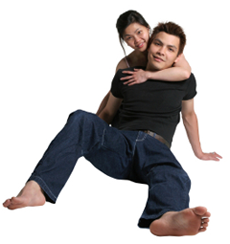 Every summer in Taiwan, about a thousand university-age students of Chinese ancestry return to the land their parents emigrated from to take part in the "Love Boat." The Love Boat is the notorious nickname given to the Overseas Chinese Youth Language Training and Study Tour to the Republic of China, a Chinese language and culture program sponsored by the Taiwanese Government since 1966. And while the program doesn't actually feature a cruise -- it takes place on two campuses in Taipei and Keelung -- it's earned its nickname for its share of romance and casual sex among Foreign-Born Chinese (FBCs).
Henry Wang, an 18-year-old from Tracy, California, was on the Love Boat this July. The organizers, he suggested, even seemed to encourage the hooking up. "All the activities set up by the counsellors were pretty much designed to be icebreakers," he says, recalling one icebreaker in which participants passed a ring using a very short straw to a person of the opposite sex.
In the morning, Wang took language classes, and cultural electives that included practicing martial arts, folk-dancing, and yo-yo-ing. In the evening, he'd test his improved Mandarin bargaining at the market and hitting the clubs, where his friends would try to chat up local girls. "Once you tell them you're from America," he says, "their eyes light up." Almost everyone, he says, broke the 11 p.m. curfew. "You have a lot of kids there with strict Asian parents," Wang says, "where they didn't do very much or go partying. A lot of them are rebelling."
For Wang, the experience was an eye-opener. "When I went to high school, all my friends were Caucasian. So it was really interesting to meet all these Chinese girls and guys."
Wang learned about the Love Boat through a family friend and also the online forums at Yellowworld.org, where ABCs (American-Born Chinese) and CBCs (Canadian-born Chinese) talk about registration information, rehashed old rumours about accidental pregnancies arising from the program, and arranged to meet using e-mail and instant messenger.
"The first summer I spent in China, I almost literally did nothing but play basketball, drink beer, and construct makeshift gravity bongs," writes "Chester," recalling a similar experience abroad. "I was 18. The second time, when I was 25, I actually went to classes and did homework."
Meanwhile, on the website of a Toronto Love Boat alumni group, there's an alumni database, photo albums from previous trips, and information on internet dating.
Hyphenated nation
Throughout North America, youth of various ethnic groups are talking about their heritage and sharing their experiences as so-called "hyphenated" Canadians and Americans through internet messageboards, social networking groups, and blogs. Others return to the countries of their ancestors in programs designed for second-generation youth.
"One of the elements of globalization is a dissemination of information across borders," observes Bart Bonikowski, 27, a Ph.D candidate at Princeton from Toronto. This summer, Bonikowski, who emigrated to Canada when he was 12, participated in Poland in the Rockies, a privately sponsored program in which 30 students from North America and Poland attend lectures and discussions (in English) on Polish culture and history in Canmore, Alberta. "But more importantly is the movement of people across borders: it's not a one-directional phenomenon anymore."
On a messageboard for young Sikhs, SikhSangat.com, postings switch freely from English to Punjabi. Young Sikhs discuss religion but also touch on common issues like diet (most Sikhs are vegetarian) and dating (young Sikhs are discouraged from dating and encouraged to marry through parents or community elders).
According to K. Singh, 24, a volunteer for BC Sikh Youth -- a "coalition of Sikh youth groups, organizations, camps" -- young Sikh-Canadians face misunderstanding from the wider population. "Sikhs are definitely misrepresented by the media," says Singh. "It is generally true that the Sikh community is clumped with Muslims in the U.S."
This sort of ethnic confusion was played for laughs at a recent comedy night in Toronto called "We Ain't Terrorists." The event -- which was promoted on sites like MyBindi.com, an online community for South Asians -- featured black and South Asian comedians, as well as Dave Merheje, who's Lebanese-Canadian.
Looking for heritage on MySpace
"If I'm performing to a Lebanese audience, I'll talk more deeply about our culture," says Merheje, 26, who has participated in the New York Arab American Comedy Festival and at the Lebanese festival in his hometown, Windsor. One topic of comedy for Merheje is a traditional Lebanese dance called the Dabke. "You'll see an old guy who can barely walk, but when that Arabic music hits, he starts jumping like he's a 20-year-old."
"My mission is just to be funny," Merheje insists. "But I'd like it if I can do a tiny part in making people know that the Lebanese are like everyone else." Merheje promotes his comedy to Lebanese groups on the massively popular social-networking site, MySpace.com. "Someone saw me on 'MTV Live,' and a half-Lebanese girl e-mailed me to say she dug what I was saying because she had the same problems."
Hyphenated North Americans also share the experience of returning of not quite being part of their homeland. "When I go back to Poland that Canadian part of me feels more pronounced because that's how they perceive me," says Bonikowski. "I talk about what it's like to live here. They notice little things like my accent. We tend to be labelled an 'other.'"
"One of the major changes that's happened in the last couple of decades is a rise in individualism where personal identity has become more important," notes Neil Guppy, a professor of Sociology at the University of British Columbia. "Young people are seeking variation and trying to break out of the McDonaldization of baseball hats by looking for their heritage."
Messageboard menace?
Still, messageboards have a potential darkside. Shortly after a terrorist plot to destroy major Canadian monuments was uncovered this June, news media uncovered thousands of internet postings from a key suspect, 20-year-old Zakaria Amara, and his wife, Nada Farooq, in which they and others rally around their extremist views justifying terrorism and codemning Canadian society as spiritually corrupt.
Security is another issue. "As nice as MySpace is, there is always a fear of meeting someone with another agenda," says says Destiny Garrafa, 26, of Mississauga, who belongs to a MySpace.com site for Greeks. Garrafa insists she'd never meet a man she met on the internet. "I have met," she adds, "a few girls through the Greek group who are fantastic to talk to."
As well, others argue that government-sponsored overseas programs are opportunities for nationalistic propaganda. The Love Boat, for instance, includes talks on the history China-Taiwan relations that are very sympathetic to the Taiwanese side.
Countries like Korea, China, Mexico, Israel have their own overseas programs like the Love Boat. And friendships that are made in programs like these seem to be enduring through e-mail, messageboards, and instant messenging.
"I'll definitely keep in touch with as many people as possible, for networking," insists Wang, who also to start a Love Boat alumni association in Northern California.
One relationship, however, that Wang isn't so optimistic about is with the young woman he met in Taiwan.
"She's from Southern California and going to a college that's seven hours away from where I live," says Wang, who'll be studying accounting this fall, about his summer inamorata. "Also, I'm young and basically just looking for friends."
Related Tyee stories: