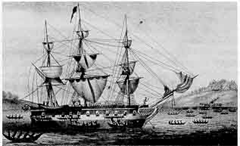 When a suicide bomber struck in Clayoquot Sound in the middle of June, 1811, the reverberations were felt all across North America. For years, the Tla-o-qui-aht, in whose territory the attack occurred, didn't like to talk about it. Now, a film project may help them to reclaim the story.
Joe Martin is a 54-year old master canoe carver who lives near Tofino and whose great great grandfather, Nookmis, (pronounced Nookmees) was a key player in what happened in 1811. He said in a phone interview, "I'd like to point out that it's the history of the first suicide bomber in this part of the world."
The story begins back in September 1810, when John Jacob Astor dispatched a 269-ton vessel, the Tonquin, to the Pacific Northwest from New York. He was America's wealthiest man and its first multi-millionaire. Dreaming of adding even more to his fortune, he wanted to develop a fur trade business that would stretch from the Columbia River all the way to Alaska. The Tonquin was to round Cape Horn, stop in at Hawaii, and sail back to North America. After establishing a fort at the mouth of the Columbia River, the first permanent U.S. settlement on the Pacific, it was to go to Alaska, trading all the way up the coast. Then the plan was for it to return home via Canton where it would sell furs and buy silk.
Hothead for a captain
Astor had hired Jonathon Thorn as captain -- a spectacularly unwise move, as it turned out. Thirty-two years old and a naval hero who had seen action against the Barbary pirates in Africa, Thorn was a stubborn autocrat and micromanager from Hell. He picked fights both large and small -- threatening "to blow out the brains" of anyone who questioned his orders, prohibiting the singing of sea shanties and even complaining that some of the men were spending too much time writing travel journals. When the ship made landfall at the mouth of the Columbia River towards the end of March 1811, Captain Thorn made a characteristically bad decision. He ordered five of his men to take soundings during a gale and in the midst of a treacherous current. They protested, but he wouldn't listen. After setting off in a longboat, they were never seen again. A few days later, he commanded another group to do the same. Their boat capsized as well and three more men drowned. The Tonquin, however, did eventually find tranquil anchorage and the crew started building a fort -- later the site of the city, Astoria.
Leaving some men behind to complete the fort's construction, Captain Thorn sailed north on June 5, 1811. Four or five days later, he was in Clayoquot Sound, hoping to trade with the natives for valuable sea otter pelts. He may not have known it, but Wickaninnish, the local chief, already had serious grievances with the Americans.
In 1792, an American, Captain Robert Gray, had torched the Tla-o-qui-aht village of Opitsaht. Although unoccupied at the time, 200 longhouses, each home to between 50 and 100 people, were burned. More conflict followed. Wickaninnish, who quickly perceived the advantage of owning a ship with cannons, tried to procure one. But when he paid some Americans a down payment in furs to get one, they cheated him and never returned. Then another American captain visited Clayoquot Sound, wanting a dozen crew members to help with a seal and sea otter hunt down the coast of California. He promised to bring them back after the mission was accomplished, but instead, abandoned them on the Farallon Islands. Only a couple managed to straggle back. The others were killed or died en route.
So you had a chief who was already suspicious of the Yankees. You also had a situation where the Tla-o-qui-aht, whose potlatch culture had made them exquisitely attuned to economic nuances, were brought face to face with a man who was the personification of a blunt instrument. No wonder a dispute arose about price.
Natives were 'very cagey'
Barry Gough is a retired history professor from Sir Wilfred Laurier University who has written several books about B.C.'s maritime history, most recently Fortune's a River, published last November. He has been gathering materials for a book about the Tonquin for 15 years. In a phone interview from Victoria where he now lives, Gough said the natives were "very very cagey, very determined to control their own resources and to extract whatever they possibly could." Joe Martin said his great great grandfather was a war chief and "strong -- physically one of the most powerful people in this part of the world." Not easily intimidated, Nookmis was in charge of the trade negotiations on the Tla-o-qui-aht side. He wanted more for the pelts than Captain Thorn was willing to pay. After a day of fruitless palaver, Thorn was frustrated by Nookmis's unwillingness to part with the furs. The irascible captain grabbed a pelt and slapped Nookmis across the face with it.
Alexander McKay, probably the most experienced fur trader on the trip, begged Thorn to leave at this point, but he would have none of it. The next day, the natives appeared again, apparently willing to sell on Thorn's terms. Feeling his tough stance had done the trick, the captain eagerly began doing business. McKay got uneasy as more and more natives boarded the ship but Thorn felt there was nothing to worry about. They were well supplied with muskets, in case of trouble. Then suddenly, Nookmis gave the order to attack. The guns were all below decks, useless, and the natives pulled out knives and clubs they had concealed under their clothing.
Joseachal, a native from the Olympic Peninsula, who spoke Chinook and English and who had acted as an interpreter, got away safely. He may have swum ashore or have been hidden by women in the canoes surrounding the Tonquin. Four men escaped in a boat, but were later captured and killed. Except for one man, everyone else, including Thorn, was murdered on the spot.
Last man aboard
The day after the attack, the Tla-o-qui-aht returned to the Tonquin. They could see that there was still one man on the ship. But he was seriously wounded and did not seem like much of a threat. This was a fatal illusion -- he had a nasty surprise in store. He'd managed to lay a trail of gunpowder to the ship's magazine. Once the warriors were aboard, he lit it, causing a huge blast, killing himself and many of the natives in the process.
Since dead men tell no tales, how do we know that this is really what happened -- that it was a suicide attack and not some kind of accident? Washington Irving wrote the first detailed description of these events in a book called Astoria, published in 1836. According to Gough, this account is still considered substantially correct. The story about the suicide bombing came from Joseachal. He'd spent a couple of years with the Tla-o-qui-aht, and then went back to Astoria where he related what happened. After the four would-be-escapees were captured, he'd been able to talk to them. He found out that they had attempted to persuade the wounded man to come with them. But he wouldn't. He told them he was determined on revenge -- on blowing up the boat and himself, and as many natives as he could take with him.
Joe Martin said that Nookmis did not die in the blast, but upwards of 80 natives did. Much later, in 1896, a Catholic priest, Father Augustus Brabant, reported in a letter that "very few of the men of the tribe were left after the explosion." To protect themselves from an attack by natives living in Barclay Sound, they "had recourse to a novel stratagem. They got all their women to dress in men's clothing and do up their hair as the men of the tribe." According to Brabant, it worked like a charm and the intruders withdrew. That story, however, was not passed down in Joe Martin's family. He was skeptical. "Nookmis had 7000 warriors," he said. He wouldn't have needed the assistance of the women to deceive his enemies.
Eli Enns, a Tla-o-qui-aht who works on land development for the community, said "It was a grim event in our history. Some of the community took it as a sign, that they shouldn't participate in international trade." One grandmother took her family away from the ocean area because she thought it wasn't safe, and went back to the traditional lands further inland near Kennedy Lake. The community closed in on itself for healing, said Enns. It chose isolation, a choice made easier by the fact that the European and American ships stopped coming -- scared off by ferocious reputation the Tla-o-qui-aht had acquired.
Astor driven out
The loss of the Tonquin was a serious disappointment for Astor -- and others as well. Gough said, "I know Thomas Jefferson thought Astor would establish seeds of a new empire. There's a quote to that effect somewhere." He explained, "What it did was to drive out Astor's commercial interests. All of his ships were denied a lot of success, the Beaver, the Lark, certainly the Tonquin. They all came to disaster or near-disaster. He was so financially weakened by these projects that he virtually gave up. The Northwest Company [headquartered in Montreal], bought out his interests at Astoria." If Astor had succeeded? "It would have made the trading relations of the Northwest Coast peoples of Vancouver Island and Alaska more solidly American than they were."
Understandably, there is a huge attraction to the idea of finding the Tonquin wreck. Five years ago, a crab fisherman found an anchor which many people believe comes from the ship. It's the right age; it was found in Templar Channel where the Tla-o-qui-aht elders always said the Tonquin went down; its shaft is made of the right wood -- Eastern hardwood and blue trade beads are fused to one fluke. To capitalize on the discovery, some nautically minded individuals in Tofino started the Tonquin Foundation to educate people about this history. Last year, it published David Griffiths' Tonquin: The Ghost Ship of Clayoquot Sound and aims to establish a marine heritage centre in Tofino. So far, it has a small space where you can see the anchor -- in a building across the street from the Tofino Motel.
Exposing a taboo
Eli Enns said that for years, the subject of the Tonquin "has been taboo." But he hopes to change that with a film project. "We're taking the opportunity to educate the broader community about the Tla-o-qui-aht at the time of contact, to educate people about the level of complexity of the economy and the society. It's also an opportunity educate ourselves." In particular, Enns wants to renew his young people's interest in their history.
It's not the first time this narrative has found its way into a movie. A film was made about it in the 1940's, called This Woman is Mine. Shot in the Philippines and improbably featuring a female stowaway, it's not very good. Cam Baker, who has a travel agency in Edmonton and who is not Tla-o-qui-aht, helped found a non-profit society, Pacific Rim Productions, with the hope of getting the feature off the ground. He's working on the script, tentatively titled Tonquin 1811. Baker said, "It's my grandest scheme ever."
Baker recognizes, "There's a chance that someone could swoop in and say, 'This is a hell of a good idea,' and do it themselves. I really don't care. I'm not in it to be a movie star, or a writer or a director. I just want it to happen. If I instigate it, that's cool. If I write half the script, I'll be ecstatic." Baker would like to see the film released by the summer of 2011. "That would be the 200th anniversary."
Related Tyee stories: