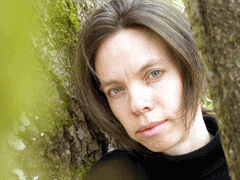 We are proud today to present further fruits of your donations to The Tyee's Fellowship Funds for Investigative and Solutions-oriented Reporting.
Writer Sandra Shields returned from Africa with fresh eyes -- eyes that longed to see how First Nations people in British Columbia might achieve a more just and equitable relationship with the descendents of their European colonizers. The result is a four-part series, funded by a Tyee Fellowship for Solutions Reporting, exploring how the officially declared "New Relationship" is faring in the Fraser Valley.
Shields and partner photographer David Campion, an award-winning team, spent months with the Himba tribe of Southern Africa, documenting the impact of development on their grazing culture and seeing first hand the importance of land rights to the well being of indigenous people. The couple returned home and moved to B.C. shortly before the 1997 Delgamuukw decision by Canada's Supreme Court ruled that in the absence of treaties, First Nations retained their title and rights to the land.
"For me as a non-Aboriginal Canadian," Shields says, "that was when the penny dropped. David and I realized this was the same story we had followed in Africa, just 150 years further along the colonization process." At the time, says Shields, "We were living near Vancouver's Downtown Eastside, the largest unofficial reserve in Canada. There we were in the heart of the trauma that affects First Nations people across Canada."
Then two years ago came Premier Campbell's declaration of a "new relationship" with Aboriginal people in B.C., a commitment, said the premier, to "opening up new dialogue, new understanding and new access to resources - to close the gaps in health, education, housing and economic opportunity that have failed Aboriginal people throughout Canada's entire history."
A 'lightening'
Such lofty promises caused Shields to want to make a fine-grained report on how First Nations people and non-Natives might be working out new relationships in the schools, the timber lots, the negotiating rooms and even on the sidelines of kids' soccer games. She chose to focus her reporting in and around Deroche, the small community in the Fraser Valley where she lives.
Shields was supported in her project by a $5000 Tyee Fellowship for Solutions Reporting, which is funded by Tyee readers' donations and awarded by an independent jury of expert journalists. "I wanted to explore the story in my own community. The Fellowship allowed me walk out the door, pick up threads and follow them. The journey went much further than I expected." In fact, Shields sees a book in the making.
And she has emerged from the process cautiously hopeful, sensing "a lightening" in relations, "at least provincially" - but at the same time saying, "This is really just the beginning."
"People who are experts in reconciliation talk about the need to be clear about what really happened, to find ways to address injustice, to root it out, to find ways of sharing power differently. That's generations of work," says Shields. "Thank god we are embarking on it, but there is a lot of work ahead of us and it will require an enduring commitment on all parts."
Important projects
Previously The Tyee published the prescient and much cited series "Rough Weather Ahead: How Global Warming Will Hit BC," written by Chris Wood, recipient of a Tyee Fellowship for Investigative Reporting. Two more Tyee fellowship-funded series are slated for publication in the near future, and journalists will be invited to submit new proposals in the months ahead.
If you are interested in making a tax-deductible donation to The Tyee's Fellowship Funds please read this.