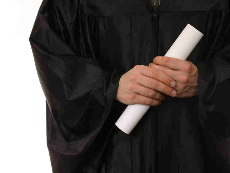 Something strange is happening in BC's colleges and institutes. Enrolments are falling in many of them, and no one seems to know why.
Cindy Oliver is the president of the Federation of Post-Secondary Educators, representing the faculty of most colleges and institutes. She thinks the decline might reflect rising tuition fees, or cuts in support services for "developmental education" -- programs that offer help to adults who haven't finished high school, or are upgrading their qualifications for post-secondary.
Whatever the reason, the decline has serious implications for more than 80,000 BC students and their families and for over 10,000 faculty members in FPSE.
The problem really began in 2001, when the Liberal government told the colleges and institutes that they had a new task: to maximize the numbers of students in their classrooms.
Under funding as a way of life
The colleges have always been funded on the basis of "FTE" (full-time equivalent students). A full-time student takes five 3-credit courses a semester. If one student takes two courses, and another takes three, that's one FTE. But some colleges in the 1990s found that FTE funding didn't leave much left over for library purchases, counseling, and other requirements of post-secondary education.
So they "under produced." If you were funded for, say, 5,000 FTE but you enrolled only 4,500, you could use the extra money for books, computers, services to students with disabilities, and new classroom furniture. This was critical when the NDP under Glen Clark was freezing not only student tuition but also basic funding. With all kinds of rising fixed costs, colleges didn't have much choice in the matter.
The Liberals were determined to get more bang for their post-secondary buck. Henceforth, they told us in 2001, colleges would receive FTE targets. After a one-time boost in funding, we would have to enroll more Full Time Equivalent students every year, while receiving less money every year. Failure to meet the targets would result in consequences we didn't want to know about.
Cindy Oliver recalls that Shirley Bond, the minister for post-secondary for most of the first Campbell government, when asked about institutional targets, said that failure to hit the target would not result in punishment. But colleges that met or exceeded their FTE targets would enjoy some undefined reward. Other than that, we really don't know what could eventually happen.
Meanwhile, tuition was unfrozen and colleges would now receive "block funding" instead of "envelopes" containing money for specific purposes or programs. We would now have to choose where to put our money. And it would have to be where it would get the best results--that is, the highest FTE.
Academic sticker shock
At first, faculty were convinced that the end of the world was at hand. With dwindling provincial support, and demands for more bodies in seats, we could see that we would have to ask students for more money. Not just for tuition -- for parking, for services, even for printing out assignments on college computers. Surely, we thought, students would desert us in droves.
Instead, they swarmed onto our campuses in greater numbers than ever. Money was no object. They just wanted a place in a classroom. The alternative, they clearly believed, was a lifetime trapped in dead-end jobs at close to minimum wage.
Confounded by this tsunami of students, faculty fought hard to keep class sizes as small as possible. One of the colleges' distinct advantages had been the ease of student-teacher contact compared to the huge classes in universities. Sometimes this was still possible, but the pressure to increase class size was intense.
Where class size did go up, so did the faculty workload. If you ask for 5,000 words (10 single-spaced pages) from each student in a class of 25, you have to grade 125,000 words -- the length of a substantial novel. Ask for the same output from a class of 35 and you've got 175,000 words to read and correct. Multiply that by four sections per semester, and you're grading 700,000 words in 13 weeks.
Fewer choices on the menu
Another unhappy result of the new order was a reduction in student options. Programs that enrolled small numbers of students were suddenly unpopular with college administrators. So were capital-intensive programs that needed, for example, lots of new computers and expensive software.
And so were adult basic education programs. ABE has always suffered from academic snobbery: many of its students are one-time high school dropouts, now trying to get a Dogwood certificate and a shot at post-secondary. Many need extra services like counseling and learning assistance. And ABE tuition has usually been free.
But colleges have begun to charge tuition for their ABE programs. For these students, costs soared, and they weren't in a position to sacrifice much. The fall in enrolments, Cindy Oliver speculates, has something to do with the fading of ABE and support services, and the high cost of tuition over all.
When tuition costs backfire
Passing costs on to students can backfire. Some career programs are "cost-recoverable": the students' tuition pays the costs of instructors' salaries, program administration, and even advertising. If such programs fail, the instructors either lose their jobs, or they bump back into their original programs, taking other instructors' jobs. I've seen it happen several times at my own college.
In some colleges, university-transfer courses flourish simply because they¹re cheap to staff and run. They tend to have captive markets: If you're going to UBC or SFU, you've got to take all those basic courses like English composition and Psych 100. It's easy to find cheap "non-regular" instructors to teach extra sections of these courses. Any section that doesn't enroll 30 students can be axed. The students can then go on waitlists for other sections, and hope they can squeeze in with 33 or 34 others.
If the colleges and institutes had actually increased the number of students in postsecondary programs, the government's policies might be defensible. But over the last couple of years, 10 out of 22 colleges and institutes have failed to meet their FTE targets.
For example, Camosun College in 2004-05 had a drop of 139 in FTE over the previous year. For the College of New Caledonia, the drop was 180. Northwest College lost 128. The three most spectacular drops were big Lower Mainland schools: Langara (-282), Kwantlen (-317), and Douglas (-470).
BCIT, Emily Carr bucking trend
The drop at Douglas is especially striking, because Douglas has been advertising far more than most. At Capilano, where our FTE fell by 50, program coordinators and deans wondered where Douglas had found the money to run big newspaper ads that we couldn't hope to match.
Some schools have met or even surpassed their FTE targets. BCIT was funded for 9,463 students in 2004-05; it enrolled 9,989. Emily Carr and the Justice Institute, and a couple of First Nations schools with small enrolments, also did well.
But some schools with a net increase in FTE still failed to meet their targets, and have been running at well below capacity. Selkirk recruited an additional 188 FTE last year, but was running at 88 percent of capacity.
Over all, the system was funded for the equivalent of 86,344 full-time students last year, but it enrolled just 81,089. This was 599 students fewer than were enrolled in 2003-04.
We won't know for months if declining enrolments are still a problem in the 2005-2006 academic year. But it's already clear that faculty and students will go on coping with overcrowded classrooms and inadequate resources. Highly specialized programs will have to keep fighting for their lives. New programs will have a harder time finding startup funding, good instructors, support services, and even classroom space.
And hundreds of students -- maybe thousands -- won't be in college at all. Instead they're out looking for whatever jobs still don't require at least some post-secondary education.
Crawford Kilian, a frequent contributor to The Tyee, has taught in the BC colleges since 1967.