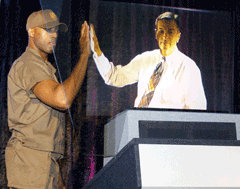 This Monday, 600 air industry leaders and 100 media people are expected to descend on Vancouver for the IATA AGM and World Air Summit. Chances are they'll fly.
Ian Pierpoint, on the other hand, has had it up to here with airplanes. He flies 150,000 miles a year for his work as a qualitative researcher, and he hates it.
"It sucks, actually. But you tell me another way to get to Frankfurt."
Frequent flyers like Pierpoint will help passenger traffic double by 2020, according to some estimates.
But given global warming, many have concerns -- not to mention a creeping sense of guilt -- about the real cost of jetting around.
Which is why high-definition videoconferencing is getting an eager new look. Analysts say web-based encounters have evolved to the point that, as one firm's website boasts, "The only thing you can't do is shake hands!"
Mickey mouse no more
"Video-conferencing technology has been around for at least 50 years," says Eric Vatikiotis-Bateson, a telecom and human behaviour expert at the University of British Columbia. "I saw it demonstrated as a child in 1958 at Disneyland in Anaheim."
But poor picture quality, too many technical difficulties and poor sound held it back. Blame awkwardness in the boardroom and impatience at conferences while techies fumbled cables.
That's changing fast, say Jim Bizzocchi and Belgacem Ben Youssef, a pair of researchers at Simon Fraser University. They're working on an open-source HD video streaming project that they hope will revolutionize the arts, and last month they tested a system that streamed "crystal clear" live video between Vancouver, Toronto and Montreal for 72 straight hours.
While this was over a dedicated research and education network available only to Canadian researchers, high-bandwidth deployments in cities around the world suggest similar sound and picture quality could soon be in the hands of many.
Bizzocchi and Youssef predict that video streaming -- or even virtual, three-dimensional conferencing -- will be the next big thing. And major companies like Tandberg and Sony banking on being at the head of the pack when the technology finally breaks.
Landing gear
In an age of terrorism, fear and heightened national security, it can seem a good time stay on the ground. Author Steven Shepard notes that video communication saw "exponential growth" after the attacks of September 11.
Pierpoint, on the other hand, is just sick of the grind of it, even though he flies business class. He recently endured a round trip between Vancouver and London -- 20 hours in the air -- for a one-hour meeting.
The glory days of cushy commercial trips have given way to today's bare-bones industry, where high prices, poor service, strict rules, customs bullying and expensive in-flight drinks leave a bad taste.
"Apart from being away from home all the time, there's constant jet-lag. Even two or three hours [of travel] can knock you sideways" says Pierpoint, who complains of feeling eternally bloated. Worse, he's seen The Devil Wears Prada 20 times.
So if the high-definition version of videoconferencing goes big, would Pierpoint stay home? Well, yes and no.
Take his one-hour meeting in London for example: That trip was all about talking through some findings with reps from a big corporation. A lot of money was on the line, and he says he had to be there. "They wanted it to be a presentation that people could get excited about and see the person who did it."
Then there's the focus groups he conducts for clients like the BBC. To get honest reactions, Pierpoint records how participants respond to questions while company observers follow the goings-on behind a one-way mirror.
"They'll very often come back with a subtly different interpretation of what went on," says Pierpoint of the observers, "just because they're not picking up on the body language, or spotting the nuances that you do when you're literally two foot from someone."
"So much of what they say is not what they say."
In his efforts to unearth the public's attitudes toward the products and services of big corporations, Pierpoint thinks it's unlikely that even high definition video will let him to do his work from his home in Vancouver. But maybe he could skip out on the odd trip, he says.
Boarding? Pass
Mark Zuberbuhler says more people are choosing to save time and money by staying home. As the manager of Telestudios, a video communications hub at the University of British Columbia, Zuberbuhler says he's seen a definite uptake in large-group videoconferencing in recent months.
Academics delivering papers, architects unveiling designs, non-profits discussing vision statements: users across a broad spectrum have been booking Zuberbuhler's studios, which charge about $140 to $200 an hour for the service and can hold up to 60 people at a time.
Though it's only a short haul, Zuberbuhler himself can't be bothered to make the 20-minute drive from UBC to downtown Vancouver for the company's monthly meetings. Instead, he videoconferences.
Some of the trend is green driven. Bell Canada's website, boasts that "more than 299,900 teleconferences were conducted by our employees in 2005, each averaging 60 minutes and six participants per conference." They calculate the carbon savings at 205,219 metric tons for that year. Video could up those figures.
More than a feeling
Although its seems the hour for video communication is nigh, screens can never fully replace real face to face exchanges.
Vatikiotis-Bateson worked for years on three-dimensional conferencing for a Japanese firm that thought virtual reality systems would be the next big thing. "What they concluded was, 'Who wants a system that simulates proximity, but does not allow you to pour the other guy's beer?' Which is a very big deal in Japanese business and social life."
"Those informal interactions are where the bulk of the decisions are actually made," says Marc-David Seidel, a management professor at UBC's Sauder School of Business. You can't bump into new contacts via video.
Nor is it easy to meet someone and start a relationship screen to screen.
"Initial contact with clients needs to be in person," notes Seidel, citing behavioural studies that show no matter how advanced the technology gets, it will likely always be at a loss as a good medium for first impressions.
Still, Seidel expects the emergence of casual settings like "virtual cocktail hours" will help make video communication seem like an ordinary part of human interaction. Holograms beamed to simulated bars and lounges could stimulate the kind of informal chatter that is key to forging new deals, ideas and relationships, says Seidel.
And of course, when it comes to braving air travel, a lot depends on where your employer wants to send you on business.
"It's kind of human nature you know?" says Bizzocchi "If I had a chance to get a trip to Toronto, I may want to go to Toronto. If it's Hamilton, I might not."
Related Tyee stories: