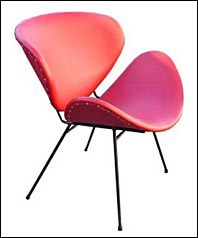 The first hint I had that we do-it-yourself decorators are viewed as something of a joke came when I was in my 20s, and listening to a friend describe her latest break-up. "He told me that he thought the three deadliest words in the English language are, 'I love you,'" she told a group of friends at a brunch party.
"Hmmph, he's got that wrong," snorted my boyfriend at the time. "The three deadliest words in the English language are: 'It has potential.'"
He got a good laugh because, at one time or another, everyone at that table had been with me as I combed thrift stores and garage sales, haunted flea markets and even claimed an occasional curb-side reject, always justifying my finds with: "It has potential."
My belief in hidden potential became the trait that defined me. One friend joked that I had to stop choosing men the way I chose furniture and apartments. "For character?" I asked, hopefully.
"Fixer-uppers," she replied, firmly.
'Martha porn'
It's well known that, in times of stress, some women buy shoes. I buy sheets. No, I don't know why. I find it soothing. I also like to paint furniture and walls. Ooh, and I just silver-leafed a vintage lamp! My dirty little secret -- that I'm a feminist plagued with a politically incorrect home decorating fetish -- is a running joke among my friends.
But lately I've noticed that those of us who pay attention to this kind of domestic comfort aren't just getting the most pleasant homes, we're getting kudos from environmentalists, money experts and the decorating world itself. Not only are we frugal, resourceful and noble recyclers, we have a distinctive style.
So suddenly I've become the go-to girl for every friend flummoxed over where to put the sofa, how to set up a home office or spruce up an eccentric apartment. Even the guy who christened my TV-watching habits "Martha porn" has started asking for advice.
I've considered mentioning that it's wrong to mock my proclivities and then make use of them, but I'm a junkie. Reworking a room is my version of a crossword puzzle, and I get a kick out of doing it on a budget that would make one of those shabby-chic advocates titter. I see home design as less about flashy accessories and more about problem solving.
Which is why my editor says it's time for me to come out of my (neatly organized) closet and fess up to, er, fluffing.
"Someone has to talk about the alternative to Ikea and Pottery Burn," she muttered. (Poor thing has been couch hunting and the stress is getting to her.)
Decorators anonymous
So here goes: my name is Shannon, and my hobby is decorating.
Now, I'm not talking the Cordon Bleu of décor -- for that you have to hire Sarah Richardson or Candice Olson, two of TV's designing women who deliver brilliant results on big budgets. I'm talking about the design equivalent of what my aunt calls "a good plain cook."
Despite what shelter mags would have us believe, most of us want homes that are decorated for comfort. That means having lamps well placed for reading in bed and everywhere else; couches and chairs placed close together to encourage conversation; and side tables that are just the right height to hold your coffee (within two inches of the height of the chair's arm). Of course, it needs to appeal to your sense of aesthetics and not the taste of some designer with a penchant for neon orange.
None of this has anything to do with money; it's all about know-how. While mine was all gleaned the hard way, including countless hours spent stripping woods of dubious origin, how-to is now painless to come by. The dawn of HGTV, coupled with an explosion of decorating books and websites, has made it easy to become a self-taught decorator.
Well, actually, it's made it overwhelming. And a little confusing, with all those choices. So here are some of the best resources I've found in almost 20 years of being, as one long-time pal so elegantly phrases it, "Martha-manque." (Oddly enough, he thinks I'll be charmed by him calling me a "Defective Martha," as long as he does it in French. And yet he wonders why no one polishes his wood.)
Style, not trend
Books with pretty pictures are tempting, but they're a waste of money -- they date too fast -- and they'll only require more bookcases. Invest in the handful of books on design philosophy and technique.
When faced with a sea of choices, it's helpful to recall the view of William Morris, founder of England's arts and crafts movement: "Have nothing in your home that you don't know to be useful or believe to be beautiful." That should prevent you scooping up a clock-belly Buddha because some the designer du jour has dubbed kitsch cool.
Perhaps the single most useful book for getting great results on any budget is Lauri Ward's Use What You Have Decorating (Berkley Publishing, 1998) or her more recent books that incorporate her "10 mistakes to avoid" theory.
She shows you how a room's look has more to do with where you place the furniture, hang the art, and display -- or edit -- the bric-a-brac, than the style of the stuff. Pricey objects, it turns out, are no substitute for understanding how to create balance and flow in a room. At under $25, her books are great bang for your decorating buck.
From Alexandra Stoddard's Creating a Beautiful Home I learned the mantra of simplicity, appropriateness and beauty -- but not before I made some spectacular mistakes, like an Art Deco studio suite. Don't ask. Just remember that before embarking on one of those dreaded theme rooms you should ask yourself if it is appropriate to turn a boxy downtown condo into a Tuscan villa. Would it be simple?
Now back away from that cherub garden statue.
Theme room alarm bells
Actually, you should just back away from the dreaded theme room, no matter what they said on Trading Spaces. Chant it with me now: simplicity, appropriateness and beauty…
Speaking of television shows, many are a goldmine of info and techniques if you can only get past the roster of obnoxious hosts mugging for the camera. I've long wondered if there's some sort of bylaw in TV-land that requires designers to adopt either weird speech patterns or invent weird plots to justify decorating.
The terminally bossy Debbie Travis is so much easier to take via website where projects from her Painted House show are listed, along with the tools and techniques for getting the same effect. Yes, she does many, many bad things with paint. But that's her taste. She'll show you how to prep and paint that dresser you snagged from Craigslist to your taste.
The American version of Home and Garden Television also has lots of practical info. Need to estimate how much paint you need for your walls? This site can show you how.
12-step Ikea recovery
Design junkies will get an almost erotic thrill from Apartment Therapy (Thom Wong wrote a bLink about it here.) The addictive site is the brainchild of designer Maxwell Gillingham-Ryan, who is a small-space-living guru. He has lived in a 250-square-foot apartment in Manhattan for more than a decade, including the last four years with his wife. And they both work from home. They're renovating it to make room for their first baby, and posters are predicting disaster.
The site is full of good tips, tricks and solutions for strange spaces. The addictive part is the dozens of slide shows featuring real people's homes. The annual Best Small Space contest has all the finalists online and is good for sucking up a couple of hours on your first visit. (You've been warned.)
Now I need to help that over-stressed editor find a couch. A friend of mine's parents are part of the wave of downsizing baby-boomers and I seem to recall they have a vintage Danish modern couch in their basement. New cushions and a little teak oil and it will be the showpiece in a mid-century modern room...
Ikea?!? No wonder she's stressed: the instant gratification of tacking particleboard together pales in comparison to the joy of giving Duncan Phyfe a makeover.
© Shannon Rupp. For permission to reprint this article please contact the author: shannon(at)shannonrupp.com.