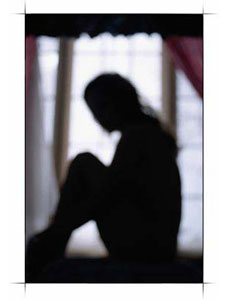 PART ONE OF TWO [Read Part Two: My Paxil Nightmare]
We've all seen them. The ads with balding, middle-aged men skipping euphorically through a playground; or a woman with a ruffled brow complaining that she can't relax; or a young couple skipping happily through a field, enthusiastically inhaling the pollen-soaked air – all ending with a sympathetic voice urging you to "ask your doctor about [insert drug name here]".
Despite regulations prohibiting blatant direct-to-consumer advertising in Canada, consumers are still being wooed by television, magazine, or billboard ads that have managed to skirt through a regulation loophole that permits them to state the name of their product without making explicit therapeutic claims. When the ads do contravene the laws, they may run for months before being stopped by Health Canada, like those for the smoking cessation drug Zyban.
And yet, while pharmaceuticals skip over doctors and put the power of prescription choice directly in consumer control, consumers, as yet, have little voice in the matter. Few know where to start when it comes to exposing any unpleasant or dangerous reaction to taking the pharmaceuticals that purported to make them more virile, less bald, herpes-free, less moody, more outgoing, heartburn-proof … and just about anything else you could think of.
When I was first prescribed SSRI (selective-serotonin-uptake-inhibitor) antidepressant Paxil (generic name paroxetine) in 1995, I thought that I had found my savior. After struggling for months with debilitating panic attacks, anxiety and depression, I burst into my university health clinic and explained that I thought it was time to try drugs. Ten minutes later, after being assured that there was no risk of addiction, I had my prescription.
An hour later, I nervously took my first pill.
Within a week, my obsessive thinking had ceased, my panic attacks faded, and soon I was as normal as any other 22-year-old English major with a big question mark over her post-graduation plans. I'd just take the drugs for six months or so, to kick-start my mind into wellness. I could quit at any time.
Signs of addiction
Nine years later, I still take Paxil every day. Not because I want to, but because quitting it has proven to be a nightmare.
Any skipped dose results in intense vertigo, fatigue, nausea, headaches, extreme anxiety, drastic mood swings and slower mental reflexes. Of course, when these feelings first surfaced, I had no idea they had anything to do with the fact that I may have forgotten to take my pill that morning. At times, even taking the drug a few hours later than usual can result in a slew of uncomfortable symptoms.
It didn't take me long to put two and two together, and soon I felt as hooked to Paxil as a chain-smoker is to nicotine. Doctors assured me that I simply had a "chemical imbalance", and that I might need to be on the drug for the rest of my life. "Don't worry", they told me, when I asked about its safety during pregnancy, "no studies have shown that it's linked to any fetal abnormalities or problems."
How times change. Today, despite its high profile – it's the ninth most prescribed drug in Canada, according to stats from IMS Health Canada – Paxil is at the heart of numerous controversies.
The drug is the subject of 5,000 individual lawsuits in North America, and over 2,500 in Britain.
This past August, Health Canada put out an alert advising of "potential adverse effects of SSRIs and other anti-depressants on newborns". In a press release dated August 9, 2004, Health Canada warned that "International and Canadian reports reveal that some newborns whose mothers took these medications [bupropion, citalopram, fluoxetine, fluvoxamine, mirtazapine, paroxetine aka Paxil, sertraline and venlafaxine] during pregnancy have developed complications at birth requiring prolonged hospitalization, breathing support and tube feeding." The symptoms reported included breathing difficulties, seizures, muscle rigidity, jitteriness and constant crying. The symptoms could either be "a direct adverse effect of the anti-depressant on the baby, or possibly a discontinuation syndrome caused by sudden withdrawal from the drug."
Certainly the jitteriness and crying felt pretty familiar to me.
Anti-depressants under fire
But that warning was just the latest in a long line of complaints about anti-depressants, and Paxil in particular, that surfaced over the past two years. In June 2004, a scathing editorial titled "Is GSK Guilty of Fraud?" in the world's top medical journal, The Lancet, called on GlaxoSmithKline – the maker of Paxil – to release all its internal files relating to the use of the drug in patients under 18.
A year earlier, the U.S. FDA (Food and Drug Administration) recommended that no one under the age of 18 should be prescribed the drug Paxil for major depression because of an increased risk of suicide. On Friday October 15, 2004, it announced that all antidepressants must carry a so-called "black box" warning, the U.S. government's strongest safety alert. The warning came a week after Britain issued an even stronger warning against the paediatric use of Paxil, sold there under the brand name Seroxat. Paxil had never been approved for paediatric use, and GSK had not yet sought to market it as a paediatric drug, but many doctors prescribe the drug for children anyway.
For its part, GSK released a statement September 14, 2004, regarding the use of antidepressants in children and adolescents. It stated, in part: "We agree with the [FDA Advisory Committee]'s call to better inform patients and physicians about he risks associated with depression and the use of antidepressants in children and adolescents. …This is a complex issue that is not easy to resolve given the often conflicting data, and an issue that cannot be ignored in the face of the serious needs of children with depression." It ends with the words: "Neither paroxetine hydrochloride [a.k.a. Paxil] nor bupropion hydrochloride [a.k.a. Wellbutrin] are approved for use in pediatric patients. Both have been approved by the FDA for use in adults with major depressive disorder and, for paroxetine hydrochloride, also for certain anxiety disorders."
A month earlier, on August 26, 2004, GSK announced that it had reached a settlement with the New York Attorney General's office, which had filed a lawsuit regarding the disclosure of data on the use of Paxil in children and adults. In a statement at that time, the company maintained that "GSK believes the charges made in the litigation by the Attorney General are unfounded", but that "the company has agreed to pay the State of New York $2.5 million to avoid the high costs and time required to defend itself in protracted litigation".
On June 10, GSK voluntarily posted full study reports of all its sponsored trials regarding Paxil with children and adolescents.The company has admitted that "in the GSK studies for the treatment of major depressive disorder in pediatric patients, treatment with Paxil was not statistically superior to placebo with respect to efficacy."
And a few years ago, GSK was forced to make a change to its information pamphlet concerning Seroxat – the drug's UK name – admitting that the words "Seroxat is not addictive" could be "misinterpreted". It now admits that there may be some cases of "discontinuation syndrome" – which, as far as I understand it, is just another way of saying "withdrawal symptoms".
Support groups flourish
There are now plenty of online support groups and websites dedicated to helping people get off Paxil – one of the largest is a Canadian site, http://www.quitpaxil.org/, run out of Halifax, Nova Scotia. It seems I'm not the only one who feels trapped by the drug.
With so much disturbing information coming to light in the past few years, one question seems glaringly obvious: why didn't we know about any of this sooner? Paxil, after all, has been on the market for over 15 years, and Health Canada does have an adverse drug reaction [ADR] reporting system, CADRIS [Canadian Adverse Drug Reaction Information System] mainly geared towards physicians and pharmacists, although consumers themselves can fill in ADR forms.
Dr Joel Lexchin is a Toronto physician and professor of health care policy at York University, and a board member of PharmaWatch – a recently-launched Vancouver pharmaceutical watchdog agency and lobby group promoting patient self-reporting of adverse drug reactions. He explains that adverse drug reactions are not always recognized, or even reported.
"If you don't look for adverse drug reactions, you don't see them," he says. "For SSRI's, for instance, the problems associated with stopping them was not recognized for a long time. If you went to a doctor and complained of various symptoms that occur when stopping the medication, they might not be recognized as an adverse drug reaction. If doctors don't know about things, they're not in a position to warn people about them. And they may not recognized that it's an adverse drug reaction when told about it."
He asks: "If you take a drug and then five minutes later drop dead, it's reasonably likely that the drug caused you to drop dead. But if you take a drug today and a week later get into an accident, was the drug involved in the accident? A lot of people don't recognize when they're having a reaction. And people may recognize that they're having a reaction, but don't say anything about it. Or, they may attribute it to the disease process and not to the drug."
Tomorrow: Why adverse drug effects are underreported, and how the new Pharmawatch initiative seeks to empower medication users who, like the author, sense something is wrong.
Jessica Werb is a Vancouver writer whose work appears regularly in The Georgia Straight, The Vancouver Courier and Shared Vision magazine. She has also written for The Knowledge Network's online resources as well as UK newspapers and magazines.
[Read Part Two: My Paxil Nightmare]