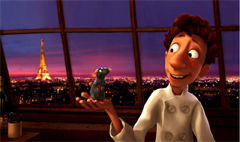 Vancouver restaurants have suffered an influx of rat infestations lately due to rapid (and some might say rabid) construction in the downtown core. But this might be not such a bad thing, according to Ratatouille, the newest film from Pixar and director Brad Bird.
Ratatouille is about a rat named Remy (Patton Oswalt), who lives with his family (dopey brother and crusty dad) in rural France. A rat's life is not an easy one; they are creatures that eat to live. Remy, however, lives to eat -- he is a born foodie, his nose and palette so refined, that he's put to work by his father, sniffing out rat poison. Despite the fact that he is a rodent, possessed of tiny pink paws, a sniffing pink nose and a long naked tail, Remy dreams of culinary glory. Thus, he is irresistibly drawn to humans and their cooking abilities.
In his spare time, he sneaks into the nearby farmhouse to watch his favorite foodie, one Chef Gusteau (Brad Garrett) whip up a flavourful storm on his televised cooking show. Gusteau is a superstar in the world of haute cuisine; his eponymous restaurant is the toast of Paris. But when a scathing review from the city's most feared food critic results in the loss of a Michelin star, Gusteau dies of heartbreak. In keeping with culinary tradition, the restaurant loses another star as a result of his death. His second-in-command, a sous chef named Skinner (Ian Holm), takes over, and licenses Gusteau's likeness to sell microwave burritos. End of story? Mais non!
Animal meritocracy
Cue fate and a shotgun. When Remy and his brother visit the farmhouse to steal some saffron, they get too close for comfort, and an old lady with a gun outs the entire rat den. In the mad scramble to escape, Remy is swept into the sewer, and where does he end up? But of course, Paris! And not just Paris, but right underneath Gusteau's restaurant.
Serendipity gallops apace, and before long Remy has snuck into the kitchen, just in time to see a young idiot by the name of Linguini (Lou Romano) hired as the restaurant's new garbage boy. Linguini has absolutely no cooking ability, but he knows talent when he sees (and tastes it), and when the garbage boy catches the rat in action, the pair makes a pact to cook as a team. It matters not that Linguini doesn't know truffle oil from a hole in the ground, he looks human, and that's all Remy needs. Before long, the little rat is pulling Linguini's strings (his hair actually) and attracting the attention of all of Paris with his haute cuisine. This being a kid's movie, there must be a villain, and Skinner, Gusteau's head chef, a tiny man with a Napoleon complex of gigantic proportions and plenty of nasty intentions fits the bill.
I won't spoil the broth, but suffice to say Ratatouille is a bursting with bright flavors, some spice, and deep warmth that settles in your belly and satisfies body and soul. The film's mixture keeps the story consistently interesting -- from the Anthony Bourdain types who inhabit the kitchen to Remy's fellow rats, the movie is truly democratic, in that everyone gets a moment to shine. But then, the French basically invented modern democracy, or so they say.
Chef Gusteau's credo of "Anyone can cook" is truly in the grand old French tradition of Liberté, Égalité, Fraternité. Remy deserves his chance, just as Marie Antoine Carême once did. Carême, who invented haute cuisine, also came from humble origins. Perhaps he wasn't a rat, but at the time a peasant wasn't much above rodent. What Gusteau is advocating is nothing less than the idea of a meritocracy: that you're as good as your abilities, and that ambition and talent, wherever they originate, ought to be encouraged.
Remy's most unlikely champion in this regard is Anton Ego, Paris's more austerely ferocious food critic. Ego, voiced to dry and papery perfection by Peter O'Toole, has a heart and a stomach for greatness. And his comment that the most important role of the critic in the service of art is to discover and to champion what is new and unexpected is a surprisingly sophisticated sentiment for a children's film, and a very French notion. A similar idea is at the very heart of Napoleon Bonaparte's famous credo "La carriere ouverte aux talents," or founding principle of the order of the Légion d'honneur, whose members are admitted on the basis of their abilities, not their wealth, class or colour. To this list, you could perhaps add species. "Not everyone can be a great artist. But a great artist can come from anywhere," says Ego.
Bird brains
And in the case of director Brad Bird, a great artist can even come from network television. Bird, the man responsible for The Iron Giant, The Incredibles, and some of The Simpsons' best years, has emerged in recent years as one of animated film's most engaging filmmakers, perhaps because he always has something curious to say. In Ratatouille, this is especially true, and he uses the animals to say things that would be impossible in a less fantastical setting.
In the case of Remy, the film plays on the audience's revulsion over rats handling food for comic effect, but also uses it to make a point: were Remy a human creature, instead of a rat, such deeply ingrained disgust and prejudice would be the worst kind of hatred. In the case of a rat with a taste for the finer things, it is his very species that keeps him from achieving his deepest, most cherished ambitions. If Remy were a little black kid from the ghetto, or a Jewish kid from the wrong side of town, denying him ascension into the culinary stratosphere would seem patently wrong, but in the case of rodents, we humans have yet to overcome our intolerance. Is it any wonder that rats in the film have little love for people? The film makes you look at your own revulsion and question it, maybe even change it.
Everyone needs food for the soul, and Ratatouille provides that, along with great heaping helpings of madcap chases, romance and a lovely Proustian moment (not just the usual, marketing-driven vapidity of most kid flicks). Like any good dish, it also has levels of complexity that belies its initial simplicity. It truly is a ratatouille, a peasant dish, humble in origins, but possessing a complex heart.
Perhaps, it isn't surprising that art and rat are separated by only one simple letter.