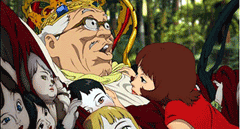 It's a nice coincidence that Paprika opens on June 15th, since it's my birthday, and really, one couldn't ask for a better birthday present.
Paprika is the latest vision from the fevered brain of Japanese anime director Satoshi Kon, whose vivid imaginings spawned the films Perfect Blue, Millennium Actress and Tokyo Godfathers (a gentle nod to the latter is slipped in at the very end of Paprika). After the plodding stupidity of so much recent animation (Shrek et al), Paprika has the ease and fluidity of pure movement. It is so mercury-quick, gleaming and sleek, that while watching it, you too want to shuck off your heavy flesh and become weightless.
The film wastes little time in preamble, it plunges you directly into the middle of a dream that begins with a sinister circus and ends with a man falling through space. The central character in Paprika is, naturally enough, Paprika, a fox-coloured slip of a creature, who acts as a type of dream therapist. With the aid of a device called the DC Mini, Paprika enters sleeping minds and unravels the mysteries therein. She is one-part dream warrior to two-parts digital pixie, with an easy manner and the earthy good sense of a Yiddish grandmother.
Paprika's special skills have been enlisted to help a hard-nosed detective named Konakawa (Akio Ohtsuka), who is plagued by a reoccurring nightmare in which he endlessly chases a phantom man through different movies: a spy film, a romance, and a Tarzan flick. The dream always ends in an anonymous hallway with a falling man; the final scene is from a murder that Konakawa failed to solve. Or is it?
These startling first moments are a pure giddy delight. Watching it, I felt a stupid smile attach itself to my face, and there it stayed for the duration.
The 'Dream Team'
After her session with the cop, Paprika zooms off into the land of nod, and the sun comes up on a woman who is the seeming opposite of our will-o-the-wisp heroine.
Dr. Atsuko Chiba (Megumi Hayashibara) is a scientist with a great deal of interest in dreams. But unlike Paprika, Dr. Chiba's polar demeanor is such that a chill seems to follow her into the room. Dr. Chiba and her colleague, Dr. Kosaku Tokita (Toru Furuya) work for a mysterious research lab that developed the DC Mini. As a pair, they couldn't be more different: as goofily innocent as Dr. Chiba is severe, Dr. Tokita's huge rounded body is the physical opposite of Dr. Chiba's thin hard figure.
On her way to the lab, Dr. Chiba must first rescue Dr. Tokita, who has become lodged in an elevator, but that is the least of their problems; someone has stolen three DC Minis.
The theft was apparently an inside job and the guilt falls on a member of the research lab who has mysteriously vanished. Worse still, whoever has stolen the machines is using them to wreak havoc by mixing reality and dreams. A fact that is made amply clear when the third member of their dream team, Dr. Torataro Shima (Katsunosuke Hori) suddenly goes stark raving mad.
'Candy-coloured insanity'
In an instant the film dives deep into the vision that sent Dr. Shima leaping off a building. In his dream, an enormous parade, full of every imaginable object -- refrigerators and frogs, dolls and toaster ovens -- is marching across the countryside. It is the parade of kitsch, of pop culture icons, and plastic junk, consumer culture's endless appetite for stuff made flesh.
Each item is saluting the sky like some demented vision of Leni Riefenstahl, as if the ultimate fascist movement is that of stuff, of images and ideas, co-opted and used to sell more stuff. It is oddly thrilling to watch this candy-coloured insanity marching resolutely onward. In Paprika's veritable sea of imagery, it is the single most arresting notion in the entire film, and as the narrative loops back to it, it only grows in power.
While Dr. Chiba and Dr. Tokita's desperate search for the DC Mini continues, the thin membrane between flesh, machinery and fantasy dissolves and the cycle of madness expands. The device was actually the brainchild of Dr. Tokita, but even he doesn't really understand how this dream machine actually works. Soon enough ordinary people are partaking of a mass delusion, as the junk parade consumes everything in its path.
A 'molotov cocktail of acid and speed'
Meanwhile, Konakawa is on a personal quest to solve the mystery of his mind-forged manacles. Apparently the detective is hiding something from himself, and it has more to do with movies than he cares to admit. Another date with Paprika ends up in a movie theatre, where Konakawa describes the nature of film language, (pan focus, crossing the axis etc.). It's a moment of self-reflexivity, a film within a film, within a cartoon, that speaks to the different layers all taking place at the same moment.
Before he became a cop, Konakawa was a film student, but an early betrayal made his abandon his chosen career. It's only when he stops denying his buried love that things can move forward. The same thing is also happening to Dr. Chiba, who has been keeping a number of secrets from herself. Desire, however curious or odd, cannot be thwarted by mere reason, and in dreams it works its magic full-force.
As the action gets bigger and wilder, like Alice in Wonderland on a Molotov cocktail of acid and speed, it becomes difficult to hold on to one single plotline. There are a number of simultaneous narrative streams functioning on different planes of existence (dreams, the Internet, movies). Indeed, it's often hard to know where to rest your eyes. The sheer density of visual information is overwhelming; it's an embarrassment of riches.
But maybe that's the idea. If the dangers posed by the continued deluge of information are the subtext of Paprika, the all-devouring parade of junk makes this notion explicit; its jolly madness is all the more sinister for being so mundane. Every item is something that is intimately familiar -- whether it's the Statue of Liberty or Mickey Mouse. But it's the sheer amount of stuff that clots your brain and threatens to subsume you. Several times in the film, the point is made that dreams are the one place that the mind can roam free, that they are the last place where there are no rules. In colonizing this place, the human spirit is commercialized, hollowed out and filled with garbage. But even these ideas are offered up lightly. Before you've had time to register the social critique, the film whacks you upside the head with another barrage of sound and colour, and you drown.
A 'distinctly modern' combination
In navigating the slippery layers of reality, nothing is quite as adept as animation. Like a gleaming silver fish, the drawn image can leap from water to air and back again with liquid grace. So too, Paprika merges multiple media into one fluid whole. There is something distinctly modern in this combination of ideas and technology. It's something that the Facebook, millennial generation can also do with disarming ease -- exist simultaneously in a variety of different medium. Even while they're talking to you, they can be text messaging, checking their email, and watching a film on their cell phones. This level of multitasking can sometimes be disconcerting to people raised on only one type of reality, but it points out the continued evolution of the human mind.
At the heart of the film isn't the conflict between science and fantasy, nor even commodification and freedom, but the intractability of love. Love persists like dreams themselves; try to squash it and it slips away, hiding in the deepest pools inside your brain, waiting for the right moment to resurface. Love always finds a way to come slipping out sideways, staging sabotage attacks on your rational mind. In the end, both Dr. Chiba and detective Konakawa surrender to passion, whether it's love of film or the plain old romantic stuff.
Paprika has the curious effect of making you feel strangely happy afterwards, as if some internal load you hadn't even realized you were carrying is suddenly lifted. It sings. Go see it, even if it's not your birthday, you might feel like it is.
Paprika opens today at Cinemark Tinseltown in Vancouver.
Related Tyee stories: