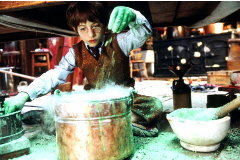 Children should be seen and not heard. If, however, children are seen in a herd, then the children will then be seen to, by her.
Who is her? Nanny McPhee, of course, the all-seeing, all-powerful, original Super Nanny. She may have the biggest mole in town, but Nanny McPhee is only one of three films currently playing that present three views of childhood. All three are very different, but they share some odd commonalities, not the least of which is the notion that children in their small hearts are often better than grownups. But not always.
The story of Nanny McPhee begins with a dead mother, who in this case, is represented by an empty chair. Mommy is gone, and daddy is helpless. Colin Firth is Cedric Brown, an undertaker by trade, and a father by proclivity, with a posse of very bad kiddies, no nannies left and a cook who is about to be cooked. He is at his wit's end. Cue the arrival of one McPhee, large, well-warted and possessed of a cool manner in the hottest of circumstances.
This is one serious nanny. She puts the bald-headed, pony-tailed guy from PBS to shame. Like any good mother substitute, she brooks no contrariness, but sets things slowly to rights. With a screenplay based on the Christianna Brands's Nurse Matilda series written by the wonderful Emma Thompson (how clever she is) this is a very British pudding of a story, chock full of Victorian storybook style, evil stepmothers, ogress-like rich aunts and hapless fathers. The stalwart British nanny is a well-established tradition in children's stories and this version is little different than its predecessors.
Children need both love and discipline, in equal measure (although in the case of Jude Law, there was probably a little too much of both). Children, are of course, always the heroes in these situations, but only after they heed the wisdom of their elders. As Nanny McPhee's hideousness melts slowly away, the film packs a sweet punch, but there is still a spoonful of medicine in amongst the concoctions of clotted cream and acid-coloured icing. Listen to your nanny, or else, but at least you don't have to listen to her sing.
Eve & the Fire Horse
If Nanny McPhee is British pastry and pastiche, then Eve & the Fire Horse is Pop Shoppe. Same stuff, different bottle.
The onslaught of publicity for Eve & the Fire Horse is like a firehose at the moment, which seems intent on covering the entire city in posters. The film, which picked up awards at the VIFF and, most recently, at Sundance, is the most down to earth of the three films cited, perhaps because it is the most familiar. Maybe too familiar.
Set in 1970s Vancouver, it is full of ugly clothes, geeky kids, and a cultural-clash between the western world, represented by a diaper clad Jesus, and the eastern world, embodied in the bodies of a chubby Buddha and a bevy of beautiful dancing goddesses. The fulcrum between these two different worlds is nine-year-old Eve. Born into a traditional Chinese family in the year of the fire horse, lucky for Eve, her parents decide to keep her, instead of throwing her in the river, as parents did in ages gone by. Fire horse children were considered so contrary and wilful, it was best to simply drown the little buggers. Eve doesn't seem unduly nasty, just possessed of a vivid imagination and a propensity for embellishment. Otherwise, she is a perfectly ordinary kid, dressed in some truly unfortunate outfits.
Eve and her older sister live with their parents (an unlucky father, a mother grief-stricken by a miscarriage) as well as a dead grandma who won't go away, but continues to do laundry in the basement. For anyone who grew up in Vancouver, this will be an intensely familiar world -- the clothes, the houses, the cars, the kids -- all will give you an uneasy sense of déjà vu, and this is, perhaps, an unfortunate quality for the film, since similar territory has already been explored by earlier films such as Mina Shum's Double Happiness. The second generation Chinese family experience is also familiar from Eat Drink Man Woman, The Joy Luck Club, and Vivian Wu's Saving Face, another culture-clash tale where the characters became cartoons of themselves after a time.
To her credit, director Julia Kwan inserts some freshness to the proceedings. There are a few scenes that are startling in their loveliness, but there is a tad too much reliance on the cuteness of small children. A little of that tends to go a long way and the more complex interactions of the adults are given less attention than they deserve. Of all the characters depicted, it is Eve's mother who seems the most genuinely interesting, but her actions are often unclear. The lack of clarity might be purposeful, but all events depicted from the viewpoint of a child. The film doesn't offer up any earth shaking resolutions, nor any wisdom, other than that adults are strange. Fire Horse is a nice enough film, but at the risk of being a curmudgeon, I am hard pressed to see what all the fuss is about. In this fashion, it is intensely Canadian, nice without being too much of anything else.
'Electric Shadows'
If you want to see first generation family feuds, Electric Shadows (Meng ying tong nian) screens at the Pacific Cinematheque in Vancouver this Friday, February 3. Although it is not ostensibly a film for children, it is still very much about childhood. The story begins when a simple deliveryman named Mao Dabing (Xia Yu) is bopped on the head by a mysterious deaf girl. The pieces (of his head at least) slowly begin to come together and a story emerges.
Like many an old-fashioned tear jerker, (or teat jerker) things begin with a reluctant mother, a baby, the movies and Chairman Mao. Cut back to the heady days of the Cultural Revolution. In the rural province of Ningxia, Xuehua (Jiang Yihong), is a radio announcer, with grand dreams of super stardom, (she was once the narrator for Antonioni's documentary about China) which ends when she gives birth prematurely to her daughter Ling Ling. After she decides not to kill herself, but to live on like the heroine of her favorite Albanian movie, things pick up.
There is much talk about the innocent joys of childhood. When the mother takes in laundry, the crisp white sheets echo the silver screen and make a beautiful representation of all that is hopeful. Life is transitory, though, and happiness never lasts. Things begin to unravel when a scruffy little urchin named after Chairman Mao enters their lives. Possessed of some startling dentistry, Xiaobing is an instant target, not only for the wrath of the local bullies, but for the fists of his own father. His only escape is also the movies. The pair becomes a trio for a little while.
"Why do we have to grow up?" asks one of the characters in an old Chinese propaganda film. Electric Shadows asks the same question, albeit, in a very roundabout fashion. Since this is a movie about movies, it is odd that movies seem to cause more trouble than they solve. The film is obviously influenced by China's movie making past, in particular, the film versions of The Yang Ban XI such as The Red Detachment of Women, Taking Tiger Mountain by Strategy and The White Haired Girl. Less immediate, but perhaps more pervasive in its influence, is the Italian neorealism of Vittorio De Sica's The Bicycle Thief. Although Electric Shadows has been exhaustively compared to Guisseppe Tornatore's Cinema Paradiso, it is an unfair linkage, sex and love don't play much of a role here, like they do in the Italian film.
Director Xiao Jiang has a easy way with the proceedings in the beginning of the movie, but the film loses its way in the latter half when Ling Ling's mother marries Pan (Li Haibin), the guy who runs the local cinema. After that, things begin to go terribly wrong, but whether this is the fault of my watching too many movies, or the fact that Ling Ling is growing up into a sulky teenager is hard to say.
Real nostalgia
If the director is making a film as a homage to the sudsy style of propaganda past, it is interesting that things are only made right by a return to childhood innocence, despite the fact that innocence often gets squashed, bashed or suffers a very bad fall. Those who want their own way get harsh retribution. Mao Dabing manages to retain his simple happiness by, in effect, staying a child, but this also brands him as an idiot. Ling Ling is also returned to a simple-minded cinema lover by the end. Whether this has a political connotation, you will have to draw your own conclusions -- programmatic or pogrommatic? Be good kids, or else Chairman Mao will get you. Maybe better Mao than McPhee, but then Nanny McPhee is a Government nanny, also possessed of some all-powerful methods of calming the rabble.
The quality of nostalgia for childhood unites all three of these very different films, but is nostalgia really such a great idea? Or is it a pastiche, a simulacra of what was once real, and is now simply memory, overloaded with a heavy weight of sentiment. Salman Rushdie writing about the Wizard of Oz movies in an essay entitled "Out of Kansas", says "This is the last and most terrible lesson of the film: that there is one final, unexpected rite of passage. In the end, ceasing to be children, we all become magicians without magic, exposed conjurers, with only our simple humanity to get us through."
Seeing as so many films and books about childhood are written looking back from an adult perspective (it couldn't really be any other way, since small children can't type all that well, and their tiny arms are too weak to hold up a movie camera), but If you are not exceedingly careful and honest, this backward looking viewpoint can lend a patronizing air. Not only patronizing, but worse: moralistic, condescending, and sentimental.
Or even worse than that.
Kids these days; are they the same as kids those days? Prior to seeing Nanny McPhee in the theatre, we, the audience, were treated to a series of movie trailers for films that looked so vomitously horrible, that one has reason for believing what writer Michael Adams talks about in his recent book American Backlash, about the rise of a Darwinian youth culture, predicated on ruthlessness, greed and consumerism. C.S. Lewis wrote, "I am almost inclined to set it up as a canon that a children's story which is enjoyed only by children is a bad children's story." These are films, possessed of no adult sensibility, other than the need to sell.
You can never go home again, but you can visit for a while, in the dark of the movie theatre. Just be careful where you go, Oz or Kansas: one is over the rainbow, the other is a red state.
Dorothy Woodend reviews films for The Tyee every Friday.