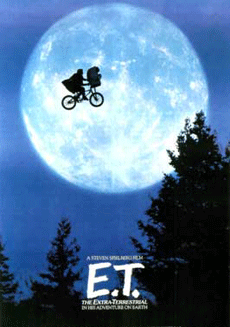 You can never go home again. Unless of course, you live in a movie theatre, and then you can visit your childhood every night of the week and during afternoon matinees, as well.
Time moves so irrevocably forward, it's a natural impulse to swim against the one-way current, especially for filmmakers and marketers who seem irresistibly drawn towards what has already been done before. But despite the "rejuvenile" phenomena, we probably aren't meant or made to go back again. You know it, I know it, but movies, they don't seem to know it.
The one thing that many kids' films makes clear is that the world of children and adults has grown increasingly close in recent years, sometimes a little close for either's comfort. When I was little, you left the house in the morning and came back at night, tired, hungry and dirty. Your parents had no idea what you did all day long, and that was the way you liked it. They had their lives, and you had yours. But then in my day, we also walked 50 miles to the movie theatre with no shoes and howling blizzards to watch E.T. and Godnabbit! we loved it.
By the shrinking paps of Lindsay Lohan, there are plenty of films aimed at kiddies that may convince you paint up a sign, don a bed sheet and take to the street, raving that the end is nigh. The definition of hell is being forced to sit through a series of recent kids' films where you can literally feel innocence being shredded to pieces.
Innocence is something of a foreign concept anyway in the deeply cynical world of Hollywood film. Why, yes, Virginia, there is a Santa Claus and he is played by Billy Bob Thorton as an anal sex-obsessed, pee-soaked drunkard. As any child would say "That's gross!"
They're right about that. Lucikly, the Guardian's and the BBC's recently released lists of the top ten kid's films feature many films that are quite good.
The usual suspects are all there (well, not THE Usual Suspects with Keyser Söze), but E.T., Billy Elliott, My Life as a Dog, The Princess Bride, plus a few that I've never seen before: Hue and Cry, Kes, and Abbas Kiarostami's Where is My Friend's House. The latter three are difficult to find, but luckily Hayao Miyazaki has got your back. Spirited Away also makes the list and Miyazaki's latest film Howl's Moving Castle is still in theatres. Although it's not quite as searingly great as some of his previous work, it's still towering on chicken legs above everything else. The release of the movie in North America also prompted Disney to release many of Miyazaki's earlier films, including Porco Rosso and Nausicaä of the Valley of the Winds.
'Howl's Moving Castle'
This is one of those films you may need to see many times. There is a lot there, not merely on the screen but also in the stuff beyond the pretty pictures. Miyazaki started the film just after the US declared war on Iraq and there is a powerful anti-war message.
The story, taken from the novel by Diana Wynne Jones concerns a wizard named Howl, a young woman named Sofie, a fire demon and a moving castle -- but that is just the beginning. The story is almost the least of it, more important is what is beyond the story: genuine emotion, beauty, a meditation on age and love. It will require thinking about long after you leave the theatre. There is some strange symbolism at work here, and it's far deeper than any children's film has a right to be.
'Kiki's Delivery Service'
Kiki's Delivery Service is the most closely related to Howl, with its very curious take on the European myth. It's an odd flavour combination but one that you can come to appreciate. Kiki is a young witch who must do a year away from home as part of her training.
The opening scene where Kiki lays in an open field watching the clouds move overhead and listening to the weather forecast on her radio perfectly captures that sense of melancholia of yearning for the ephemeral that lies just over the horizon. The very exactitude of this delicate art of atmosphere is what sets Miyazaki's films apart from everything else out there.
Kiki and her sardonic black cat Gigi (voiced by Phil Hartman) take off one night and settle in a seaside town where Kiki finds work as a delivery girl for a bakery. Soon enough, she's attracted the attentions of a local nerd boy and must find a way to balance the pressures of growing up with such complicating factors as the loss of her powers and the flight of a lead Zeppelin. Oh, the humanity!
Full of trademark Miyazaki touches, a gentle romance with action. Repeated viewings will only add to the pleasure -- and rest assured, there were probably be many of those.
'Star Wars: Clone Wars'
If your children are driving you bananas because they've been inundated with Star Wars hyperdrive, but you don't want to take them to see a film where the main character gets chopped into pieces, you have my sympathy. You can always try watching the original films, but this too can lead to some profound confusion.
My son Louis has taken to calling the younger version of Obi Wan Kenobi, (played by Ewan McGregor), as the "real Obi Wan," and the version of Alec Guiness as the "old Obi Wan." He has yet to grasp the fact that Anakin Skywalker and Darth Vader are, in fact, the same guy.
If you're looking for something a little Star Wars without the complication, the animated version of Clone Wars isn't too bad. They call it animation for a reason: it's got some life to it, far more than stiff Hayden Christensen and stuffed Ewan McGregor in the actual movie. And General Grievous, whom Louis calls Joe Grievous, is actually pretty scary. The film is recommended for older kids, since it has a fair amount of a shootin' and a fightin'.
'The Bad News Bears' (1976)
When the ads for the newest version of The Bad News Bears showed up on TV, Louis said "I've seen that movie!" I tried in vain to explain the concept of the remake to the four year old mind, and endured an especially Adam Gopnik moment.
The most interesting thing about this film, in hindsight, is how much of it is not about baseball or scrappy loser kids, but the war between adults and kids. It has the undercurrent that runs through most children's films, this "us and them" attitude, that has become increasingly violent in recent years with children routinely beating the grownups into the ground. In the original BNB, it exists as another layer in the middle of a very fine cake.
The relationship between Matthau's Buttermaker and Tatum O'Neal's Amanda never hits a wrong note as two sad souls connect by mitt and ball. The emotional complexity of this subtext gives the film a gravity and resonance that belies the simplicity of the story. The genius of this film is how the musical score underscores the narrative so perfectly, that you could weep.
'Powerpuff Girls' vs. the 'SpongeBob Squarepants Movie'
As much as I resisted the Bob, I have to admit this is actually a pretty funny film. Although you may spit up your juice when you hear the line "I have ridden the Hasselhoff!" It's not what you think. This is one film that you can watch with your kids and realize that two different movies are taking place at the same time. They will laugh at the antics of Patrick, SpongeBob, Mr. Krabs, and Squidward, while you are laughing at David Hasselhoff's hairy everywhere.
The Powerpuff Girls takes place in a similar vein, although its message is a little more rockum sockum, it still it has style and wit to spare, and a message of empowerment for bad little monkeys everywhere. "No more hobo Jojo, but Mojo Jojo!" may become the resounding cry throughout your household.
Documentaries
This was supposedly the year of the documentary, and if they're good enough for you, then they're good enough for your kids. Why should children always be shunted off into a fictive world, when reality is really a very interesting place?
Some of the best documentaries take as their subject matter the extremely fraught time that is youth: whether the young creatures on film are baby camels (The Weeping Camel), or mambo mad grade schoolers (Mad Hot Ballroom). The real life version of School of Rock is Rock School, where a grown man screams invective at kids in order to turn them into budding Buddy Hollys. It's an interesting choice. There are more gentle docs like Spellbound, or even the French film To Be and To Have, if your children are old enough to read subtitles. If you have barf bags handy you can also take the more adventurous chillies to the Imax offerings like Sharks 3D. Yowza Jawza!
Re-watching some of the film recommended on both the Guardian and BBC lists, is an interesting exercise. Are our modern day sophisticakids still suckers for a rubber necked alien?
Yes, despite the corn, it still works, I misted up even in spite of myself and Louis howled like a banshee when E.T. bit the big one. Since adults make films, and kids watch them, often a strange tension exists on screen and off. Children are often beastly little buggers, which is what makes them entertaining to watch on the big screen or the small. It is why writers and filmmakers are drawn to stories of kids, why someone like Roald Dahl is beloved of kids, and occasionally loathed by parents.
This summer, if you take your kids to the movies, you may experience a little thing called deja vu, as in "haven't I already seen this movie?" Chances are you probably have, because this is the summer of the remake. Charlie and the Chocolate Factory, Herbie: Fully Loaded, The Bad News Bears, were all perfectly fine as they were but, they've been resurrected for a new generation of children often in exactly the same format as previously, minus a crucial little something called heart and soul.
Gene Wilder recently offered up some sage words about the trend to remake films as merely a cash grab, but it's little more complicated than that. It's about going home again certainly for the adults who actually take children to see films. It's also probably directly attributable to the directors themselves -- meaning Tim Burton perhaps thought, "I can do better than that. Here give me $150 million and Johnny Depp in a page boy haircut, and I'll show you." Think Psycho for the smalls, but whose version would you really prefer: Hitchcock's or Gus Van Sant's? It's a strangely formal exercise to remake films, it may look the same, taste the same, but the spirit is gone. Better to stick with Spirited Away.
Dorothy Woodend reviews films for The Tyee every Friday.