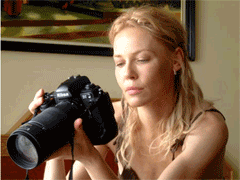 The other day my mother said she'd just read a great novel by Chimamanda Ngozi Adichie called Half of a Yellow Sun. The story, about Biafra's struggle for independence from Nigeria, chronicles the life and death of one disparate group of people. "It was great because it was actually about something: death, war, survival," said my mother. "But it didn't make anyone pathetic."
Her words echoed in my brain as I watched The Situation, a new film directed by Philip Haas, and written by former war correspondent Wendell Steavenson. The film takes place in current day Iraq (although it was primarily filmed in Morocco) and it makes everybody out to be pathetic. And while this is a major problem, it is not even the film's greatest flaw.
In the film's opening sequence, two young Iraqi boys are accosted by an American military patrol. It's past curfew and instead of sending the boys on their way with a warning, the Americans throw them off a bridge. One of the kids swims to shore, but the other drowns. You might think the plot of the film would hang on this crime and its aftermath, but you'd be wrong. This is merely an aperitif, a little amuse-bouche as it were, for the pottage yet to come.
Hot journalists
While the country threatens to dissolve into a seething stew of civil war, insurgency and occupation, a beautiful blond journalist is falling in love with an Iraqi photographer. The real meat of the story is that of Anna Molyneux (Connie Nielsen), a Western reporter eager to carve a career out of the bleeding beast of a dying nation. Anna is hot on the trail of corruption and violence in Iraq; or perhaps, she's simply hot. Men everywhere take one look at her blond, world-weary beauty and keel over. Quite literally. Her part-time boyfriend is an American intelligence officer named Dan Murphy (Damian Lewis) and the other man in her life is Zaid (Mido Hamada), a fellow photojournalist, and the most sensitive, new age Iraqi man ever conceived in the febrile mind of a screenwriter. It's a Harlequin romance with a little grit thrown in.
Digging for journalistic gold in the film's version of Iraq is pretty simple since corruption is basically in the air, the soil, the water and most especially the people. Everywhere you look, someone is murdering someone else in the name of politics or profit, and the difference is often negligible. Anna's friend Rafeeq (Nasser Memarzia) takes her to the drowned boy's funeral, and she tries to pass him a mysterious letter, which he refuses to accept. The letter, it turns out is from her boyfriend Dan who is trying to enlist Rafeeq for the American cause. Dan is apparently trying to build infrastructure in the form of hospitals and incubators, but like most liberals, he's a milksop, an ineffectual puddler who does more harm than good. His various white elephant projects amount to very little, except to keep him busy. Meanwhile, the Iraqis themselves are fighting and killing with wild abandon. The local sheikh, Tahsin (Saïd Amadis) keeps his men loyal with money and loose women, while the neighbourhood terrorist, Walid (Driss Roukh), is stealing arms from the police and stockpiling them. All in all, it's a mess, with the American soldiers blindly bumbling about, shooting the shit out of women and children and menacing anyone who even looks at them twice. The message is clear: war is hell, but rebuilding is even worse.
'United in graft and corruption'
The film goes to some length to illustrate how bad people can do good things and good people can do bad things. But whether they're bow-tie wearing college boys armed with freshly acquired doctoral degrees, or old Ba'athists looking to get plum assignments from the Americans, everyone is united in graft and corruption. Each character is compromised, with the possible exception of too-good-to-be-true Zaid, who, by the rules of Screenwriting 101, is therefore doomed.
When the film is laying out the players, it has some interest, but that all goes quickly to hell, as the love story between Anna and Zaid comes to the fore. Love is perhaps the least likely thing to happen in the middle of a firefight, but the film would have you believe that romance can blossom between bursts of gunfire and bombs: a quick glance here, a near kiss there. "You can't kiss me in front of the Mujahideen," says Zaid, before he heads back into the fray. It might almost be funny, if it weren't probably true.
The character of Anna, however, is what ultimately tips the film into bad taste. I'm sure female war correspondents everywhere are shaking their heads. (Lara Logan, http://www.diosa.net/circus/wp-content/themes/circus_diosa/images/LaraLogan-CBSnews.jpg I'm looking at you, babe.) When Anna runs off trying to get "the story," as she says, leaving a trail of bodies behind her, her two swains rush after her to attempt a rescue. The fact that Connie Nielsen is not even slightly believable as a war correspondent is part of the problem. But it is Anna's level of solipsistic self-absorption that is ultimately damning. While she whimpers, "Please stop shooting," a little boy is killed right behind her, and she fails to notice. The Iraqis fall in heaps, there are bodies everywhere, but at the end of the film, Anna is free to leave, her white skin and blond hair unscathed. She can walk away from the carnage and head back the land of malls and flowers, somehow wiser for her pain. The unspoken fact of 70,243 civilian casualties (many of them Iraqi women and children) has gone largely unreported, but white lives, be they soldiers or American civilians, are duly noted and agonized over.
War: the fiction
It is here where the film deserves to be excoriated: the agony of a country in the middle of bloody dissolution isn't entertainment, it's something else entirely. Exactly what, I don't know. But it begs the question about the role of art in situations of atrocity. Certainly, there were films made about the Vietnam War, after it was over, or even in the case of Hearts and Minds, while it was still going, but to fictionalize a still very real war while it's happening seems at best in poor taste, and at worst cheap, exploitive and racist. The number of documentaries released in the past year (Iraq in Fragments, My Country, My Country, etc.) also makes fiction itself seem somewhat irrelevant. Surely nothing could be as strange as real events and, in the case of Iraq, nothing quite as terrible either.
Wendy Steavenson's war reportage is immensely better than the film's story, so one wonders exactly what happened between her writing about her own experience and the muddied plot of the film itself. (Steavenson spent a number of years in Iraq, had an Iraqi boyfriend and wrote about her experiences in Granta, Time Magazine and other publications.) That's Hollywood for you, I suppose. But it also brings to mind the sense that Western journalists can go to war zones, get their stories, and then return in triumph, having lived through the fire, to write about their experiences. The old line about a day for the news, a week for an essay and a month for a book come to mind. It's a little too easy to be cynical about the motivation of journalists, but the lurking issue of cultural appropriation keeps raising its ugly little head.
The film's message about Iraq is muddled at best and, at worse, simply another case of using horror to sell a movie. It seems odd that some of the most decimated, tragic places in the world are often the setting for western love stories. Clive Owen and Angelina Jolie used the backdrop of dying African children to fuel their passion in Beyond Borders, and although The Situation isn't quite as howlingly terrible, it too falls victim to the vampiric impulse to use the real suffering of people as a form of strange entertainment. Real war, real death, real carnage become fictionalized stories, merely something to watch. This is not just in bad taste or exploitative, it's parasitic.
Fictionalized accounts of real people and real events make the leap to the screen mighty quickly these days. The film, A Mighty Heart, which chronicles the death of Daniel Pearl is playing at the Cannes Film Festival this week, only a few years after his death. Other films at Cannes have also obliquely addressed the issue of war, but very few have chosen to depict it directly, and even fewer mention Iraq.
Using a real story as the basis of fiction certainly isn't new, but the artist must be up to the task of clarifying or mediating reality, otherwise sentiment takes the place of emotion and art becomes cheap junk. The central question, perhaps, is what makes the difference? Is there one defining thing that makes the raw stuff of current events into art? Is it the skill of the artist, the nobility of their intent, or some strange alchemical process that nobody truly understands? How does a novel like Half of a Yellow Sun, which also uses a tragic story to make a profound statement about humanity, achieve the opposite effect of The Situation, which leaves you feeling ill used and manipulated? It's a mystery, but you know it when you see it, or at least you ought to.
The Situation screens at the Vancity Theatre in Vancouver May 28-29, June 1, 4, 6-7
Related Tyee stories: