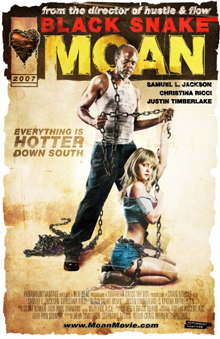 Is there a difference between innocently awful and purposefully terrible? Is it the same type of difference, say, between murder and manslaughter? If so, Craig Brewer may be up for some hard time in the big house. The director's new film Black Snake Moan was meant to be badass, but it ended up plain ass bad.
But then again, maybe that was the idea.
Welcome to the Deep South, home of original hotness, a place where temptation is hiding in every bush, just waiting to jump out and molest your leg. Your first thought might be "Get off!" and it's probably best to stick with that. The film's first scene features two nubile young bodies rutting like they just invented the notion. Christina Ricci is Rae and her boyfriend is Ronnie (Justin Timberlake), who're just another pair of trailer park lovers, living for the moment. But all is not what it seems. Their post-coital moment is interrupted by Ronnie throwing up, after which he leaves for army duty, and Rae takes to humping the ground in his absence.
Next up at bat is a huge black drug dealer, who bends this white southern flower over a bathroom sink for a little bump and grind. After this bravura entrance, Rae strides into town wearing the shortest shorts and the shrimpiest shirt, telling oglers: "Kiss my rebel coochie!" and offering the one-fingered salute to random farm equipment. This is Daisy Duke with a bad case of crabs and some other terribly deep-seated issues.
Blue redemption
Before one can gather one's wits, things get hotter still. While Ronnie is riding the Greyhound towards boot camp, Rae is out riding more men, and getting "fucked up" at a party. A few too many drugs, touch football and anonymous sex in the dirt, and she ends up beaten and bloody at the hands of Ronnie's best friend, a young man who apparently has some sexual confusion of his own.
Meanwhile, across town, another sad soul is facing his own problems. Samuel L. Jackson is Lazarus, a man who is not quite dead inside, but getting pretty damn close. His wife left his sorry ass for his no-good brother, and now she wants a D.I.V.O.R.C.E. Lazarus gets drunk and runs over her rose garden in retaliation. The next morning, while taking out the garbage, Lazarus discovers the unconscious Rae lying in the ditch, like so much discarded trash herself. He takes her in, cleans her up and decides to save her from her wickedness by chaining her to the radiator in his house. Seems God has taken up residence in said heating element, a fact alluded to by Lazarus's ex-wife, and every time Rae tries to escape, the radiator tolls like a church bell or the voice of the Almighty. "Bong, bong, bong," says God. And he ain't talkin' 'bout no hookah pipe, ya'll. What can one do with such a premise but shake one's head and giggle weakly?
Whether she is indeed possessed by the demon clitoris (she writhes, moans and speak in tongues), Rae is certainly suffering from urges in her areas. She is a hellcat and her would-be saviour has more than he can handle, since handling is the very thing this girl is after. Fortunately, this righteous man has an ally in his campaign against the voracious vagina; he got God on his side. And the Lord ain't afraid of no pudenda, however powerful; he created the thing, and then he set man to govern woman in all her licentious ways, not unlike the great big pimp in the sky.
With the help of some old time religion and the blues, Rae is redeemed. She gives up her underpants for a pretty dress, learns to cook and ends up with a white wedding. Her boyfriend Ronnie returns just in time, and is made a man, albeit one who is still terrified by loud noises. Lazarus, too, is brought back from the brink, restored to his music and even offered a potential new love. The film ends in the sanctimony of marriage, but marriage doesn't solve the central problems of the characters. Rae still has the demon lust, only now she's got a gold chain wrapped round her waist to hold onto till the horny storm passes. A woman chained is a woman tamed, I suppose. It calls to mind the Islamic notion that "God created sexual desire in 10 parts, then gave nine parts to women." Pity the penis bearers; it is their duty to chain the savage sex.
Lurid gender
It's easy to make fun of such a film, since its central subject is a woman who'd jump on top of a root vegetable if it looked at her twice. The gender politics of the piece, if you take them seriously, however, are pretty lurid. But I still can't decide if the film is serious or not. If it is, this causes some major problems, since the morality it espouses is nuts. There are the good women: those who attend church and do not judge the men folks. Then there are the bad women: the kind who want to live a little, which often takes the form of sleeping with their husband's brother. Then there are the weak women, the kind who fail to protect their tiny daughters from the predation of pedophiles. Rae, herself, is an amalgam of these types, a good girl ruined early, but still with the seed of hope somewhere deep inside her slutty self. There is little you can do with a character like this besides get in there and roll around, and Ricci, in little more than underpants, does just that. Samuel L. Jackson has long begun to resemble a parody of himself, even before Snakes on a Plane, and this film does little to allay his downward spiral. (You begin to understand director Spike Lee's supposed dislike for Jackson: the man can act, but so often he just acts dumb.)
I came away from the film a little horrified and a little bemused, not unlike the feeling of having a cartoon angel on one shoulder and a devil on the other. Brewer's last film was Hustle & Flow, with its Oscar winning song, "It's Hard Out Here For A Pimp." Black Snake Moan is the director's second major feature, thus he has something to prove. Or maybe the chicken-fried steak appeal of his subject matter simply carried him away. The South lends itself well to the terribly overheated; just ask Tennessee Williams or little Willy Faulkner.
The overt influences of blaxploitation drive-in fare also push the film into strange territory. If Black Snake Moan were released in the heyday of the drive-in movie, it would make a certain amount of sense; the context would be clear. The retro pulpy appeal, embodied by the poster itself (Jackson, legs astride, stands over a bug-eyed Ricci, holding onto her by chain) is obvious, but the film is at pains to withhold the payoff. Audiences go in thinking they're there for an orgy and wind up with a sermon. They get the orgy first, of course, but the moralizing takes all the fun out of it. Even if there is a conventional (and often conservative) morality at the seamy heart of sewer cinema, you can't titillate one moment and castigate the next. The only way to remake a film in this style is with a wad full of ironic distance and a knowing wink: the Tarantino approach to schlock as it were.
A case in point is Grindhouse, Tarantino's latest offering (a tag team effort with director Robert Rodriguez), which hits theatres upside the head on April 2. Mouth-breathers everywhere are counting the days, I'm sure. The esthetic criteria of Tarantino's films is bluntly clear, but the morality is often much more muddy, buried deep amongst naked breasts, gunplay and, in the case of Grindhouse, a woman with a machine gun for a leg. But whereas Tarantino's omnivorous influences were shaped by the video store, Brewer actually has a theatre background, which might explain the different quality of campiness employed by Brewer -- he takes it a little too seriously. He wants it all: the silly and the stentorian, the lurid allure of exploitation fare, the redemption of traditional Christian morality and a whole lotta naked boobies in between. In which case, he ought to be chained up to a radiator, wearing only a pair of panties, and taught the error of his ways by a large black man. I'd pay good money to see that.
Related Tyee stories: