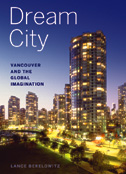 "Vancouver has emerged as the poster child of urbanism in North America," writes Lance Berelowitz at the opening of his important new book Dream City: Vancouver and the Global Imagination. "Like the most vivid of dreams," he avers, "the city is reinventing itself: something curious, perhaps even miraculous is happening here."
Indeed, delegations from even sexy San Francisco make their way to Vancouver to marvel and take notes. Vancouver designers are hired to help Toronto fix the mess it's made of itself. And former Vancouver officials make a freelance industry of preaching the walkable, dense downtown to eager disciples out there in North America's freeway-strangled hinterlands.
That's one of the reasons Vancouver has worked. No freeway. That along with its mild climate, its waterfront land vacated for mega-projects, and its enlightened cadre of urban designers. Berelowitz is one of them. He runs his own planning firm Urban Forum Associates and was editor-in-chief of Vancouver's 2010 Olympic Winter Games Bid Book. He was born and raised in South Africa, studied urban design in London, and arrived here two decades ago a bit too worldly to be wholly seduced by his young, new Dream City. The result is a book that is one part social and natural history, one part theoretical critique, and one part wake-up call to a city wrapped in the blanket of its comforting myths.
Berelowitz conversed and drank a beer in a back yard just off Main Street the other day. Below, excerpted from our conversation, are his quotes...
On Vancouver as 'hot' model for urban designers:
Viewed from the United States, Vancouver is super hot, it's almost overheating. American cities have failed to stem the flight to the suburbs and the disinvestment in their downtowns, so American planners come here and they go ga-ga.
They think, 'How can we do this? How can we get people to live in hi-rises and pay top dollar like that? How can we get people to live over stores on places like West Fourth Avenue and goodness me, Main Street!' And they go away and they scratch their heads in places like Fort Worth/Dallas.
I think, however, that the Vancouver heat thermometer drops off very rapidly once you leave this continent. Vancouverites delude themselves into thinking we're more important in the global scheme of things than we really are.
From the perspective of Europe or Australia or Africa or Asia, Vancouver is a nice small city with cheap sushi and good sunsets, but certainly not nearly the urban intensity and complexity of places like Barcelona or Sydney, let alone great metropolises like London, Paris, Berlin, New York. For those cities, I'm not sure Vancouver has a lot to teach.
On Vancouver as a style brand:
We've created a 'Brand Vancouver', and the brand is these slim, glass shimmering towers. They have small footprints relative to the typical residential tower in North America, sitting on a typical two or three story podium which creates a street wall with front doors and eyes on the street, which is a good thing. Sometimes they have retail at street level but usually townhouses. I think that's the Vancouver Brand.
Architecturally speaking, it's a one-liner. It's not that interesting after a while, once you put a bunch of those together in one place, like we have. We've put a significant concentration of this form in large areas all at once. By all at once, I mean the last 20-25 years, which in the scheme of city-making is a blink of an eye. Great swaths of the city have been recreated with this new product. And now people talk about that as the 'Vancouver Model.'
I am more interested in how we use the city than necessarily how it looks. The American architect Andres Duany, one of the godfathers of new urbanism, was in Vancouver briefly, and he made the point that these towers are incredibly inflexible. He noted that unlike the brownstone apartment buildings of Boston, New York or Montreal, or the row housing of Victorian London or the inner-ring suburbs of a place like Toronto, Vancouver's towers were custom designed for one thing and one thing only, and when and if we want to change them in 10 or 20 or 30 or 50 years time, there is going to be hell to pay.
It's going to be really hard to replace all that custom glazing and the metal work, to break through all that concrete. As far as the look, it's packaged: look but don't touch. It's very much about a sanitized vision of the city.
I find that quite troubling, because for me the great cities I've lived and worked in are the cities that are quite messy, quite organic. They are quite different in different places. They have rough edges, sharp edges. They have magnificent palaces and they have rough and scruffy areas. We seem to be moving towards this kind of cut-out city that's like a backdrop for a natural setting that we love and admire so much. What I want so see more of – and I think will come over time -- is this patina of age and human interaction.
On the allure of ugly Kingsway:
Kingsway gets a really bad rap, but it's an amazing slice right through the pie. It cuts against the grain of the city on the diagonal because it predates the city grid. So you get these really interesting oblique views down the side streets as you go along, and you get these interesting leftover bits of space, these diagonal shaped triangular spaces which are almost non-existent anywhere else in the city, these serendipitous little bits that over time would evolve into really interesting concentrated public spaces the way they have done in renaissance cities or medieval cities in Europe. We just don't recognize that potential yet.
Kingsway is pretty rough around the edges. But going for a drive along Kingsway, from virtually downtown Vancouver at Main Street all the way out through Burnaby to New Westminster, you're tracing the history of immigration into the city. You see waves of ethnic restaurants in different languages.
So I find those areas really interesting because they are adaptable. They are scruffy enough and low rent enough that people can come and go and try things out and there isn't too much risk. The problem with downtown is that it's just too packed and also it's too expensive for pioneering creative types to muscle in and try things out. They are priced out of the market and I think there is a real danger of gentrification happening too quickly. There is just too much of it.
On the Bob Dylan school of urban planning:
There is another area I quite like, the area along Second Avenue between Main Street and Cambie. That sort of forgotten area, the area that's waiting for the Olympics to save it. It's some light industrial mixed in with some older wood frame housing, some interesting factories and warehouses, some interesting left over cafes. I think that if you left it alone and didn't overplan it, if the planners don't get their hooks into it, it could be cool.
You can only plan so much. You can overplan too, and that's the problem with Vancouver. A city is like a Bob Dylan song. It's got to be democratic. It's got to have gaps in there for you to make your own story about the city.
On Vancouver dreams, real and false:
There is validity to this whole myth around Vancouver as ideal for the private pursuit of physical pleasure. In Vancouver, whether you want to climb the Grouse Grind or go for a walk on the beachfront, or if you want to go for a bicycle ride around Stanley Park or if you want to take the dogs for a hike through the Endowment Lands, there is an incredible richness there. Some of it has been carefully preserved and manicured and has been highly managed. But you can have an amazing lifestyle here.
And yet I remember seeing a very interesting piece of research comparing the amount of park space the city of Vancouver has relative to its population and geographic area compared to Portland, Seattle and San Francisco. Guess what? We were last. Who would have thought? The perception is that we have a lot more green space than we do. The reality is not quite as rosy as that.
On what he calls the 'centrifugal' city:
We don't have centralized social condensing spaces, squares and plazas like New York's Washington Square, Toronto's Nathan Phillips Square, let alone the European models. When I arrived here from London I thought 'Where is Trafalgar Square?' Where is the public space that is unprogrammed -- where citizens might celebrate, might protest, might demonstrate, who knows, might fornicate?!
The real public space of Vancouver happens at the edges. A lot of those edge spaces are very thin. Imagine if you could take a big green commons or park and stretch it out so that's its ten kilometers long and three meters wide, and that's most of Vancouver's public space: the Stanley Park seawall.
The other thing is that because we're on the edge of the water, we borrow that space visually. But the water was here before we got here. That's another one of Vancouver's favourite myths: that we've created this incredible experience. The reality is that the experience was here and we've just tinkered with it.
On waking up the waterfront:
I'm not sure we've made the most of the waterfront. We've virtually completed the highly cleansed and sanitized waterfront where nary a dirty industry will be seen again. It's a remarkable transformation from when False Creek was a cesspool of industry. Now it's a beautifully manicured edge.
But the problem is that there isn't much else going on. It's become sacrosanct that the whole waterfront walkway has to be not only continuous but undifferentiated. It's a path for walking combined with cycling or rollerblading, and I think that's a very narrow description of the range human behavior.
Where are all the restaurants, all the bars that other cities have on the waterfront? We haven't got there yet. We have done the first thing. We made it accessible. Over the next 50 or so years people will get bored with this urban waterfront where there is not much to do other than perambulate and we'll start demanding other things that can be injected into that.
On Vancouver's best case scenario:
Best case: In thirty years we will have accommodated another few hundred thousand people but the city, particularly the single family neighborhoods and suburbs, will still generally look and feel the way they do. More people will be using public transit. It will be more reliable, more efficient, more frequent and more comprehensive. I think the best case scenario is that we have another three to five hundred thousand people here in the next three to four decades and we preserve the quality of life that everybody else in Canada salivates over.
On where Vancouver ends and the 'burbs begin:
For me, it's a very artificial distinction. To me Vancouver is the whole metropolitan area going out as far as Surrey. Surrey is the great wild west of Vancouver. There is a very thin layer of urban existence out there, but it's still massively empty.
And the real outer edge, and maybe one of the most positive achievements that we've done in the entire history of Vancouver, is the creation in 1974 by an NDP government of the most successful urban containment boundary in all of North America that I'm aware of, and that is the Agricultural Land Reserve. Because that, more than anything else, has served to help focus the minds of people that we have to build smart because we can't just keep going out. We imposed upon ourselves an urban limit on how far out we can sprawl.
Having said that, we've been nibbling on that land reserve and sometimes taking big bites out of it. Right now the pressure is increasing to erode the ALR as an urban containment boundary, so you're seeing lots of stuff out there that doesn't belong there. But the original intension of the ALR was to preserve our valuable agricultural land base for food production – and an unintended consequence was that this turned out to be the best possible thing for urban containment.
Portland followed our model and created their own zone of green around the city which is help up in American circles as being the most savvy urban containment approach. And guess what, recent legislation in Portland has undermined that one too.
I think the most significant thing we can do is to hold onto and reinforce the ALR.
We'll have a whole bunch more people come here because everywhere else in Canada is so crappy by comparison and we have this ring of green around us. And that will force us to build smart. We will run out of green land. And we will have to redevelop the suburbs. That will be the best thing that Vancouver will have done.
On a certain Vancouver smugness and its risks:
We've been extremely lucky in Vancouver, and we've had an interesting confluence of political savvy and professional aptitude in the form of civil servants and bureaucrats who seized the opportunities and multiplied them. But we can't afford to be complacent because we could easily slip from our position of superiority. That very attitude of superiority could be our Achilles heel.
In the book I argue that we've done the easy bits. The easy bits were densifying the downtown core and those industrial lands where there wasn't an established local community to resist it. Try doing that is Kerrisdale or Dunbar. Good luck. That's the hard part. We've spent millions of taxpayers' dollars since City Plan and I've yet to see many results from that. The city of Vancouver is pretty smart, but we haven't tackled the hard stuff, much less the suburbs.
David Beers is founding editor of The Tyee.