The first time I went to Krestova, I'd been living in West Kootenay for a year when the man I would one day marry invited me to join him for nachos where he was housesitting. He drew a map in symbols that led me past Frog Peak Café, over the Slocan River and up a long and winding hill past the "Keep Krestova Wild" sign, past the horse stables, past Linden Lane Farms to the plateau of land known as Krestova. That night, we took a long walk on Cemetery Road. It was September. The shifting in season was palpable; the bright red of late tomatoes still glistened in vast gardens.
Fast forward six years and my husband, daughter and I now live on Pass Creek Road, at the bottom of what's called "pump hill," a steep and treacherous road that used to be a water corridor between the plateau and where we live. Some call our area Lower Krestova, others Crescent Valley, and some of the old-timers still call it Goose Creek. We call it home.
We moved here in 2017, shortly before the birth of our daughter, having stumbled upon a "For Sale" sign during the Columbia Basin Trust Culture Tour — a weekend where artists in towns and settlements along the Columbia River open their homes and studios to the public. We weren't looking for a house in the country, but the area drew us in. The land itself had good sun exposure, and I loved the wildness evoked by the landscape. A creek borders the property, and I feel most alive when I'm near fast running water.
Since Krestova is unincorporated, meaning it has no local municipal government, the actual territory it covers is subjective. But everyone agrees that the "plateau" is Krestova — this is where the Doukhobors, a mostly pacifist, anti-materialist Christian sect who fled Russian persecution, originally settled in 1929. They arrived during a mass migration in 1899 and eventually made their way to areas of the West Kootenay, including Krestova, where they lived communal, non-materialistic lifestyles. Author Vera Maloff illuminates this local history in her 2020 memoir Our Backs Warmed by the Sun: Memories of a Doukhobor Life, and Robert Chursinoff's recently released novel, The Descendants, explores it through a fictional lens.
Despite these pacifist underpinnings, if you were to travel down Cemetery Road about 70 years ago, in the late 1950s and early 1960s, you might have witnessed homes engulfed in flames. Those were the homes of Doukhobor Freedomites, also referred to as Sons of Freedom, a subset of radical Doukhobors led by Stefan Sorokin who were involved in anti-government bombings, most notably the 1962 tower bombing — a 366-foot structure built by West Kootenay Power was destroyed, cutting off the electric supply to multiple communities on the other side of Kootenay Lake.
Some of the burning homes in Krestova belonged to families whose children were taken from them during "Operation Snatch," sent to a prison-like school in New Denver, B.C., where they faced conditions similar to the residential schools where Indigenous children were sent. The homes were set on fire by their owners, in an attempt to demonstrate their freedom from material possessions.
In 1962, a group of them marched over 500 kilometres west, to Agassiz, B.C., where many of their family members had been imprisoned as a result of the conflicts and bombings.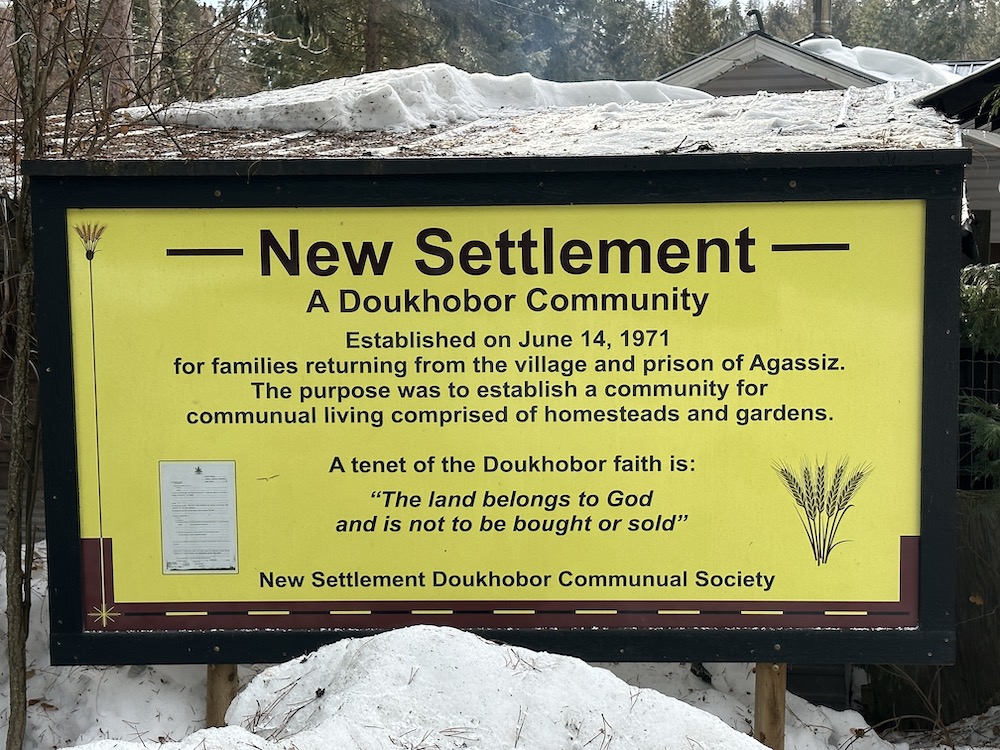 Natasha Makortoff is our neighbour on the other side of the creek. She and her husband Andy both lived in the Agassiz prison camp as children. Although she doesn't remember much from her time there — she left as a young child — she fondly remembers being one of the first three families to move to the New Settlement, a community just up the road from us that was established specifically for some of the families who were imprisoned in Agassiz.
"For the first year, we didn't have running water," she shared. There was no electricity in the community until around 1988, though some families had generators.
Most of the original homes in Krestova were built without foundations, and without siding. Even today, some of the houses remain unfinished, but the change in demographic is also noticeable. Many of the original Doukhobor families have passed or moved on, and some of the newer, more modern houses seem to counter the very spirit of Doukhobor simplicity with their expansive floor plans and manicured lawns.
What Natasha remembers most about growing up in the New Settlement is the sense of community and the excitement of roaming free with so many other children who experienced similar upbringings. I walk there often with my daughter, especially in summer when we can explore the trails and swimming holes along Goose Creek. The roads up there are still unpaved, and there's no through traffic. In late August, there is usually a stand of free zucchinis near the large sign at the entrance, which outlines the history of the New Settlement. Parts of the sign have faded over the years, but the message is still clear: it was a community built on hope.
We met our other neighbours slowly. At first, we were known as the young couple who often walked to the nearby waterfall. Our daughter grew, toddled along beside us and learned to ride a bike while passing cars offered a wide berth. In winter, reaching for snowflakes in her bright red coat, she stood out. We were otherwise innocuous, a few more new faces in an evolving rural landscape.
But eventually that changed. My husband, a mural artist, grew tired of sneaking around trainyards late at night in search of paintable surfaces and decided to create his own outdoor gallery.
In the spring of 2020, he erected a large billboard on the edge of our property, facing the highway, to be used as a canvas for experimentation and political expression. The billboard went up shortly before George Floyd was murdered and his first piece was a Black Lives Matter tribute. He stood in the early spring sun, spray can poised, and people slowed down, curious to see what would materialize from his initial sketch lines. Eventually, it became a dystopian scene of police brutality with the acronym "BLM," for "Black Lives Matter," large and bold at the centre.
Now the neighbours knew who we were.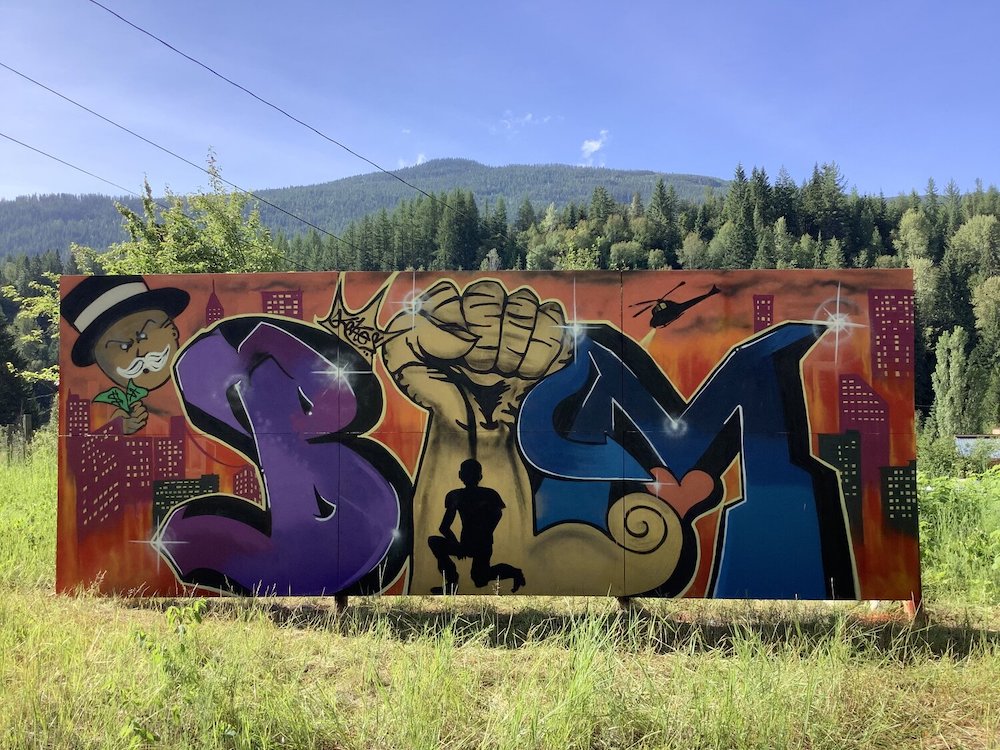 Our understanding of the neighbourhood has evolved largely based on responses to this public art. Most of the responses are positive — one of the first neighbours to stop and introduce herself was a young Black woman from the plateau who thanked my husband for the mural and told him it made her feel safe and seen.
Later that week, though, a longtime Doukhobor resident of the area informed us that he thought the BLM movement was racist. He said we didn't have the right to do any of the things we were doing — the land belonged to the Department of Highways. We countered that we are all on Indigenous land, but besides that, the billboard was on our property line, and more importantly, BLM is an anti-racist movement. We told him we were both educators at a nearby college; he said we should be fired.
The Krestova Community Facebook group provides another window into the ways in which our area is both highly factionary, yet deeply community-minded. The discussion board is where you can expect degenerative conversations on a variety of topics, ranging from violent threats against children on dirt bikes and the spandex-clad cyclists on Pass Creek Road to inordinate amounts of rage against proposed noise bylaws — some people really want to keep Krestova "wild," even if it means normalizing random gunfire, a recent hot topic. On a regular basis, a community member will tell someone who displays interest in things like organized governance to "go back to the *#&-ing city."
At the same time, the Facebook group is also where we organize events like the annual slow food drive, where residents cycle from house to house, visiting and purchasing home-cooked meals, produce and locally made crafts. For Halloween, data is collected in order to create a trick-or-treating map, since the distances between houses can be difficult to navigate. And this fall, we were able to rally support for the Krestova Regional Park. Together, we raised $475,000 in less than two months to purchase community lands that had been put up for private sale — though the park wasn't established without friction. The land itself was put up for sale due to conflict amongst the Doukhobor families who owned the titles, and some fear that the park, having been funded mostly by non-Doukhobor donors, will lose sight of the area's historical roots.
Ironically it often feels like in a community this small, we have to hold larger spaces for each other. The man who told us we should be fired from the college also delivered us three cords of wood right before the cold season settled in, treating us with respect when he did so. Another person, who has told me to go back to the city at least twice, has offered to jump my car when the battery died.
And as my husband's art billboards have multiplied in number over the years, the number of friends we have in the community has also multiplied, in part as a result of his art. Community members bring him gifts — beer, magic mushrooms, cookies and cash donations for paint. He fills the billboards with vintage cartoons that bond the community through nostalgia, portraits of our daughter and, more recently, pleas for peace in Ukraine. This fall, he painted an "Every Child Matters" mural in support of Indigenous children and youth. An Indigenous resident of the plateau smudged the wall and expressed her deep gratitude.
While painting the mural, a neighbour struck up a conversation with my husband, reminding him about "Operation Snatch." "You know," she said, "our children were taken, too."
Living here, we are constantly prompted to remember the complexities of all the histories and social layers weaved into this wild and beautiful landscape.