It's hard to know what matters anymore.
I have to admit I am feeling a little discouraged lately, experiencing a "What's it all about?" kind of moment when you're wondering why you do anything, when all around you, it feels like things are crumbling.
Maybe it was ever thus. As long as the world has been around, it's been in the process of coming to an end. In such a perilous age, making art can seem a little on the fiddling-Roman-burning side of things. The world may be on fire, but you still have work to do before the flames consume you.
The thing that is most interesting about us humans is what we do for love. Passion projects, labours of love — call them what you will, because that's often exactly what drives folk. The will to build, create, write, carve a thing out of midair that had never existed before is more than simple ambition or good old-fashioned Nietzschean blather about power and control.
Something new needs birthing, and we humans are often the conduit through which it makes its way into the world.
I am not sure about all the fragile, febrile hopes for something new to emerge out of this darkest moment, but it is heartening to see different folk busily filming, writing, organizing and generally sallying forth, buoyed along by waves of passionate commitment to something bigger than their wee selves.
The Prophet
A fierce reminder of this takes flight today with a free outdoor screening of Kahlil Gibran's The Prophet.
The Reel 2 Real Festival will be presenting the film on Friday July 13 at Granville Island's Ron Basford Park Amphitheatre.
Written in 1923, this slim little book of poems has sold more than 120 million copies, and been adapted to film a few times before. (Gary Tarn's documentary version is especially worth seeking out.)
The Prophet has graced the bookshelves of many moony twenty-somethings. I remember inscribing lines from it in my journal, alongside outpourings about terrible boyfriends and questions like "What should I do with my life?" But despite being pawed by generations of gooey romantics, the harder truths of Gibran's work have endured.
Executive produced by Salma Hayek, and directed by Roger Allers, the animated version of The Prophet is the very definition of a labour of love. With little money, and a fiery passion for the source material, Hayek essentially willed it into being. In addition to tackling deep and profound subjects such as death, friendship, work, art and freedom, the film is a glorious celebration of animation in all its quicksilver sea change beauty. Hayek collected some of the world's greatest animators, and set them loose on the poems. A virtual constellation of animation masters including Gaëtan Brizzi, Paul Brizzi, Joan Gratz, Mohammed Saeed Harib, Tomm Moore, Nina Paley, Bill Plympton, Joann Sfar, and Michal Socha bring Gibran's verse to life.
While Liam Neeson, Hayek, John Krasinski, Frank Langella, Alfred Molina, and Quvenzhané Wallis contribute their voice talent, the real star of the show is animation itself.
And, really, what is animation, but another word for life?
Tying things together is a simple story of a young girl named Almitra, her mother, and a poet called Mustafa. A scamp, with an uncanny ability to talk to animals, Almitra has been mute since her father died. When she meets Mustafa, imprisoned for the crime of writing poetry, things take a sudden turn for the surreal. Under house arrest for seven years, Mustafa seems an unlikely subversive. But in the eyes of the Ottoman Empire, his poetry has a revolutionary power that must be kept squashed. Even under lock and key, words have a way of breaking free and sailing away.
In addition to its ability to traverse time, space, and culture, The Prophet does something else quite unusual. As Reel 2 Real's executive director Venay Felton explains it "Something really strange happens. The soul recognizes the truth."
It's an experience that even the youngest child can understand and embrace.
As Venay says, one of the rare things about The Prophet is its modern sensibilities about equality, gender and politics. She feels that animation is the right vehicle to bring the book's unique approach to life. "It needed a simple story, that was friendly for kids, had a light heart, and wasn't preachy or boring. But really it's about freedom. The main reason for choosing to show The Prophet was the importance of protecting free speech. This is what is especially critical in the context of fake news."
The diversity of animation styles — completed all over the world — beautifully echo the ethos of Gibran's work. It is a celebration of free spirit, a living, moving thing that goes deeper than live action film could in illustrating philosophical, spiritual and universal truth for all human beings.
In an era of mendacity, when lies are enshrined in the official rhetoric, the truth still has a way of shining forth, gleaming beneath the heap of crap that is the official party line. You can smell it, sense it, taste it almost, and something fundamental in the human soul moves towards it, in almost gravitational fashion. Or, as Gibran wrote: "And think not you can direct the course of love, for love, if it finds you worthy, directs your course."
Reel 2 Real will be offering a series of free animation workshops at Performance Works on Granville lsland in advance of the film, including pixilation, objects in motion and cut out animation. Like any outdoor screening, for the optimal experience remember to bring warm clothes, plenty of snacks and a blanket, along with your appreciation for truth and beauty,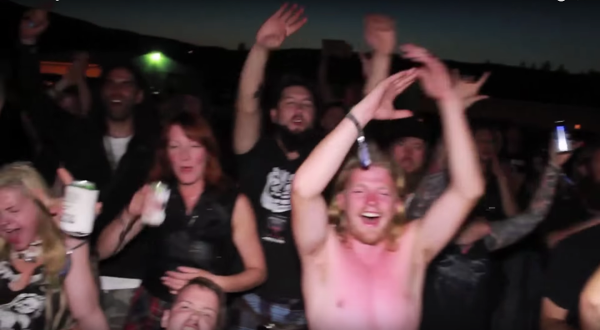 Interior Rock Out
If you've had enough of Vancouver and are in need of escape, luckily enough the Armstrong MetalFest is heading into its 10th anniversary. Ergo, it's an auspicious time to pack up a tent and head to the Okanagan for a pleasant weekend of headbanging with your friends and family.
Organizer Jesse Valstar launched the festival when he was a mere 19 years of age, and at the tender age of 29 he is still happily planning the annual event. On the eve of festival preparations, we spoke on the phone from his home in Armstrong. The panic that attends any festival seems to little affect him. The man is a cheerful soul, who admits that even after a decade of putting the event together, there are few things that can freak him out. "I've realized over the years, that the sun will come out tomorrow," he says.
It is a sound philosophy for anyone organizing an event, but especially an entirely volunteer-run, proudly independent metal festival in the interior of British Columbia.
Valstar is an electrician by day and, as he explains, the rest of the organizing committee is an equally eclectic group of people — farmer, insurance salesperson, etc.
The festival began with little more than hopes and dreams. "I was working at a grocery store at the time, I had no money," Valstar explains, saying that even as he launched the event, he was almost immediately in too deep to worry about eventualities like "What if it fails?"
But after a decade, the Armstrong MetalFest appears robust and sassy. For the tenth anniversary, there are various plans afoot including a scavenger hunt and bringing in some larger heavy-hitting bands.
As an indoor event, the festival doesn't have to deal with the contingencies of weather, but things can still go wrong. A lightning strike, a wind storm, and power outages bring on instant event planner panic, those life-flashing-before-your-eyes moments that demand multiple contingency plans. As Valstar is quick to note the Okanagan community is very supportive.
But it's still a metal festival, so have any crazy things happened over the course of 10 years?
Apart from a few moments such as a naked guy hitting people with a canoe paddle or a sword demonstrator accidentally stabbing his partner, there aren't too many rancid and raucous details. In fact, most of Valstar's stories are quite sweet, a couple getting married, and people returning year after year. "The festival is like a heavy metal family reunion," he says. "It's really nice to hear lifelong festival-goers coming back every year, or be invited to a wedding."
I ask Valstar what is the largest misconception about metal, and receive a passionate discourse on how "'80s metal fans were dicks and ruined it for everyone else." He admits that he gets tired of the stigma, and of hearing stories about people getting beat up because they like Def Leppard.
Or, as he says, "People picture heavy metal with low hanging smog, and a crying baby in the background." It's an easy stereotype to digest, but it's not the norm. As the festival's foremost fan and passionate promoter Valstar says "Mostly it's straight up normal people, Clark Kents, when it comes to metal."
There are practicalities to observe for the Festival. It is a camping event, so bring a tent, your Clark Kent specs, various pieces of studded clothing, and a gently rocking outlook on life.
Designing Canada
A passion for design was the motivating force behind Greg Durrell's film Design Canada.
I realize I am somewhat late to this film, which just ended its run at the Cinematheque in Vancouver, but seek it out, watch it, and weep. For a film that is all about the cool, almost clinical nature of early Canadian graphic design, this is a deeply emotional film. Part of it may be nostalgia for our shared Canadian past, but there is more to it than just sentimental attachment to familiar images and ideas.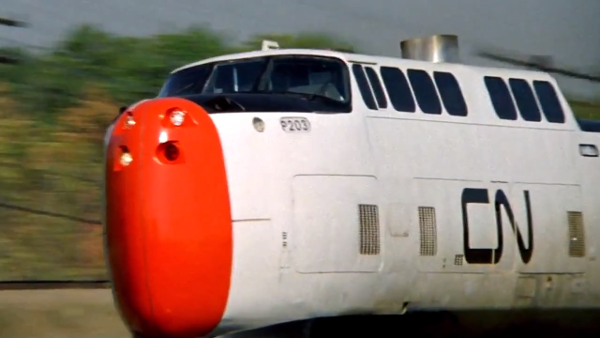 Design Canada takes apart and reassembles some of the most iconic Canadian logos — CN, CBC, ROOTS and the National Film Board of Canada. As design elements, logos are easy to overlook, so embedded in the national unconscious that they become almost invisible. But as the film's director says, not only are they "incredibly interesting, but they also transcend time."
At the beginning of the film's production, Durrell was working as a graphic designer, and had fallen head over heels in love with the clarity and intelligence of Canadian design. Like any newcomer to the world of documentary, he envisioned a film project that would take a couple of years. More than six years later, and, as he says, "mistake after mistake," Design Canada debuted at Hot Docs to sold-out audiences. After screenings across the country, including a recent presentation at the National Gallery in Ottawa, the film's reception still leaves its creator in something of a state of astonishment.
Canada's design renaissance kicked off in the late 1960s and early 1970s with an influx of European modernists who came to a new country with their aesthetic intact. Ferreting out contacts and interviewing people about their work required something of an old-school approach. As Durrell notes, "Not many of them were on Facebook." He made cold calls introducing himself and the nature of the project, and was pleasantly surprised by the reaction of the film's subjects, including Stuart Ash, Julien Hébert, Burton Kramer, Heather Cooper, Rolf Harder, Georges Huel and John Pylypczak, who were happy to see their work gain new appreciation and understanding.
So what makes a great logo?
As one of the designers interviewed states, "It's hard to talk about design." It's not always rational. In fact, the best designs are intuitive. They solve a problem in the most concise, simple and refined way.
One of the most fascinating chapters in the film details the design process behind the hockey sweaters from the 1972 Summit Series, when Canada played the Soviet Union for the honour of being called world champions.
A transplanted Englishman and his wife (who did the actual stitching) created one of the most iconic Canadian images. The film argues that the sweater's unified design cemented the Canadian players into a fighting force and elevated the series into an ideological battle between Communism and democracy, freedom and oppression. With no names except Canada, emblazoned across the back of their jerseys, the Canadian players became, in essence, the embodiment of a national dream.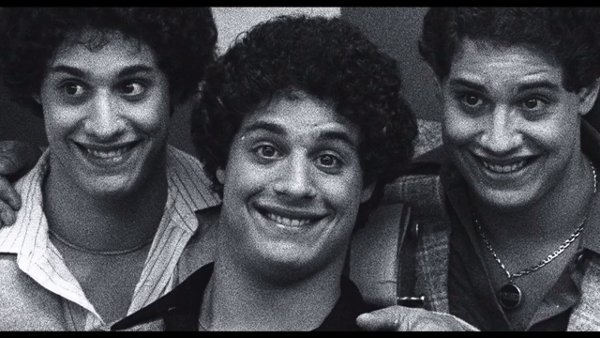 A Dream Come Terribly True
Dreams occasionally have a habit of morphing into nightmares, as director Tim Wardle discovered in the process of making his film Three Identical Strangers.
It's true that life is weirder, kookier and infinitely more complicated than fiction. It is also often much sadder as well. There is nothing quite like documentary cinema to capture all the variegated colours and forms of human experience.
Three Identical Strangers starts out with almost Disney-premise — three teenage brothers, reunited by a series of strange coincidences, discover their connection and start a new life as a family. David, Robert and Eddy were identical triplets, separated at birth, each adopted by a different set of parents. At the age of 19 the boys were reunited, and that's when the story gets really weird.
Wardle brings an Errol Morris-approach to the story, but such is the deep strangeness on offer that all he really needs to do is get out of the way and let the thing tell itself. That is pretty much what happens as the brothers describe the series of coincidences that initially brought them together, and garnered the trio a weird moment of quasi-celebrity.
The initial period of discovery is heady, heart-in-your-mouth stuff, as the boys bond like a litter of puppies, rolling around on the floor and exploring their newfound familial ties. If this story had ended there it would have been enough, but it goes on, eventually roping in conspiracy theories of the darkest and most twisted variety.
I hesitate to say more, as this is one of those films that it is best to know as little as possible before seeing it. The general outlines of the story are enough to lure in the curious, but it is the elegantly constructed Möbius loop of the narrative that stays with you long after the plot unwinds. A few sections demand that viewers reconsider not just the bare facts, but also how perspective can mutate in almost Rashomon fashion.
As the story shapeshifts, it also has the intelligence and courage to go deeper, asking intractable questions about human nature and nurture. Some of the answers it uncovers linger in a way that is not comfortable or easy. Persnickety questions like are we largely determined by our genetic heritage? And, if so, what of free will? Questions about scientific method, the relationship between parents and children, the nature of evil — there is a lot packed into the film. But underneath it all is the most fascinating question of all.
What is that, you may ask? Go and see the film, and then we'll discuss!
Three Identical Strangers open on Friday in Vancouver.