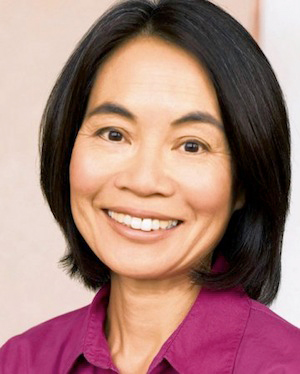 Can a famous newspaper writer whose job drove her into deep depression find happiness through writing a book about the tailspin and publishing it on her own?
Jan Wong has. Within weeks of its May launch, Wong's Out of the Blue: A Memoir of Workplace Depression, Recovery, Redemption, and Yes, Happiness broke Amazon.ca's top 100 list at 77, and Indigo's Top 50 and made the bestseller lists of the Toronto Star and the Canadian Publisher's Association.
In this era of confidentiality agreements, Wong's tale is titillating because she fingers The Globe and Mail managers she says played a role in her collapse. Wong portrays her former bosses as psychic vampires who spent two decades profiting from her talent and then "threw her under a bus" when one of her pieces displeased their own bosses.
Her self-published book recounting it all even "made it onto The Globe and Mail's bestseller list," Wong pointedly notes, as she moves into a new chapter in her life that embraces, rather than rejects, her newspaper days.
Wong is now a tenure-track professor at St. Thomas University in Fredericton New Brunswick who, instead of feeling bitter, is enthusiastically preparing the next generation of journalists.
"Newspapers may be on life support, but journalism will find a way," Wong insists.
Her book provides its own evidence. Wong believes she's sold between 8,000 and 9,000 trade paperbacks ($22) -- a bestseller in Canada is 5,000 books -- and she has no idea about her $10 eBook sales.
That's a coup for any self-published book that is neither pornographic nor about vampires. Although, in a way, Out of the Blue fits both categories.
Self-publishing as self-help
Her success is also a hopeful sign for self-publishing as a medium for independent journalists whose work is not compatible with the goals of media corporations.
Wong thinks eBooks, especially, will play a role in delivering journalism to readers, but she also cautions that self-publishing is nowhere near as easy as her bestseller makes it look. She keeps referring to it as a "miracle" that the book ever made it into print -- let alone into the hands of readers.
It took her two years to recover from the depression and then another three to write the book. Self-publishing was her last resort after Doubleday Canada, which published her first four books, took Out of the Blue to the brink of publication and then wanted a re-write. As Wong relates in the book, they'd succumbed to pressure from The Globe and Mail to remove references to the newspaper.
She says that two things that are crucial to book sales -- media interviews and book tours -- are hard to come by without the "machine" of an established publishing house. With her stellar reputation and a story that meets every reporter's definition of news -- it's what they don't want us to know -- she had no trouble scoring interviews with the country's biggest outlets.
But her lone book tour was an ad hoc affair to the West Coast arranged to coincide with her eldest son graduating from UBC.
"I brought a box of books with me: it was like I was running a lemonade stand," she says, dryly.
Before that she had to learn the mechanics of book publishing: A writer needs to have the cash to invest in hiring an editor, a lawyer, and a book designer, plus a printer. Then she has to find a distributor to get the hard copy books from her basement to the independent bookstores around the country as well as other outlets like Costco, Loblaws, and public libraries.
Even eBooks aren't simple, since each outlet has its own format. She went to BookBaby to publish for Kindle and iBooks, but needed a separate arrangement with Kobo, the Canadian eBook seller.
But as she racks up coverage at every media outlet but The Globe it's hard not to recall Dorothy Parker's quip that writing well is the best revenge. And Wong admits she gets emails from people who say they cancelled their Globe subscriptions after reading the book, but says that was never her intention.
"My goal was to talk about workplace depression, but to do that you have to tell the story," she says.
Newsroom culture
That story is a page-turner that reads like one of those thrillers in which the nefarious spy agency turns on its own operative. She recounts the companies' attacks and her own parries in fascinating detail, and the book is like a self-defense course for any employee facing corporate bullies.
What isn't clear in the book and is perhaps the most curious part of the whole story is why The Globe chose to go to war with a reporter who is famous for challenging power. Whether she was covering the Tiananmen Square protests or dissecting some self-promoting celebrity over lunch, she doesn't seem the sort who is likely to back down from a conflict.
Wong believes they expected her to flinch, partly because she was sick and vulnerable and partly because that was the corporate culture.
"I think the public might be surprised at how many reporters cower in the newsroom," Wong says. "They're only brave externally; internally they are very much the obedient company employees."
Wong's Waterloo was formally known as the Dawson College shooting. In Sept. 2006 Kimveer Gill went to the Montreal CEGEP campus and started shooting, leaving one dead and 19 injured.
Wong, a Montreal native, was assigned to write an analytical feature that would answer the often-unanswerable question: Why? She turned around 3,000 colourful words in 24 hours for that Saturday's paper.
Quebec had suffered three mass shootings since 1989, and all the shooters happened to be immigrants. With that in mind, Wong offered her view of what triggered this gunman:
"What many outsiders don't realize is how alienating the decades-long linguistic struggle has been in the once-cosmopolitan city. It hasn't just taken a toll on long-time Anglophones, it's affected immigrants too. To be sure, the shootings in all three cases were carried out by mentally disturbed individuals. But what is also true is that in all three cases, the perpetrator was not pure laine the argot for a 'pure' francophone. Elsewhere, to talk of racial 'purity' is repugnant. Not in Quebec."
Wong says the piece was approved by a chain of editors including the one at the top: editor-in-chief Edward Greenspon. It got big play that Saturday and the backlash was immediate.
In the weeks that followed the highlights included Prime Minister Harper and the Quebec premier both condemning Wong. Parliament passed a motion demanding she apologize to the people of Quebec. Le Devoir ran a blatantly racist editorial cartoon portraying her as the sort of buck-toothed Asian usually seen in World War Two propaganda. Her family's Montreal restaurants were boycotted and smeared. The hate mail extended beyond the usual vicious rants and name-calling and included death threats serious enough to alert police.
Then her superiors abandoned the newsroom tradition of standing by what they published and joined the pile-on. In The Globe, Greenspon wrote a response to the uproar noting that "the paragraphs were clearly opinion and not reporting and should have been removed from the story..."
Stalked by investigator
What followed her collapse makes a mockery of the concept of disability insurance. After she went on sick leave the human resources department began hounding her to return to work, despite doctors' reports that she was unfit for the high-stress grind of daily news reporting. Manulife Financial, Canada's largest insurance company, went so far as to have an investigator follow and record her in public to "prove" she was malingering. Based on these videos, a psychiatrist in their employ diagnosed her as fit to return to work -- without talking to her -- and they cut off her benefits. (She features that video on her site, JanWong.ca.)
While insurance companies are often painted as villains (unfairly or not) news media generally bask in the reflected glory of newspapers from another era. For a public long sold on the myth of Woodward and Bernstein, The Globe and Mail's treatment of one of its star reporters is a surprising glimpse into a usually romanticized industry.
Wong remembers publisher and CEO Phillip Crawley being particularly furious over the backlash: "You have hurt our brand in Quebec," she says he told her, using the language of salesmen not journalists.
Still, the book is masterful in its restraint. While The Globe's managers come off as self-serving and cynical it's also true that Wong paints herself as no prize. As she details her descent into depression -- which includes a comic bout of compulsive shopping and not-so-funny forays into paranoia and narcissism -- she makes it clear she was not the easiest person to deal with before her psychological collapse. She relays how she was estranged from her siblings, self-absorbed, and driven, not to mention being mean to her husband. Or perhaps that was just affectionate contempt?
She may be the hero of her own tale, but she's very much a flawed 21st century kind of a hero, and her story wouldn't be out of place as a cable TV series.
Given her harrowing personal experience, why is she now shepherding young people into news careers? "Journalism is not just another product, you have to a have human spirit behind it -- someone who wants to know the truth; who wants to comfort the afflicted and afflict the comfortable."
Shaping the next generation
She's obviously excited by teaching. She joins that chorus of profs who curse undergrad writing skills, and enthuses about putting them through a grammar boot camp. She has an innovative technique for teaching them how to handle breaking news. She and a drama professor join forces to create news simulations -- similar to disaster simulations for training emergency service crews. They create scenarios that give students in both programs a chance to practice their craft while their instructors coach them.
It's clear her famous sense of mischief is still intact, too. When she taught students the fine art of constructing Freedom of Information requests, she had them investigate the university itself and one of the FOIs was for the president's salary.
Wong says she warns students about the hazards of workplace depression, and the signs, but she doesn't indulge in telling old war stories. As she talks about her new line of work, which includes columns in Toronto Life magazine and the Halifax Chronicle Herald, there's a sense that all's well that ends well.
It's easy to see why her book has been such a hit since it fits one of journalism's favourite archetypes -- the David and Goliath story. Or so it seems, until she lets slip that she can't read The Globe.
"I'm not completely over it," she admits. "I just can't see it on my doorstep every morning."
© Shannon Rupp. For permission to reprint this article please contact the author: shannon(at)shannonrupp.com.