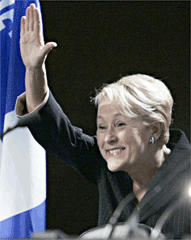 Let me put it straight. I speak English with a soft accent, my sentences don't always make sense and my name suffers many weird pronunciations -- which I find lovely. By Canadian standards, I'm probably considered a nationalist, but by Quebecker standards I am by no means a "separatist."
I left the East Coast because I was tired of the separatism debate. I thought the West Coast was less sensitive, or at least less concerned, about the issue. Was I wrong!
Since my arrival in Vancouver almost a year ago, I've been asked many times if I was one of "those," a "separatist." Rarely could I suppress a smile. Often, the question was asked in a curious way, half-jokingly, sometimes leaving me with a strange feeling that the speaker wouldn't be comfortable until I told him that I'm not "one of those."
The answer, you probably figured out is more complex than saying I'm "federalist" or "separatist." Quebec nationalists range from hard-liners to soft-liners. Francophones from Quebec who refer to themselves solely as Canadians or as "federalists" are fewer and fewer, but it doesn't mean they want to be part of an independent nation.
For English Canada, however, being a "separatist" seems to be a sin even worse than racism. English Canadian media scrutinize every comment made by members of the Parti Quebecois, like no others. Then leader Andre Boisclair's comment about "slanted eyes" in the last election, meant in positive terms but perceived as racist by English media, is one of many examples.
More than separatism
The latest in a series of misinterpretations about Quebec politics came last week, when the National Post announced the death of the PQ -- and separatism -- in an editorial. In their defence, Boisclair's resignation, after only 18 months as the leader, indicated that the party wasn't doing well, especially after the March 26 election, when they had their worst finish in party history. The Gilles Duceppe affair, when he announced his candidacy for the leadership and dropped out 24 hours after, looked even worse. Duceppe and the BQ, in the eyes of the National Post, had also lost their credibility.
But the National Post should remember that these are political parties. And the PQ, at least, is about more than federalism-separatism. Let me explain.
As a voter, I consider Gilles Duceppe the leader of the B-Team of the separatist movement. For many, the Bloc Québécois shouldn't even exist. My feelings for the PQ, though, are different.
I have to confess, I like the PQ. In their more than 15 years in power, the party did a lot to secure Quebec's position within Canada. And, with apologies to Jan Wong, I have to say Merci to the PQ for Bill 101, a law that protects French within the province, while protecting language rights for the English population. I also have to thank the PQ for many other programs, as well as some of the best moments I had following politics as a teenager. But despite all this the PQ has been perceived as just a "separatist" party.
Marois a 'mother figure'
Their new leader, too, has been chronically underestimated. At the national level, Pauline Marois remains an unknown politician and since she never made any racist comments and has never been involved in federal politics, there was no way the major analysts could know her.
But when she re-entered the political scene, Marois imposed her own rules. If she was to come back, the PQ would have to shelve the idea of an immediate referendum. Surprisingly, no one, not even the radical wing of the party, opposed.
But while Quebec analysts applauded the decision, the English media were puzzled. "If the PQ isn't there to make Quebec independent, why does it exist?" I read. From the outside, the question is rightly asked, considering the PQ's first pledge is to make Quebec independent. From the inside, though, it's just what people were waiting for. It's what I was waiting for.
In the last couple of years, the PQ had been swamped by radicals who wanted to do a referendum au plus criss (ASAP). André Boisclair's arrival made it worse. His image just did not appeal to voters. And it's his image, a politician as a vague cousin from abroad with whom they shared little, that Quebeckers rejected.
It's the same story for Jean Charest; to say that he is unloved in Francophone Quebec is an understatement.
ADQ leader Mario Dumont, on the other hand, emerged in the last election as a father figure. With his simple approach on issues that really mattered -- family, elderly people, identity -- Dumont managed to attract voters, even though his team was one of the weakest in Quebec history.
Dumont also had something more. He had been humiliated by the media and by voters. Even during the last elections, the media kept picking on his ideas. Maybe it's because of where I come from, but I like losers. And I suspect it's part of my culture, a kind of taboo.
And this is exactly why the PQ won't die. Marois is a mother figure. She has been humiliated more than once -- she was defeated twice as the party's leader -- had time to think and rest. She now has a momentum and sympathy of the population.
Marois still has a lot to do within her party. First, she has to convince her members not to promise a referendum anytime soon. Then she has to convince people like me that the PQ has something interesting to offer as a social democratic party. Nevertheless, unlike the BQ, I doubt the PQ is dead.
No referendum soon
Fellow Canadians can sleep tight, though. There won't be another referendum anytime soon. Quebeckers said a long time ago they didn't want a referendum -- at least not yet. Quebec politics has moved forward since then. I'm not sure that some columnists have done the same.
Still though, more and more journalists covering Canadian politics and Quebec society know what they are talking about. Paul Wells and Graham Fraser, for instance, are good analysts of Quebec politics, harsh but fair. The Montreal Gazette and The Toronto Star are also usually well informed.
But often writers still misinterpret the linguistic and cultural differences of the province. A recent article from Maclean's that had nothing to do with politics claimed that Montreal was more tolerant of pedophiles than the rest of the country.
Examples like this one happen on a regular basis. With time, I learned to laugh at it. But that's not to say it doesn't have any effect. I recently concluded that I should start calling myself a "separatist," just to watch strangers' reactions. I also spotted a couple of uninformed columnists that I read so I can complain about them. It always makes my day.
I also decided that if I was to stay on the West Coast, I would have to accept the fact that I am a kind of bizarre species, not a foreigner, but not exactly at home either, at least with some strangers.
I wish I could read more about Quebec politics in English than just the "separatist" thing. The hard-liners will never be satisfied. Quebeckers, on the other hand, will always be insulted if their requests are only considered as a way to satisfy the "separatists."
I'd rather compare environmental or educational policies between our provinces than start discussing a hypothetical separation. After all, this threat has long been the basis of Canada and will remain an exciting threat for years to come, no matter how the BQ or the PQ manage. Declaring the end of "separatism" is like declaring there won't be any more war in the world -- a dream that unfortunately will never come true.
Related Tyee stories: