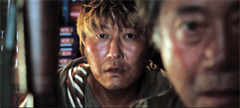 Imagine, if you will, the great white shark from Jaws clambering out of the water and attacking people on land, and you'll have some sense of what makes Bong Joon-ho's film The Host so terrifying. I've been waiting for this film since last May, when it crawled out of the sewer at the Cannes Film Festival, and scared the whiny critics half to death. The monster has finally made it to Canadian shores, and it was worth the wait.
The film opens in a mortuary where an American military type orders his Korean underling to pour aging formaldehyde down the sink into the Han River. The Han, already a fraught symbol of divided Korea, doesn't need any more help from people to muck it up. Damned by the North Koreans, who could flood the entire city of Seoul, if they felt the urge (who needs nuclear weapons when you have water?), the Han is already implicit with threat. In The Host, that threat is made explicit, embodied in a creature summoned from the murky depths of nightmare. A few years later, two fishermen scoop up a strange blob swimming about in the river. "How many tails does that thing have?" asks one. They shudder as the tiny horror swims off.
From small seeds, destruction grows. And grows. The first person to realize that there is something terribly wrong in the Han River is a businessman trying to commit suicide. He sees a shadow in the water, like a premonition of doom, lurking beneath him, and tells his two employees, who are watching in stunned non-comprehension. "Morons to the last," he says and jumps, and he could very well be talking about all of us. Stupid, blind humans, careless and dumb till the very end. Who will save us from ourselves?
Apparently some guy who sells chips.
On a sunny afternoon, a man named Park Gang-du (Song Kang-ho) and his aging father Park Hee-bong (Byun Hee-bong) are operating their snack shack on the riverbank selling fried squid, beer and chips to picnickers. The Park family has some issues, like any family, but they're united in the love of Gang-du's young daughter Hyun-seo (Ko A-sung), a sassy teenager with a bowl haircut and a wayward smile. The rest of the Park family is made up of college educated, chronically unemployed Nam-il (Park Hae-il), and bronze-medallist archery champion Nam-joo (Bae Doo-na).
Gang-du is the family loser. As his father later recounts, his mental development stalled early due to lack of protein. He is definitely not the most inspiring hero to ever grace the screen. Schlubby, prone to sudden attacks of doziness and possessed of questionable hygiene, has the one trait that is demanded from all true heroes -- a good heart. As the family watches the national archery championship, Gang-du sneaks a fried squid tentacle, and life appears to be progressing normally. After this brief introduction, however, things begin to accelerate with the speed and ferocity of a runaway elephant. Make that a mean-tempered salamander the size of an elephant.
Snotballs and screams
When someone spots what looks like a giant snotball hanging under a bridge, a crowd quickly gathers to gawk. As they watch, the creature jackknifes into the river with eerie grace, and swims lazily to shore, where Gang-du gets the ball rolling by throwing a can of beer at it. This same can of beer pops up intermittently through the entire film; perhaps it's an inside joke about the Korean love of drink, or another indication of human guilt; it's a single telling detail in a much larger canvas. The underlying message, apart from "quit throwing stuff in the river," just might be "RUN FOR YOUR LIVES!" Because the beast's grand entrance is stunning. Whether it's people taking refuge in a trailer, which in effect, becomes a human abattoir, or the single slow moment when Gang-du looks back and realizes his small daughter is standing directly in the monster's path, the thunderous gallop of destruction hammers into your chest and guts. It's wonderful.
This scene bears more than a passing resemblance to the famous sequence in Steven Spielberg's Jaws, even to the pull focus of Roy Scheider realizing his worst nightmare is coming true -- the monster is here and the monster is real. But this time there is no safety on land. Like a huge ravenous amphibian, this beastie is equally adept in water and out. The creature has a habit of swallowing people whole and regurgitating them for later eating (after they've softened up a bit) and that's what happens to little Hyun-seo, who is snatched away in front of her father's horrified eyes.
The rest of the family is rounded up, along with everyone else on the riverbank, and interred in a school gymnasium, while the authorities test to see if the monster exposed anyone to a SARS-like virus. Gang-du, who was sprayed with the monster's blood after he hit it with a street sign, is sealed into a giant plastic bag and delivered into the hands of the medical establishment, which comes with its own set of terrors. While the family members await their blood tests, Hyun-seo calls her father on her cell phone and screams for help. What else is there to do but break out and go monster hunting? And that's exactly what happens. The rest of the film is a race against time, as the family searches the sewers for the monster's pantry, where Hyun-seo is hiding along with another child.
Political screamin'
In some ways The Host is a fairly straightforward monster movie -- a great slimy beast spawned by humankind's dreadful inattention to the natural world takes terrible revenge on its makers, and is brought down by one who is pure of heart and dim of brain. But the film takes place on many different levels. On the surface, it's a horror film, with all the conventions that genre entails. But sink a little deeper, and it's an indictment of modern ills such as SARS, or American military interventionist politics. But at the deepest part, it is the story of Korean culture that is reeling from the ravages of its history, and fumbling its way into the present. There are allusions to student protests, starvation and everywhere the rule of the strong over the weak -- whether it's the casual cruelty of doctors and nurses, the fact that every government official is open to bribery, or the like-minded greed of salarymen and thugs -- everyone appears to be sticking it to the little guy.
Bong Joon-ho's previous film, Memories of Murder, worked in a similar fashion, using the story of a serial murderer in rural Korea of the mid-'80s to present a multi-levelled tale of corruption, incompetence, brutality, that was one part slapstick to two parts horror. It's an odd combination, but one in which Korean filmmakers often seem to excel. You may find yourself lurching unsteadily from laughter to tears, but this is often what life is made of, equal parts absurdity and tragedy, with a few moments of grace and courage.
In such a world, whom can you count on except your family, even if they're jerks? When Park Hee-bong makes a plea for kindness and compassion to his kids, they sleep through most of it. But when the chips are really down, the family pulls it together. Each member has a talent, whether it's making Molotov cocktails or shooting bullseyes, or, in the case of Gang-du, flying in the face of horror itself to rescue the only thing that matters. The Host demands your riveted attention and rewards it.
Lovely and sweet
The pathos of this film is met and matched by its bravura filmmaking, from the scene of the family filmed at ground level, wrestling and wailing in an orgy of grief and violence, to the creature playing with its youngest victims like a cat with a mouse. It isn't just another horror film: it's a film first; the horror comes second. But make no mistake -- it comes hard and fast, mainly due to the fact that these are people you genuinely care about.
Unlike many scary movies, where characters exist merely to provide a body count, these are fully fleshed people. The Park family is just that: a regular, cranky, confused family, that, when faced with the unimaginable, still finds time to eat, squabble and dream. When they take refuge in their old snack shack and make a meal of ramen noodles, each imagines feeding a phantom Hyun-seo. It is a lovely moment, graceful and sweet, and it gives the film an emotional resonance that puts other monster films to shame.
This attention to the small, critical details is especially evident in the reoccurring idea of food. From Gang-du stealing a squid tentacle, or sneaking canned squid at the hospital to the two kids trapped in the sewer talking about their favourite junk food -- even the monster itself, with its vile habit of vomiting up the bones of his victims sloughed of flesh -- everyone is determined by their need to eat. The biological reality of horror isn't a new idea (David Cronenberg made it his life's work) but the intricate connections between all organic beings is more delicately stated here; we all come from the same watery soup, and to that we must return. Director Bong Joon-ho adds a subtle twist, by implying that the Korean concept of the rights of the hungry (it isn't theft if you're starving) applies equally to the monster, since survival is the primary objective of every living thing. In the final meeting of man and beast, one fleeting instant of silent communion, even sympathy, is attained.
We live, we eat and sometimes we get eaten. That's life. And death.
Related Tyee stories: