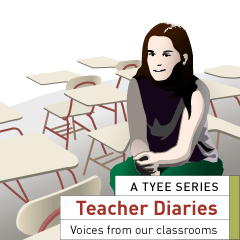 Walking through an elementary school hallway the day after Halloween, I felt sucked through a vortex of uniformly decorated orange and black bulletin boards meant, I suppose, to "showcase students' learning." What learning? Only the Grade 2s' display of 18 identical crepe-paper pumpkins stood out -- and that's because they were in puffy 3D.
Now December is nearly here, which means the kids will soon be at work producing 18 identical puffy candy canes. Yikes. Call me Scrooge, but I've got to wonder why do we still put kids, like trained monkeys, through these and other time-wasting, individuality-sucking, banal exercises?
I'll admit that I am as guilty as the next teacher of falling prey to the occasional cutesy holiday die-cuts and pre-packaged "educational" kits that are pimped out through glossy staff room magazines. But lately my way of beating the academic doldrums is a little more old-school: philosophy with kids.
I have found that even 15 minutes a day of thoughtful dialogue can make a difference. We need to recognize that the number one life-skill is the ability to find the meaning of life. Children need philosophy.
Questions as mirrors
Have you ever asked a seven-year-old "What is the meaning of life?" or "What is existence?" Do you think children are ready for these questions?
They may be hungry for them.
What we believe about children's capabilities -- and even about their dignity as people -- is reflected in the types of questions and conversations we invest with them. When we explore with them tougher, meaningful issues, even very young children recognize and appreciate this. We notice that they sit up a little straighter, with eyes a little brighter, as they dig deeper to rise to the challenge.
Conversely, when we don't talk to children or only ask them trite questions about inconsequential matters, they internalize this too. They may respond in a similarly disengaged or dismissive fashion to mirror or please. Worse, in some cases, they construct their identities around our limited view of them.
For this reason, it's important to be aware of the types of questions we address with children. This is the first step. The next step is to help them harness their ability to meaningfully deal with heavier topics.
Getting philosophical
So, what to ask children? Most open-ended questions of deep human importance are a great place to start. Keep in mind that philosophical questions are not to be confused with just "hard" questions (like what is the square root of 456,784?) and they are not scientific questions (such as "How many stars are there in the universe?"). Questions like these, worthwhile though they may be, are not philosophical as they can be empirically explained.
Rather, for philosophical questions there may be more than one right answer. They inspire debate and invite us to construct reasons and offer proofs.
What is beauty?
What is happiness?
What is justice?
What is the right way to live?
Is it ever right to tell a lie?
Could there ever be a perfect world and what would it be like?
Could something exist outside of time and space?
Can two people disagree and both be right?
How do you know you are not dreaming right now?
If you could eliminate one emotion from the world, would you? Which one? Why?

Note that the benefit of exploring philosophical questions lies not only in the answers that may be unearthed. Indeed, fixating on having everyone wrap up with tidy conclusions can be counterproductive to other aims of philosophical dialogue with children.
As the great philosopher Bertrand Russell stated: "The man who has no tincture of philosophy goes through life imprisoned in the prejudices derived from common sense, from the habitual beliefs of his age or his nation . . . . To such a man, the world becomes definite, finite, obvious; common objects rouse no questions, and unfamiliar possibilities are contemptuously rejected."
Blank looks are okay
So, even without determining Truth with a capital "T," children who participate in philosophical dialogue can strengthen their cognitive abilities, develop communication, cooperation, and self-correcting skills, and gain self-knowledge and self-confidence.
Though be warned: at the first encounter of a philosophical question, children may stare blankly or parrot Barney-esque platitudes. But this is all the more reason to help them unleash their true potential. And perhaps we are the ones who need to dig deeper to grasp the beauty in the apparent "simplicity" of their answers.
More frequently, my students respond with ideas that blow my mind and shake or humble my own world view. Engaging in philosophical dialogue with children, I am finding out how children, like potted plants, can grow up and out and with greater depth when we allow them the space to do so. Bigger plants need bigger pots . . . bigger people need bigger questions.
Back to Athens
Now, before you accuse me of latching on to some latest educational trend, let me remind that philosophy actually is the oldest discipline, the grandfather of knowledge. Even the word "philosophy" itself is derived from Greek origins meaning "love of wisdom" -- reminding us how this discipline was around even before Socrates was charged with "corrupting" ancient Athenian youths with his curious questions.
In my classroom, I have seen philosophy reach kids for whom nothing else can.
Perhaps the child who falls into the wrong crowd is simply seeking to connect in a community of peers. Maybe the hyperactive child just needs stimulating questions to give him reason to focus. Possibly the underachieving child is just hungry for food for thought. All of these benefits and more are available to children who are given the opportunity to engage in philosophical dialogue.
It's a good thing then that children with their incessant "but why?" are naturally philosophers. So let them lead the way. Every child deserves the opportunity and skills to examine his or her own life . . . no need to wait for adulthood, until some of that life is already gone.
In two more articles to come in the near future, I will share some ideas for practical, fun methods of teaching children philosophy through dialogue and provide some inspiring, concrete examples of how children can successfully grapple with philosophical concepts.
Related Tyee stories: