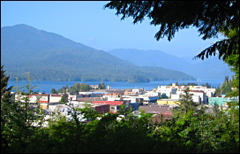 *Story updated at 5:30 on May 8, 2009.
All voters are important, of course, and every vote counts. But voters in two separate and distinct B.C. regions will be vital -- more important than the others, as it were -- to the outcome of the provincial-general election on May 12.
Simply, the next provincial government will be formed by the party that wins a majority of legislative seats in Fraser North -- home to 11 Lower Mainland ridings located on the north side of the Fraser River, stretching from Boundary Road in the west to Mission in the east -- and in B.C.'s North, which has 10 electoral districts.
The two regions are a study in contrasts, economically and politically. Fraser North is a mostly-urban region, increasingly populous and prosperous, while the sprawling, largely rural North is suffering from a declining population and diminishing prosperity.
In electoral terms, Fraser North during the latter half of the 20th century traditionally backed left-of-centre parties, but over recent decades has returned a growing number of right-of-centre MLAs.
The North, however, after historically backing free-enterprise parties, has become increasingly supportive of the New Democratic Party.
Mapping BC's voter regions
In analyzing B.C. elections, it is useful to divide the province into 13 distinct regions and sub-regions that feature common geographies, voting histories and socio-economic profiles. In 2005, five of those regions strongly endorsed the BC Liberals, and another five backed the New Democrats. The remaining three had mixed results.
The five BC Liberal regions were the Okanagan, Fraser Valley South (ridings located on the south side of the Fraser River, stretching between White Rock and Chilliwack), Vancouver Westside, Richmond and the North Shore. In 2005, these regions had a combined total of 26 seats, and Campbell's Liberals captured all but one.
The five regions favouring the New Democrats were Vancouver Island South, Vancouver Island North, Vancouver Eastside, North-Central Surrey and the Kootenays. The NDP in 2005 captured 23 of the 30 seats in these regions.
In their five regions, BC Liberal candidates garnered in excess of 318,000 votes -- a whopping 135,000 more than their NDP counterparts.
And in the five NDP regions, the New Democrats captured about 350,000 votes -- which was 73,000 more than the BC Liberals.
If current public opinion polls are to be believed, little change will occur in any of these 10 regions on May 12. While a handful of seats may move from one party to the other -- possible BC Liberal pick-ups include Vancouver Kensington, North Island and Saanich South; and possible NDP gains could occur in Comox Valley, Oak Bay-Gordon Head, Kootenay East and Boundary-Similkameen -- the total number likely will be insufficient to affect the overall outcome.
Worth watching
That leaves three regions that had indeterminate results in 2005 -- Thompson-Coquihalla, Fraser North and the North.
In Thompson-Coquihalla four years ago, the BC Liberals garnered about 41,000 votes and won three seats. The New Democrats were close behind at 36,000 votes, but took just one electoral district.
Not much will change in this region on May 12. BC Liberal cabinet minister George Abbott will easily win re-election in Shuswap, while the NDP's Harry Lali ought to retain his redrawn Fraser-Nicola constituency.
The other two ridings -- Kamloops-North Thompson and Kamloops-South Thompson -- should be interesting to watch on election night for several reasons. First, the boundaries of these two districts have been significantly redrawn.
Second, as a consequence of the first, BC Liberal cabinet minister Kevin Krueger abandoned the former riding, which he first won in 1996, to seek election in the latter.
And third, Kamloops is B.C.'s historic bellwether. The city has returned a government MLA in every B.C. general election since 1903, when political parties first appeared in provincial contests. For that reason alone, the Kamloops ridings will be closely watched on election night, although with just two seats at stake, the outcome will have little impact on the province-wide results.
Growth of Fraser North constituency
We return, then, to our two seat-rich, highly-competitive regions. Let's look first at Fraser North.
A century ago the region had but two legislative seats: New Westminster and Dewdney. That number became three when Burnaby got its own MLA in 1924, and then four after Burnaby became a two-member riding in 1956.
It grew to six in 1966, when Coquitlam separated from Dewdney and Burnaby was split into three electoral districts; to seven in 1979 when Coquitlam was split in two; and then to eight in 1986 when Dewdney became a dual-seat constituency.
Further redistribution in 1991 and 2001 gave the region 10 legislative seats, and a recent redrawing of the electoral map has raised that number to 11 for the current election.
The North also rises
The North elected four MLAs a century ago -- two in the Cariboo, and one each in Skeena and Atlin. Redistribution after completion of the Grand Trunk Pacific in 1914 saw the elimination of one of the Cariboo seats and Skeena, and the creation of Fort George, Prince Rupert and Omineca, for a new total of five.
That number grew to six in 1924 with the restoration of Skeena; seven in 1933 with the addition of Peace River; eight in 1956 after the Peace was split into North and South districts; and nine in 1979 after Fort George was divided into Prince George North and Prince George South.
The region hit its current allotment of 10 seats in 1986 when Cariboo returned to being a two-member district. Five years later, after abolition of B.C.'s two-member ridings, Cariboo was divided into north and south districts.
The voting history of these two regions has been far from consistent (see sidebar).
And Fraser North and the North were the two closest-fought battlegrounds in B.C.'s 2005 general election.
Five of Fraser North's 10 ridings were taken by the BC Liberals four years ago, while the other five went to the NDP. And in seven of those electoral districts, the margin separating the winner and runner-up was fewer than a thousand votes.
Across the entire region, the New Democrats garnered nearly 108,000 votes, and the BC Liberals took just more than 106,000. The difference separating the two parties was a mere 1,519 ballots over all 10 ridings.
It was similar in the North, where the BC Liberals took six seats, and the New Democrats, four. The popular vote slightly favoured Campbell's Liberals over the NDP, 64,000 votes to 54,000 -- the difference was just 9,633 ballots across the region.
A tale of two economies
Economic circumstances over the last eight years -- since the election to government of Gordon Campbell's BC Liberals in 2001 -- have varied considerably in the two regions.
Fraser North has seen on-going population growth, while the North has experienced significant declines. And while the former region has enjoyed rising prosperity, the latter's economic fortunes have dimmed.
Let's start with municipal populations in both regions between 2001 to 2008.
Burnaby's population has increased by more than 14,000 (to 218,000); New Westminster's by 6,500 (to 64,000); Coquitlam's by 1,200 (to 121,500); Port Moody's by 6,300 (to 31,500); Port Coquitlam's by 1,700 (to 55,600); Maple Ridge's by 7,400 (to 74,000); Pitt Meadows's by 1,800 (to 17,400); and Mission's by 4,300 (to 37,000).
It's a much different story in the North, where nearly every municipality has fewer residents today than it did eight years ago. Prince George's population is down over the period by 1,100 (to 74,100). Williams Lake has lost 463 (to 11,100); Mackenzie, 800 (to 4,600); Quesnel, 700 (to 9,600); Vanderhoof, 700 (to 3,900); Smithers, 250 (to 5,300); Terrace, 1,500 (to 10,800); Kitimat, 1,600 (to 9,200); and Prince Rupert, 2,200 (to 12,900).
What is truly stunning is the proportion of population that has been lost in several communities. Vanderhoof has seen 18 per cent of its residents depart in the last eight years; Prince Rupert, Kitimat, Mackenzie and Terrace have seen declines of more than 14 per cent each; Quesnel is down seven per cent; and Williams Lake, four per cent.
Just two northern municipalities have gained population since the turn of the century, both in the oil-and-gas-rich Peace River country. Fort St. John is up by 2,300 (to 18,800), and Dawson Creek has grown by 630 (to 11,400).
A comparison of building permits issued in 2001 and 2008 further illustrates the discrepancies over the period between Fraser North and the North.
In 2001, the cumulative value of industrial building permits in Burnaby, Coquitlam, Maple Ridge, Mission, Pitt Meadows, Port Coquitlam, and Port Moody was $20.3 million. Eight years later, that figure had more than tripled to $65.6 million.
Across the North, industrial building permits totalled $9.7 million in 2001; and, like it did in Fraser North, nearly tripled to $26 million in 2008.
Yet nearly all of that increase was in the Peace River's gas industry. Excluding the Peace figures, industrial building permits in Northern B.C. inched up from $8 million to just $9.3 million between 2001 and 2008.
Businesses plummet in North
And despite an overall increase in business establishments in B.C. in the period between 2001 to 2007 -- from 157,000 to 169,000 -- the number of businesses operating in the North fell dramatically. (See link, here.)
Looking at just three development regions -- Cariboo, Nechako and North Coast -- more than 1,500 businesses disappeared, leaving a total of under 10,000. It was a different story in the Peace River district, where 650 businesses were added.
Overall, the number of business establishments in B.C.'s North between 2001 and 2008 fell from 14,700 to 13,800. Those numbers surely have worsened in the current recession.
Finally, let's consider the growth of labour force income between 2001 and 2006. Across B.C. as a whole, labour force income in aggregate rose from $88.6 billion to $120.4 billion -- an increase of 35.8 per cent.
In Burnaby, the increase in total labour force income was about the same as the provincial average, up 35 per cent -- from $4.0 billion to $5.5 billion.
So, too, were the increases elsewhere in the region: New Westminster, 28.7 per cent; Coquitlam, 28.2 per cent; and Maple Ridge, 38.3 per cent.
In much of the North (again excluding the Peace River region), however, aggregate labour force income over the period grew by much less than the provincial average.
In Prince George, it grew by 28.2 per cent (from $1.9 billion to $2.4 billion), in the Cariboo Regional District, by 27 per cent (from $1.2 billion to $1.6 billion), and in the two northwest regional districts -- Kitimat-Stikine and Skeena-Queen Charlotte -- by an anemic 18.4 per cent (from $1.0 billion to $1.2 billion).
Fourteen seats very much up for grabs
A total of 21 seats will be contested in Fraser North and the North on May 12. Just seven may be considered "safe" for either of the two major parties, four for the BC Liberals -- Peace River North, Peace River South, Nechako Lakes and Port Moody-Coquitlam -- and three for the New Democrats -- North Coast, Port Coquitlam and New Westminster.*
That leaves 14 electoral districts in the toss-up column from just these two regions -- more than all the other swing-ridings combined from across the rest of the province.
Will Fraser North revert to its historic, working-class roots and endorse the NDP, or take another step into the arms of the BC Liberals?
Will the North, battered by economic decline, opt for B.C.'s free-enterprise party, Gordon Campbell's Liberals, or vote for a more-activist government as promised by Carole James and the New Democrats.
The party that wins a majority of seats in these two regions will be elected to government on May 12.
Related Tyee stories: