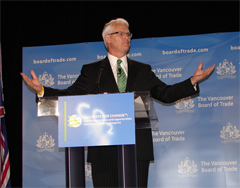 "Let's be honest," Michael Ignatieff told young followers last week in Vancouver. "We got killed at the doorstep with the Green Shift."
The new federal Liberal leader is clear that campaigning on a carbon tax was suicide.
But in British Columbia, Premier Gordon Campbell is sticking with his own carbon tax as he leads his BC Liberals into a May election.
Does that make Campbell an idealist, willing to go down fighting if it means showing how to save ourselves from catastrophic global warming?
More likely, Campbell is crazy like a fox, having crafted a political image that doesn't match his actions.
You wouldn't know it from his eco-hero photo-ops with Schwarzenegger or the soft ride he gets from enviro groups but among Western leaders, Gordon Campbell is actually doing more than most to hasten global warming.
Let's lay out the game Campbell is playing, and so far, winning.
First, the zig:
In B.C., the green-minded swing vote can make all the difference, and environmental protesters can make life hell for candidates they don't like.
Campbell has all but co-opted those forces with his year-old carbon tax, which levies $10 on carbon-based fuels for every tonne of greenhouse gases they generate. (The money is refunded to British Columbians rather than invested in green projects.)
What that means now, most noticeably, is two or three pennies added to the price of a litre of gas. Green wonks will privately admit the tax is too low to seriously deter B.C.'s emissions. "But it's a needed start," they will say. The tax might have a real effect if it rises to a planned $30 per tonne -- three years after this spring's election.
Meanwhile, for Campbell's opponents, the carbon tax issue has shredded the delicate labour / environmentalist coalition some B.C. New Democrats have spent years trying to establish. Jockeying for a populist issue, NDP leader Carole James has opted to slam Campbell's "gas tax." Her stance has enraged climate change worriers, and Campbell is only too glad to welcome those voters into his Liberal tent.
Now the zag:
For a guy supposedly so concerned about global warming, Gordon Campbell sure is quick to back what causes it, like putting more vehicles on the road and revving up Alberta's tar sands production.
Last Tuesday he joined Prime Minister Harper in Surrey, B.C., to brag about their governments' joint $1 billion, 40-kilometre freeway, part of the Gateway Plan to beef up the province as a conduit for Asia. Critics say the road will pave farmland and generate pollution. But the Campbell message was jobs, jobs, jobs.
Less reported, yet potentially much worse for climate change, are twin pipelines Enbridge wants to build connecting Alberta's tar sands with the port of Kitimat, B.C. Right now there's no direct way to get tar sands oil out of North America. Fretting that Obama will tighten that tap, industry is pushing hard to get the Enbridge project approved. Campbell's government has promoted the idea of a pipeline "corridor" across B.C. to fuel Asia and other markets.
The Enbridge project would carry more than a third of the tar sands' current 1.4 million barrels per day production. Producing those 525,000 barrels a day creates 15 million tons of CO2 per year; burning that fuel emits 60 million tons more.
An editorial in the Times of London pointed out what Campbell surely knows, that the tar sands "are already the single largest contributor to Canada's greenhouse gas emissions. If they were all to be mined, the climactic consequences would be unthinkable." So the Times urged UK-based Shell to pull out.
But Campbell apparently is glad to help Enbridge support tar sands production -- and accelerate global warming.
Zig: Two years ago, Campbell vowed to cut greenhouse emissions by at least a third by 2020.
Zag: Last Monday, Campbell downgraded the status of his Climate Change Secretariat, moving the job out of the premier's office.
Zig: Campbell has championed a complex "cap and trade" approach to using market forces to lower emissions in B.C.
Zag: How B.C. regulates such emissions from its own citizens and businesses will have but a smidgen of impact on the rest of the globe. But those gains will be wiped away by Canada's mega-project on the Athabasca, which has a friend in Gordon Campbell.
I know. Times are rough. A premier different than Gordon Campbell might just forthrightly state that green ideals must wait while we build ports and highways and oil and gas infrastructure to create jobs and revenue.
But, then, that premier wouldn't get to be a global warming guru, too.
Related Tyee stories: