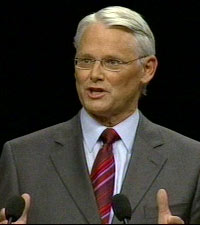 Since the February 2007 throne speech, environmentalists have had special attention from B.C. Premier Gordon Campbell. There were photo ops with California's climate-crusading Gov. Arnold Schwarzenegger, aggressive greenhouse gas emissions targets and North America's first carbon tax. All of it was run out of the premier's office.
Now environmentalists aren't sure what to think.
Late in the day Monday, when media attention was focused on the inauguration of Barack Obama, the Campbell government released details of a small cabinet shuffle.
But buried in the announcement was news the Climate Action Secretariat was leaving the premier's office. Its head, Graham Whitmarsh, is going to the Finance Ministry where he will become deputy minister on May 1.
"I've got more questions than I have answers and my big question is, What does this mean?" Susan Howatt of Sierra Club B.C. told The Tyee.
Howatt worries that the bureaucratic maneuverings may mean that climate change is "falling off the agenda" for the B.C. government, which has been lauded by environmentalists over the past year for its leadership on the issue.
"I'm really nervous that this shift to the Ministry of Environment signals it's lower on the agenda and that they're responding to political pressures when the reality is the planet really needs us to take bold action," she said.
'Your go-to guy is gone': NDP
The New Democratic Party's energy critic, John Horgan, said the move shows Campbell has lost interest in climate change.
"Your go-to guy on climate change has gone," said Horgan. "Moving Whitmarsh says the premier has lost interest in his latest shiny bauble, which was climate change.... He was supposed to save the planet and he's going to finance to count the beans on an interim basis."
Matt Horne, a climate change specialist with the Pembina Institute, had a mixed response to the news.
"I would take the move of Graham Whitmarsh to the Ministry of Finance as a positive signal," he said. "He's been such a key mover on the climate file and on the carbon tax."
Hopefully, he said, Whitmarsh will bring that interest with him to his new role, where there's a lot of room to make changes.
Moving the secretariat to the Environment Ministry is more worrisome, Horne said. "It does raise some concerns," he said. "They've been able to play an effective role co-coordinating across ministries."
Horne said he will be watching next month's provincial budget in case there are signs that climate change has slipped off the agenda.
In general, he said, "we haven't seen any backsliding on policies that have been put in place to date." Still, when it comes to policy, "My sense is there's still a considerable way to go."
More steps needed: enviro groups
B.C. was a leader in North America with the carbon tax and the government has in effect banned coal-fired power plants -- a key move that Horne said gets little attention.
But there's still room for improvement. B.C. still doesn't have a blueprint for a functioning cap and trade system, for example, he said.
Ian Bruce, of the Suzuki Foundation, said his organization has argued for a decade that the federal government needs an organization similar to B.C.'s Climate Action Secretariat, run out of the Prime Minister's Office.
Action against greenhouse gas emissions needs to be coordinated across ministries, he said.
"Transportation, for instance, plays a huge role," Bruce said. "So do the energy and resource ministries."
The secretariat is one of the reasons B.C. went quickly from being one of Canada's worst climate change offenders to the leading jurisdiction for fighting global warming, Bruce said.
"Having a central office really helps coordinate actions."
Measuring momentum
With the secretariat shuffled from Campbell's office to Environment, B.C. could lose momentum on the fight against global warming, Bruce said.
He, too, will be looking to the provincial budget for signs of where the issue stands in the government's priorities. The Suzuki Foundation hopes to see spending shifted from oil and gas subsidies and highways to better transit and rail, as well as incentives for renewable energy.
University of Victoria political scientist Dennis Pilon said the move "does send a signal that the premier's attention span has shifted to somewhere else."
Pilon said he was always skeptical of Campbell's green credentials.
"I was always very critical of the idea we should see the premier as some sort of ambassador for the environment," he said.
"There's lots of areas where we could say this government has not been good for the environment," Pilon said, citing privatized power production, run-of-the river power, sour gas, coalbed methane and pipelines.
Nor is Pilon impressed with the carbon tax. The market's power to reduce carbon emissions has been exaggerated, he said.
"I think a lot of carbon tax proponents have overestimated how people calculate their decisions," he said.
Myth of the rational spender?
The idea behind the carbon tax is that people will see the price of carbon-emitting fuels increasing in the future and switch to more earth-friendly practices. But Pilon says many people don't plan their spending that rationally.
"A lot of people don't budget at all," he said. "That's the reality of the way a lot of people live their lives."
The carbon tax sounds like a plausible way to cut carbon emissions, especially to upper middle class policy wonk types, but "to assume people will make that logical decision doesn't really reflect how people live their lives," Pilon argued.
He said environmentalists supported Campbell's climate initiatives because "a lot of them were just desperate. They haven't had a lot of wins."
Supporting the carbon tax allows environmentalists to claim success, he said.
But the premier is distancing himself from the tax because "it's got a stink on it now." A year ago, Campbell was seen as an environmental leader and "all the media lapped it up." Then "the people bit back: 'Damn the experts, we don't like this.' "
In politics, said Pilon, "the facts don't matter" -- what counts is what people believe.
He added he's doubtful the NDP can be elected as tax cutters, despite their "axe the tax" campaign. If tax cuts are what people want, he said, they'll go for the Liberals.
Top climate scientist: 'no big deal'
University of Victoria climate scientist Andrew Weaver, a member of the government's Climate Action Team, said he was surprised at the controversy over this week's bureaucratic shuffle.
"So you move [the secretariat] into the Ministry of Environment," he said. "I just don't see a big deal here. The climate czar, as someone called him, is now holding the purse strings."
Graham Whitmarsh was "absolutely, firmly committed" to dealing with climate change, Weaver said.
"I actually think this is a very positive thing. I don't see it as a big deal."
Weaver said he thinks the controversy is at least partly due to the media's boredom with the climate issue.
"It's winter, right?" he said. "The media gets bored with global warming every winter. But in the spring it comes up again because it starts to get warm again.
"I think the media's bored with the issue -- so let's make an issue out of something that's not an issue."
Added Weaver: "I get deeply cynical when I see an opposition party say somehow this is indicative of a lack of interest. A lack of interest would be to start moving away from the policies that [Campbell] put in place."
Related Tyee stories: