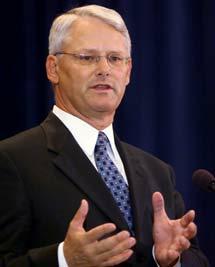 Folks, the Campbell government seems intent on zapping itself right out of office.
I never thought I would see a government stick its finger in the electrical socket as the NDP did in 2000, but Gordon Campbell has lost it. And because he's made all the decisions himself, has no one to pass the blame to.
Let's see if I've got this right. The Campbell government gave the residents of Tsawwassen the finger (the politest metaphor I can think of) when those residents complained that BCTC overhead transmission lines exposed them to dangerous levels of electromagnetic radiation.
The government refused to properly bury them because that would have cost $18 million dollars. Then, under great pressure from homeowners and allies like Save Our Rivers (of which I am, unblushingly official spokesperson), former councillor Vicki Huntington (who is the best constituency politician I have ever met), the irrepressible civic activist Donna Passmore and far too many others to mention, the government did a flip-flop -- one that I found eerily reminiscent of former premier Ujjal Dosanjh daily dealings with his government's oopsie-daisies in the last year of his government.
And what a flip-flop! Just as the house market goes into the dumper, the Campbell government will buy the houses at fire sale prices, prices that will be on a take it or leave it basis.
Real estate buzz
Now here's the part that should have us all reaching for the barf bag. Campbell is going to unload these houses onto other British Columbia citizens who are so desperate to find an affordable house in this economy they'll buy one despite possible evidence of risk to their health, and that of their kids!
But this doesn't end the matter. How much money will new owners have to put down? This is a pretty important point lost, no doubt on the rich developers who run this province, because who'll give a mortgage on a house blighted and possibly contaminated by transmission lines in the backyard?
Will the government, which is to say you and me, give new owners a 100 per cent mortgage? Wasn't it sub-par mortgages that caused the about-to-be Depression we face?
The cynicism is disgustingly obvious. Campbell hopes that many of these homeowners, for many reasons, are unable to move so the government can say "well, we tried but they just wouldn't accept our generosity".
This leads to an obvious question -- if this buy-out costs around $70 million, how much of that will be recovered?
This leads to another obvious question: where is the Campbell government going to get the money?
We're talking here about the self-proclaimed paragons of fiscal virtue who tell us that thanks to their careful management of our resources, B.C. is in peachy shape to face the financial tsunami moving relentlessly towards us. Why, they say, thanks to our thrift, we've saved enough in good times to handle things with great public spending on needed infrastructure -- roads, school upgrades for earthquakes and so on. And of course enough money to buy up houses right under high voltage lines in Tsawwassen.
Dad, I'm broke
Unfortunately that claim has a bit of a flaw in it. Indeed an enormous flaw that will become more obvious every day that passes.
You see, the government has forgotten about what W.A.C. Bennett used to call "contingent liabilities." It's like you co-signing a bank loan or mortgage for one of your kids. As long as the loan is being paid, you don't count it as a liability on your own balance sheet. Put in technical terms, what happens when the money market collapses and your private sector partners get crapped on and your kids can no longer keep up their part of the bargain?
When you're sailing along, good money coming in, with tickets for Hawaii in hand, who worries about the kid's loan you've guaranteed? The premier, sailing along hand in hand with his private partners, was, figuratively speaking, in the land of palms and mai tais (perhaps an unfortunate simile given the premier's past visits to Hawaii) as the money rolled in and the markets climbed, as they were, of course, bound to do forever.
Trouble is, those rich private sector partners don't have any money any more and the situation is akin to the kid phoning up and saying, "Sorry Dad, I'm broke and the bank manager will be giving you a call."
Permit me to lapse into the technical again, folks. When the shit hits the fan, the markets crash, unemployment instantaneously zooms and capital dries up as developers lose their sources of money. The guy left holding the bag will often put the project on hold, awaiting better times and hoping new sources of money will come along. Sometimes new developers will come along. But here's the rub. Even if they do, the delays cost a huge amount to those holding the bag, that is to say the Campbell government.
How exposed are we, really?
We have, unfolding before our very eyes, an example of what happens. As we all know, the City of Vancouver entered a $100 million guarantee of the Olympic Village, the sales of which are simply not happening. In this regard, may I refer you to Miro Cernetig's excellent reporting of late in the Vancouver Sun. On Jan. 5, he examined this loan in detail and concluded "But people of Vancouver should stay alert. If things go sour [with the Olympic Village deal] they will be on the hook. City Hall has guaranteed hundreds of millions of dollars of those Olympic Village loans." (emphasis mine.)
How it goes from a "mere" $100 million we've been told about to several hundred million is dissected by Mr. Cernetig in this and another column and is guaranteed to make stomachs turn amongst Vancouver citizens.
One can assume that the same factors Cernetig outlines will apply to other government guarantees.
My research into funding of the 2010 Olympics led to this statement made many times: "The Province of British Columbia will be responsible for any cost overruns from the Games."
The questions for Premier Campbell are these: What is the extent of the province's "contingent liabilities?"
What is the state of each of them, i.e. are your partners in trouble?
After you do a real world assessment of "contingent liabilities," how much has the government really got left for priming the economic pump and getting people back to work?
What will the Olympic overruns be, given the economy?
In short, Mr. Campbell, give us a list of your P3s, your contingent liabilities, so we, the public, can all see just how much money you have left to prime the economic pump, get people back to work again, and buy up unwanted houses your government may have rendered unhealthy.
Rafe goofs!
In last week's column on Wendy and me getting out of the stock market, I inadvertently said it was in 2003. It was in fact 2005. I was thinking "three years ago," which became 2003 showing yet another reason we jumped ship -- I'm not good with simple number work!
BC's next energy minister?
I predict that our newly minted senator, Energy Minister Richard Neufeld, who knew nothing about the independent power policy and what he thought was right was wrong, will be replaced by Mike DeJong, who as a lawyer (as I once was) must concern himself more with presentation of the case than facts.
Related Tyee stories: