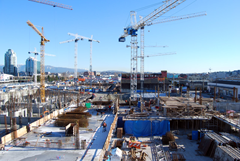 *Story corrected Jan. 10, 2009.
The mother company for two firms central to the 2010 Olympics is reeling from a lack of investor confidence that's sending "money out the window," according to a top financial analyst.
Fortress Investment provided a construction loan to Millennium, the developer for the beleaguered Olympic Village project in Vancouver, and owns Intrawest, which operates the Whistler/Blackcomb Olympics venue.*
Unless the fortunes of Fortress Investment improve dramatically, Vancouver taxpayers could be left in the lurch. That is the view of Jackson Turner, an analyst for Argus Research, a leading tracker of the U.S. equities market.
Turner told The Tyee that the last few months have not been kind to Fortress, an alternative-investment company based out of New York. The firm is used to being a formidable player in the hedge-fund world, where it invests capital from its clients in a wide range of portfolios.
But tightened credit lines brought on by the economic crisis have battered the company -- and the entire hedge fund industry -- over the last few months, leading many of its investors to seek redemptions on their investments.
Turner said that redemptions on Fortress's biggest hedge fund got so bad last December that the company "closed the gates" to stem the outflow of capital, that is, halted redemptions.
Nonetheless, taking into account likely market fluctuations over the coming months, Turner predicted the company could see its total hedge fund assets decline 60 per cent by this summer, when compared to September levels.
"That's not an insubstantial amount of money they're seeing going out the window," he said. And as Fortress loses assets due to shaky investor confidence, its reputation as prudent financial manager could take a beating, making it even harder to raise necessary capital in the future.
"Their reputation is teetering as it is," Turner said. "It's fairly well tarnished."
'Very big hit' for hedge funds
Jeffries & Co. analyst Daniel T. Fannon told The Tyee that though Fortress's assets are in a "period of decline," the company's story is not necessarily unique in the current financial crisis.
"I would say the reputation for the hedge fund industry has taken a very big hit," Fannon said. "Like a lot of their peers, and I would say the industry as a whole, Fortress has been impacted."
So, what does this mean for the 2010 Winter Games?
Back in October, revelations that Vancouver was considering a loan to athlete's village developer Millennium to cover cost overruns -- implying that financier Fortress might not pull through -- sparked a political controversy that continues to this day.
In the same month, the future of Whistler/Blackcomb owner Intrawest was called into question when parent company Fortress scrambled to meet a refinancing deadline.
As both incidents demonstrated clearly, the fortunes of two of the most important host locations for the 2010 Games was closely tied to Wall Street. According to Turner, the problems aren't over yet.
The Vancouver Sun recently reported that Vancouver might have to provide up to half a billion dollars in guarantees on a $750 million construction loan promised to Millennium by Fortress. According to the story, Fortress has made access to the loan more difficult in order to ensure that it gets its money back on its investment.
When the $1.2 billion athlete's village project was first approved, developers thought the waterfront condos would sell out way before construction was completed. But given Vancouver's falling real estate market, that hasn't been the case, and only 250 out of 750 condo units have sold so far, according to the Sun's report.
City tax payers 'footing the bill'
Turner said the reason that Fortress is asking Vancouver for such high loan guarantees is that it needs reassurance as it sees its own financial position deteriorate in a volatile economic climate. But that means the city's taxpayers could be held accountable for loans that Millennium can't pay back, particularly given Vancouver's obligation to deliver the Olympic village to VANOC by late 2009.
"It looks like the Vancouver taxpayer is going to be footing the bill for more of this Olympics than they had anticipated," Turner said. "It's not as though this project isn't going to be built -- it's going to be built no matter what. It'll be the taxpayer paying rather than Fortress."
Asked if Mayor Robertson should be nervous that Fortress is asking for increased loan guarantees, Turner said there is much cause for concern.
"Potentially you have to go to your voters and say 'look, we're going to have to pay more money'... That's not going to make anybody happy," he said.
Fannon agreed that the Robertson is in a tough situation.
"If you're the mayor of Vancouver and some people are asking for you to commit more capital to anything, I think you're concerned," Fannon said. "In this environment, dollars are scarce."
In an e-mail from VANOC, executive vice president for construction Dan Doyle said his organization has been in constant contact with the city over the venue. Despite the problems, he was confident that Vancouver would deliver a "spectacular" Olympic village by its deadline.
"We fully support Mayor Robertson, City Council and the City administration in their efforts to responsibly manage the construction and long term legacy and viability of this key venue in an extremely challenging economic environment," the e-mail reads.
Intrawest's slippery slope
But when it comes to the Olympics, the athlete's village isn't the only cause for concern, according to Turner. Last fall, Vancouver-based Intrawest narrowly averted bankruptcy when Fortress managed to arrange a refinancing deal for $1.7 billion in debt at the last minute.
Turner said he was not certain of the specific conditions of the loan but given the company's crisis in October and an expected decline in consumer spending at ski resorts, Intrawest could very well be in financial trouble come next fall.
"I don't think anything was solved in October, other than that Intrawest bought itself more time," he said.
Intrawest spokesperson Ian Galbraith admitted that the company has seen a "slight decline" in consumer spending on things such as lift tickets at its resorts, but contended that its days of dire financial trouble were in the past.
In fact, Galbraith said the company is opening up a new property in Hawaii later this month.
"I would definitely like to acknowledge that there's pressures in the market," Galbraith said. "But I think we've come through it pretty well, overall we're in good shape."
'A huge role' in 2010 games
Intrawest's ongoing financial health would appear key to a smooth running 2010 Games.
In addition to providing land for Olympics venues, Intrawest will be running chairlifts, making parking space available for VANOC, providing first aid and helping maintain competition ski runs during the operations of the Games, said Doug Forseth, senior vice president operations at Whistler/Blackcomb.
Though he couldn't say how much mountain personnel would be helping out for the length of the event, he said Intrawest would be providing a valuable contribution.
"I'd say we have a huge role in supporting VANOC for the games," Forseth told The Tyee.
Forseth also confirmed that visits to Whistler could decline by 12 per cent this year given reduced consumer spending across the continent.
The worsening economic picture has some insiders nervously asking what would happen if Intrawest were to face another refinancing emergency, and this time Fortress couldn't pull through.
Just before Fortress secured the deal that saved Intrawest back in October, VANOC chief executive John Furlong said the Games were safe no matter what the company's future because the Whistler venues had been completed.
Banks running chairlifts?
Forseth offered a similar opinion when asked by The Tyee what would happen to the Games if Intrawest faced future economic trouble that it couldn't recover from.
"Had Fortress not been able to refinance Intrawest as a company, the banks would have then owned the business," Forseth said. "They're not going to close it down, they want cash flow, they want this thing to operate -- so somebody would operate it."
Given the turbulent financial history of the athlete's village and Intrawest, should Vancouverites be concerned about ability of VANOC and the city to stage the 2010 Games? Turner said no.
"I don't think there's any reason for people around Vancouver to panic and think 'wow there's all these problems with Fortress investment, maybe we're not going to have the Olympics next year," he said.
Nonetheless, given Fortress' financial control over key Olympics host destinations, Turner said the fortunes of the battered company merit consideration.
Calls to Fortress were not returned by deadline.
Related stories: