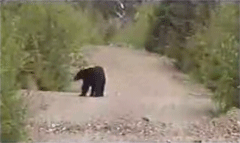 A sign, in Spanish, at the entrance to the zoo near my apartment in Cali, Colombia, read TAKE PITY ON THE ANIMALS. A groundskeeper explained to me why the sign had been posted.
"We had a bear once, he was a disappointment. He wouldn't wake up unless you threw rocks at him. Then he would rear on his hind legs and roar.
"People like to see blood," he said. "Lots of it."
I think of this tormented creature every spring, as bears are waking up in the old forests all over Haida Gwaii. Our bears are an indigenous sub-species -- Ursus Americanus Carlottae -- the largest black bears in the world. Once they've emerged from their dens they'll head for the estuaries to feed on sedges, forage for shellfish along the shore, and to mate. If they're lucky. The shameful business of killing bears for recreation began again on April 1st. As one mainland-based guide boasted, "A lot of our customers are seasoned bear hunters and they're coming here for a real trophy. It's a world class area -- you get a chance of killing a real exceptional old animal."
There is no census data on Haida Gwaii's bear population, no quota attached to the bear-hunting licenses: the more hunting parties an outfitter can organize, the more bears he can "harvest." The plight of ursus carlottae was addressed in 2004, in a multi-media, multi-cultural art show exploring bear-human relationships. Josina Davis called her handmade book, What is Known About the Haida Gwaii Bear Population. The book's pages were blank.
A $10,000 'trophy'
In the last 30 years more than 1200 black bears have been killed on the islands for trophies alone, and many of these deaths can be connected to two professional guiding licenses now owned by Fort St. John residents, Kevin and Victoria Olmstead.
Their company, Prophet-Muskwa, offers rich American shootists the chance to bag a Haida Gwaii black bear for just under $10,000 US (a second, additional bear can be had for $4250 US). According to their website, hunters travelling to the Charlottes "have had 100 per cent opportunity with about 90 per cent success at taking home a trophy Pacific black bear. In their outfitter/client contract they state, "trophy fees are paid on all killed or wounded animals." Could the 10 per cent lack-of-success rate apply to wounded or head-shot bears, ones that wouldn't look so appealing on a trophy wall?
Free-bear zone?
The bear, an important Haida mythological figure, is revered by many who live here. Ron Durrance of Lawn Hill says, "Seeing a bear is a highlight of your life, that time of passion, wonderment. This should be a free-bear zone island wide."
Jenny Nelson of Masset describes, "the power and grace of bear loping across muskeg, sun glinting black fur silver. Bear swiping a five-gallon bucket of Rediscovery Camp's peanut butter. Cubs tumbling across a mountain meadow. Bear fishing the Yakoun. Bear on a back porch drunk on brandied fruit. Bear turning over rocks for crab along the narrows."
Janice Holdershaw, who once stood between a family of bears and two hunters and their embarrassed guide at the Queen Charlotte dump, paints a tender portrait of four adolescent male bears having a snowball fight. The late Gerald Hawke did more than open his heart to the 40-odd bears when the dump closed, cutting off their free-food supply; he welcomed them onto his front porch, and then into his kitchen.
How much skill does it take to pick off a trophy bear browsing through garbage? What self-respecting hunter could brag about the bear he took down from the safety of his four-by-four on a deserted logging road? The home-video you see here found its way, in a brown paper bag, to a member of the Friends of Taan. Taan is the Haida name for bear, and Friends of Taan a network of Islanders dedicated to stopping the bear hunt on Haida Gwaii. The source of the video is unknown, but one thing is clear: no one took pity on this animal.
'We can evolve'
When the Olmsteads first opened their hunting operation, the guide who then managed the license, Brock Storry, agreed to meet with concerned islanders -- not all of whom hold anti-hunting views -- to reassure us that they were environmentally-conscious types who had a vested interest in making sure the black bear of Haida Gwaii were not over-harvested. "All of us were hunters at one time," one hunt-supporter said, in self-defense. "Some of us still have that instinct."
There was a big difference between the instinct to hunt for food, and participating in a trophy-kill, an anti-bear-hunt activist fired back. "Can't we channel that instinct? The thrill of seeing a bear can be directed into telling others about it, not shooting the very thing that thrills us. We can evolve, we can change."
In 1995, the Council of the Haida Nation (CHN) passed a resolution calling for the end of recreational hunting of black bears on the islands, asserting that the killing was wasteful and contrary to Haida ethics. More recently, at the Community Land Planning Forum sponsored by the CHN and the province of B.C., both sides agreed the hunt should end. "The bear hunt will be halted," Heather Ramsay wrote in The Tyee in June 2005, under the headline "Revolution on Haida Gwaii." But the revolution never came.
Ian McAllister, co-author of The Great Bear Rain Forest, wrote that an Angus Reid poll -- conducted the same year the CHN passed their resolution -- found a whopping 91 per cent of British Columbians opposed the trophy hunting of bears. Continuing the bear kill, he concluded, defied logic. But even in the face of the population's outcry to halt the hunt, the senseless slaughter continues.
Humans, humane
We've seen enough blood; killing bears for recreation is not instinctual, it's a pitiable act of cruelty, one disturbingly out of touch with a time when many of us are concerned about the preservation of life on our battered and bartered planet.
(Last summer the people of Haida Gwaii collectively saved the life of a young humpback whale who became stranded on North Beach while hunting in the shallows. To see a community with heart, pulling together, watch this).
Related Tyee stories: