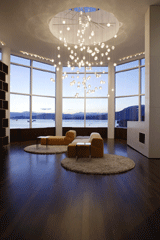 The modest old post-and-beam bungalow is swiftly being usurped by a new west-coast signifier: the insanely priced penthouse.
The latest newsmaker is a 48th-floor unit at the Hotel Georgia's "Private Residences" planned condo-tower annex, pre-sold for $18-million, even though it won't even be finished until 2011. No matter, it's in good company, joining the future penthouse of the Shangri-La tower (on the market for $17.6 million) and Unit #2601 at Beach Avenue (listed at $18.2 million). As their sales agents aver, buyers for these kinds of condos form a market unto itself. But they still enter our collective consciousness through media coverage, trickle-down influence, and, let's face it, subterraneous veins of jealousy. Welcome to the new architectural flagship of 21st-century Vancouver.
With interior architecture by Omer Arbel, the 6,900-square-foot unit at 1000 Beach Avenue is the only one in the $18 million club that's actually finished, and it is spectacular -- in a very literal and public sense of the term. Rising out of the crotch of the Burrard St. Bridge, the building itself reads like our city's version of the Statue of Liberty, except that the lantern that tops it off is not a spiked beret but a double-storey penthouse, aglow with a thousand points of halogen light. And its implicit slogan is definitely not: Give me your tired, your poor, your huddled masses yearning to breathe free. It's something more along the lines of: Give me your whiz-kids, your rich, your global expats yearning to park their money somewhere so that they can breathe free.
The Beach Avenue penthouse has been the talk of the town this year. The eye-popping price tag is fuelling the buzz, to be sure, but more unusual is the affiliation of mega-budget with radical design. Hyper-expensive penthouses are more typically decorated in fusty faux-classical, or the TV-informed tastes of the resident mistresses. But the Beach Avenue project is different. It's rad. The Market Unto Itself is starting to hone in on our more innovative young design talent, and it's hard to say if that's a good or bad harbinger. Both, probably.
'Low man on scrotum pole'
Inside, Arbel's phantasmagoria is defined by a series of backlit onyx pods that illuminate spare but rarified art and custom furniture. A Graham Gilmore painting bears the saucy text: "low man on the scrotum pole/takes the cake." This kind of irreverence pervades the whole space, from the fanciful "office" -- which acts like a highly sophisticated tree house suspended over the dining room -- to the long, slim walnut dining table with tiny bowls recessed right into the tabletop. For ketchup? "Olives," replies Arbel, tersely.
Every zone boasts elements that are so glamorously dangerous you could put an eye out on one of them (as I almost did, literally, when I walked distractedly smack into the floating metal staircase that descends from the overhead office). But the space reaches its theatrical zenith in the living room, with Arbel's huge Bocci chandelier, a stupendous cluster of tiny halogen-lit glass spheres that you can see across downtown. That makes 1000 Beach Avenue the city's most expensive lighting showroom. This isn't the tree hugging post-and-beam bungalow of Western Homes & Living; this, my friend, is Wallpaper.
It's wholly impractical for a "home." But that's beside the point. It's not a home. (Arbel himself speculates that the eventual buyer would likely be someone who spends just a few weeks a year in Vancouver.) And it's definitely not "west coast" -- at least, not in the humble, nature-inspired and inclusive mode we've come to expect from the term.
Expensive intimacy
Arbel, for his part, seems weary of the focus on wow and is more eager to show off the subtleties: his dining room table, deliberately crafted as a more narrow elongation, to imbue intimacy among the diners; the floor-to-ceiling window that unfurls the downtown vista like a flag as you walk out of the epoxy-floored kitchen; the decorative elements on the doors and elevator panels. And the materials: not dumpy local wood and stone, but onyx and walnut and steel and epoxy.
So what's so unsettling about 1000 Beach Avenue, other than the churlish fact that the rest of us can't afford it? In part, it's because it defies the British Columbia ethos of woodsy naturalness. It rubs our noses in the fact the cedar, hemlock and fir have been pretty much used up, or at least are no longer cheap and plentiful regional materials; and that our new core culture is swiftly evolving into the kind of slick cosmopolitana for which 1000 Beach Avenue serves as such a heady backdrop. Like the old west-coast-modern approach, it boasts views that have been strategically designed to look out onto the landscape -- but in this case, the most vaunted views are the towers to the north and, to the south, the condo's own boat slip in the marina below (admired from the bathroom window "as you're brushing your teeth," notes Arbel).
Arbel's argument is that we have to rethink the concept of "local" in our architecture. Why is concrete now the definitive West Coast material? Because years ago, as our wood supply dwindled and post-and-beam structures started to rot, designers and builders turned to concrete as a logical, sustainable substitute, training a generation of designers and builders in its use. Within a decade or too, the industry boasted an entire citywide crew of concrete artisans. So, it's the particular skill, rather than the material itself, which is local.
What's $18 million anymore?
To some critics, though, 1000 Beach Avenue uses architecture to bring conspicuous consumption to new heights, both financial and literal. It smells like what Rhodri Windsor Liscombe, head of the Visual Arts department at the University of British Columbia, has dubbed "architizing," the condo-marketing phenomenon wherein "the architect and architecture operate as incidental justification for the mobilization of civic space as the marriage of elitist profit with singular desire." You could reformat that Proustian dictum into a simple, crude question: is radical new architecture turning into a lap dance for itinerant billionaires?
On the other hand, should architects be content to remain low-key, low-budget and virginal when corporate lawyers and botox doctors haul in all that elitist profit for shamelessly exploiting all those singular desires? Affordable domiciles crafted from local materials -- that tradition has been scorched by soaring land values and construction costs. And that outrageous-sounding price tag isn't as comical as it first seems when $30 million faux villas are cropping up near Jericho Beach and Whytecliff Park.
"Eighteen million dollars is not exactly unheard of anymore for a Vancouver property," says Arbel, and he's right, although that's small comfort for the huddled masses.
No matter; 1000 Beach Avenue is more radical experiment than rational living. "For better or worse," says Arbel, "some of the most innovative projects in architecture have come at the highest end." Like Mies van der Rohe's 1949 almost-all-glass Farnsworth House, which is drop-dead-gorgeous to look at in books, but was impossible for the infuriated client to live in.
"You're constructing fantasy," says Arbel of 1000 Beach (which on his own website is dryly called Project 15.2). And there's no denying that the city's recent architecture is, by comparison, overwhelmingly banal. "It's time that Vancouver wakes up from the sleep we've been in," says Arbel. For all the men worrying about their place on the scrotum pole, 1000 Beach Avenue is just the right kind of wake-up call.
Related Tyee stories: