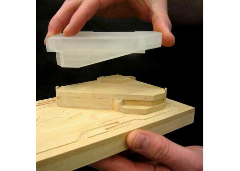 A Canadian cultural critic, trying to characterize his country's literature, once said that even if a Michael Ondaatje novel were set in Egypt, you could still hear the Canadian wind whistling through the pages. Now, that's a finely attuned sense of hearing, indeed. But is it a stretch?
More recently, architectural writers have assumed the challenge of defining the qualities that will-- once and for all--distinguish us (that is, our cultural achievers who represent us) from the rest of the world. While noble and heartfelt in their intentions, they exhibit what you might call the cold-north-wind syndrome: if you can't find a visible generalization applicable across this huge and diverse nation of ours, then at least try to hear the wind blow.
Up North: Where Canada's Architecture Meets the Land, Lisa Rochon's treatise on Canadian architecture, and Substance Over Spectacle, Andrew Gruft's exhibition and accompanying book, both attempt to define and raise the profile of our country's highest-calibre architecture. The best Canadian architecture, writes Gruft, is distinguished by its "resistance to the spectacular and pursuit of a more balanced approached."
On a similarly safe note, Rochon deems that it "occupies the ground somewhere between the fabulously dull and the fabulously sensational." In the introduction to Up North, Canadian-born architect Lise Anne Couture gets more adjectival. "The best of Canadian architecture often seems deceptively modest, yet it is confident and self-possessed, it is ambitious yet unpretentious, it is thoughtful yet uncontrived." If all that sounds like a matchmaker's spin on a boring blind date, so be it. But for an ex-pat like Couture, who has long abandoned all that deceptive modesty to make her life and career in sensational New York, the assessment rings with condescension.
If Canadian architecture is a proud, distinct field in its own right, then why all the subliminal deference to foreigners? The title Up North, for instance, implicitly renders the United States the fixed point from which to view our nation; the publicity materials put more emphasis on the author's sojourn at L'Insitut d'Etudes Politiques in Paris rather than her longer and more pertinent studies in journalism at Ottawa's Carleton University; the author's unctuous, unblushing spread on Frank Gehry, who left Canada as a teenager and has lived in the United States as an American ever since.
It makes no sense to shout out that Canada has a distinctly great culture, while at the same time, putting disproportionate emphasis on studies or success in a foreign land. And it's downright weird that some of Canadian's best home-grown architects who still live and work here, such as Toronto architect and Prix de Rome recipient John Shnier, don't rate a mention, while longtime United States residents Couture and Gehry get heaps of it. It's a media quirk: if you're a famous American who happened to grow up in Canada, you will be our most prized honorary Canadian till the end of your days. This just shows how the media are selling our talent short. They haven't noticed that in every major artistic field, including architecture, there are so many home-grown stars who have stayed here that we no longer need to call back naturalized Americans for cameo appearances in our canon.
Perhaps, instead of books professing to define the canon of Canadian architects--or of Canadian anything--we should instead encourage more books that focus on specific regions and subcultures. In a book review of Dream City that appeared a few months ago in a design magazine, I chided author Lance Berelowitz for over-generalizing the characteristics of Vancouver and its people. But my esteem of Berelowitz's clear and unpretentious prose has risen considerably in the wake of these trans-Canada treatises.
Berelowitz, after all, has focused his reportage and opinions on his immediate environment, the city he lives in and experiences on a daily basis. When authors expound on Canadian architecture from the other side of the country, the geographic errors that creep into the prose signal the larger futility of trying to analyse the broad sweep of Canada in a meaningful way. Vancouverites reading Up North, for instance, will be surprised to find Main Street geographically conflated with Commercial Drive; the Port Mann lexigraphically conflated into the Portman Bridge; and so on. These aren't damnable mistakes; a Vancouverite trying to describe St. John's would likely fare no better. However, it does remind us that Canada is a very large country of diverse regions whose factual details--never mind the broader cultural analysis--are difficult to nail down from afar.
Up North concludes by positioning Vancouver's Patkau architects as the architectural equivalent of vaunted Canadian author Alice Munro. It's a bit of a head-scratcher, given that the Patkaus manifest the cutting edge in architecture and Munro's work explores, albeit brilliantly, the dull edge of everyday life. Witness the blatant contradiction of the quote from Munro (by way of The New York Times) in the conclusion of the architecture book: "I am at home with the brick houses, the falling-down barns, the trailer parks, burdensome old churches, Wal-Mart and Canadian Tire. I speak the language."
Whoa! Isn't this a complete contradiction of Up North's earlier assertion that big-box stores are cancers upon the land, obscuring the better Canadian architecture and devouring its real, true identity? The banal truth is that those big boxes are now loudly, proudly Canadian. Deal with it.
If such gifted and accomplished critics as the aforementioned can't quite nail down the quintessential Canadian architectural identity (or deny it when it displeases them), we need not despair. Perhaps there's a better way of thinking of our national identity, architectural or otherwise, than with a vague neither-flashy-nor-trashy thesis. Perhaps Canada itself simply is what it is: a mosaic of boring tract housing, monster homes, glass towers and big-assed Canadian Tire outlets punctuated by a few brilliant experiments and exquisite specimens of architecture. Perhaps Ottawa's multicultural policy, planted in 1971 to encourage a crazy-quilt Canadian cultural mosaic rather than an American-style melting pot--has actually come to fruition.
But the biggest honour we can pay to Canadian architectural culture--all of Canadian culture, for that matter--is to talk about it, write about it, and--very important--fight about it. Some architects and critics have confided that, although they harbour their own criticisms of these texts, they would not want to air them publicly, lest they be seen as unsupportive of the cause. (And the "cause," by the way, is to generate some--any!--mainstream awareness of high-calibre Canadian architecture.) But in staying quiet, they condemn the cultural debate to oblivion. The highest compliment one can pay to a screed on Canadian culture, and to Canada itself, is not to generalize politely but to argue loudly and unabashedly about it.
Adele Weder is a contributing editor of Azure magazine and co-author of the upcoming book on the Canadian artist/designer B.C. Binning.