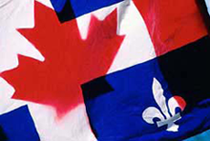 [Editor's note: Liberals from across Canada are today pouring into Montreal for their national convention. On Saturday, up to 5000 delegates, some elected, some there by virtue of party service, will vote on a new leader to battle Stephen Harper in the next federal election.
The question that has consumed that race, and now all of Canadian politics, is nationhood -- specifically, whether Quebec or the Quebecois constitute a nation within Canada. And, if so, whether that reality should be enshrined in the constitution.
Yesterday, the House of Commons voted overwhelmingly to adopt a government motion asserting that the Quebecois form a nation within a united Canada. But among those dissenting from the all-party consensus were three Liberal leadership contenders: Joe Volpe, Ken Dryden and Gerard Kennedy.
The Tyee's Laura Drake, who will be live blogging from the convention all week, spoke yesterday to one of the world's pre-eminent scholars on multi-national and post-national states about Quebec, the motion and the emerging philosophies of nationality.]
Richard Kearney is the Charles B. Seelig Chair of Philosophy at Boston College. He is the author of more than 20 books on European philosophy and literature and has edited or co-edited many more.
A native Irishman, Kearney has spent much of his adult trying to reconcile the seemingly irreconcilable claims to the northern quarter of his country. As early as 1983 the young philosopher was proposing, as a solution, the idea that multiple cultural and even national identities could exist in the single political space of Northern Ireland.
Kearney spent two formative years studying under Charles Taylor at McGill University in the mid- to late 1970s. He is also an old friend and admirer of Michael Ignatieff; the two would often spar on the BBC.
On Monday, he spoke to The Tyee from his office in Boston about his views on Quebec's nationhood, the parallels with the Irish situation and lessons to be learned from post-national Europe. Here is what Kearney had to say...
On his Canadian connection:
"I spent almost two years in Montreal at McGill University doing my master's thesis with Charles Taylor, who was himself a resident of Canada at one point. [He wrote] quite a lot on the question of cosmopolitanism, on what is the nation state and what is the status of Quebec: as a nation within the federation; as a separatist entity; as a nation with its own rights, and so on. So I was very influenced by that experience."
On historical parallels between Ireland and Quebec:
"I'm not sure many Canadians are that familiar with this, but the Irish language, the Gaelic language, was re-instated by the Irish government after independence in 1939. The Irish language became compulsory. You could not go to university; you could not get a job in government or the civil service without Irish.
"For many people in Quebec, certainly when I was there in the mid- to late 1970s, the revival of the language and the culture, and the survival of the Quebecois identity, and the francophone identity, was essential to the political revival.
"But I don't think, and I may be wrong, that the Quebecois have quite as great a sense of grievance at the hands of the British as the Irish did. Now, that's not to underestimate the sense of injustice or the certain sense of ascendancy that the more British community had in Quebec, I don't want to minimize that. But in Ireland, there was the famine, which decimated the population in the 1840s. Then there is a second trauma, which is the loss of the Irish language. And then there was the sense of religious persecution that I think extended to most of the other British colonies."
On the birth of post-national Ireland:
"It became very clear to us, in time, that to continue to lay claim to Northern Ireland, which was in our constitution, was in effect to cling to a unitary nationhood, a nationalist sense of nationhood, which could not be reconciled with the British unionist claim to a United Kingdom. You can't have a united Ireland and a United Kingdom...if you cling to the notion, as Britain and Ireland did until 1998, that to be British or Irish is to belong to certain national sovereign identity that is one and indivisible. That is the famous definition of sovereignty going back to Rousseau and Hobbes and Godin. Une et indivisible, one and indivisible. Now, if that's the case, you either have a united Ireland or you have a United Kingdom, but you can't have both because two into one don't go.
"Britain and Ireland had to accept their respective constitutional claims on Northern Ireland, and say, okay, we will have, for all intents and purposes, a form of shared sovereignty, or a form of post-sovereignty power sharing, where it won't be one and indivisible. There is a sense now that several peoples can inhabit the north of the island, and indeed the whole island, and that is not a point of contention anymore."
On adapting those lessons for Canada:
"How that is to be translated into Canadian terms is anyone's guess. But it would involve a post-unionist, post-nationalist mentality on the part of the competing communities, anglophone and francophone, in Quebec.
"Some of the separatist variety might reply, 'It's all very well for you to speak as an Irishman. You've had 60 years of independence or more as a republic before you decided to pool sovereignty with the British. You're already part of the European Union. We've never had it, so we need to go through it, like the Baltic states and the ex-Soviet states.'
"So that's a tricky one. How you tell the Quebecois, who have never enjoyed full independence, to now try to move beyond nationalism without getting that reaction against the majoritarian rule? And it's very understandable, that nationalist reaction. But one must take the second step beyond that to a post-nationalist solution. It doesn't mean reneging on your nationality or your national language, culture, civility, whatever, but it means carrying it forward to new levels where it can be shared."
On post-national Europe:
"Take any nation state in Europe and you'll find similar claims by minority nationalist groups to some kind of independent status. Within the EU, it is very encouraging and gratifying to see how these micro-nationalist minority claims have been accommodated. The Catalans in Barcelona, the Basque now, the Bretons in France have all managed to receive a certain devolved, quasi-autonomist rule. I think people who don't want a sense of multiple accommodation can look at these examples.
"In that respect, I think it is very useful to look to other groups who have felt very aggrieved and marginalized and see how today with the evolving political model we are all moving on from the absolutist nation state. In other words, once it's layered, it takes the harm out of it. It's no longer the Basques against Madrid, the Bretons against Paris, the Scots against London and Westminster.
"I think the idea that any piece of territory belongs to one people and that those people are one and indivisible is really anachronistic at this point. So I do think that the Quebecois people are capable of achieving a post-nationalist mentality and principle and attitude while safeguarding all that is sacred and singular in the Quebecois tradition.
On the nation motion:
"Michael Ignatieff is an old friend of mine, an old sparring partner on some of the BBC programs...but I don't actually know what his position is on this motion.
"My own would be that if acknowledging Quebec as a distinct nation does not involve granting secession to them as an independent nation state, then I would say absolutely, do it. Ditto for the Inuit nation and any other nation that may be in the Canadian community.
"So if that's what it involved, if it's a cultural recognition, rather than, well even social and political up to a point, but stopping short of independent statehood, then I would think it's very wise.
"I think there's a fine line, and an important one, between acknowledging someone's separate national identity at a cultural level and at a political level. I think if it can be granted culturally, then there's far less room for it to be granted politically in an absolute sense.
"I'm all for economic regions like we have in Europe where the most decisions that can be made at the local level are made at the local level. No decision should be made at a higher level that can be made at a lower level. I think you can do that culturally, socially, fiscally, regionally and therefore politically without going the whole hog, as it were, toward separate nation statehood."