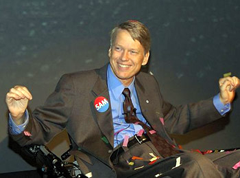 [Editor's note: This is the first of three opinion pieces by Berner questioning Vancouver's commitment to one of the four pillars of its 'harm reduction' approach to drug abuse: treatment.]
Love the guy. Helped get him elected. But, let's be honest. On this subject, at least, he's on the other side of the moon. He's so far out, that one day they'll name a new planet after him.
I speak of the Mayor of Vancouver, Sam Sullivan. And I speak of addictions. Drugs and alcohol. Heroin, cocaine, crystal meth, booze. Even his handlers have told him to be quiet on this topic. How do I know this? I know because they have told me so.
Nobody in the known world shares his unique perspective. How could they? You would have to be in a wheelchair. And you would have to believe that the wheelchair is the best metaphor for understanding addictions.
How do I know this? Because I have had this exact discussion with His Honor many times over many years. Recently, for example, I met with Mayor Sullivan on the third floor of city hall just before he left for the Torino Olympics. And even more recently, I called him on the phone to verify the notes I took at that meeting.
Yelling at Sam
The first time Sam Sullivan and I talked about drug addiction was in an annoyingly pretentious and mediocre restaurant on West 10th Avenue about five years ago. On that occasion, I became so angry that I actually jumped up at the table and started hollering. Sam loved this. There is the perennial teenager about him that just gets such a kick out of seeing grown men turn stupid. These days, I am calm in the face of his nuttiness. I love the guy. I tell him he's wrong. And he tells me that one day I will see that he's right.
Here's what the Mayor of Vancouver believes about addictions.
"I am in a wheelchair. When I was 19, I did something stupid on the ski slopes and I broke my neck. For quite a while, I lay in a hospital bed and bemoaned the fact that now I was a quadriplegic. Eventually, I tired of that. I asked myself "What can I do now?" Here I am, years later, the mayor of Vancouver. It would have been unbearably cruel for someone to suggest that one day I would walk again. I had to face up to my reality and deal with it. And I have.
"Now, addicts are like me. They have a disability. And they will always have this disability. It is a waste of time and money to pretend to them and to ourselves that they will ever change. So what we should do is make them more comfortable! Remove the criminality, give them their drugs and let them choose what they do and want to do next."
Invest in treatment?
The gist of my discussions with the mayor is this. I want to know if we, in the city of Vancouver, are actively and rigorously working to create treatment for drug addicts. The Mayor, who clearly believes that treatment is usually expensive and most often ineffective, dodges and weaves in his answers. What becomes clear is that he has a bias and no plan.
"I believe we should ask the addict what he needs from society. The cocaine addict will tell you that if he could chew cocoa leaves, he would get just enough of a fix to keep him from stealing." This is what the mayor of Vancouver told me.
When you ask the mayor to get away from theory and abstractions and tell you in plain English if he is committed to treatment, if he supports treatment, if the city has plans for treatment, if treatment is high on his agenda, he says the following.
"There are several types of addictions. Some are emotional, some are physical. For some people, this problem will heal itself. In time. Meanwhile, we should keep them healthy, so that when they're ready, they can get back to life."
So you ask the mayor again to please be specific and tell us if he has any real plans for treatment. He says "Give people the tools to manage. Some can do it with abstinence and counselling. Others seem to require a low maintenance amount of drugs."
You try again to get a comment on public policy. Is treatment high on your agenda as mayor of Vancouver?
"Yes, but it shouldn't be paid for by property taxpayers. Drug treatment is not for tax payers." Huh?
"There are long-term problems you can manage," the mayor continues, "and problems you can fix."
But are you putting money into treatment? How much treatment? What kind of treatment?
"Oh, we're moving with Coastal health to get more beds, but this is clearly a provincial responsibility."
Are you vigorously pursuing Gordon Campbell to create treatment in Vancouver?
"Well, there are many options we should look at."
Coy politician
In David Lean's epic movie "Lawrence of Arabia," there is this wonderful exchange between Arthur Kennedy playing a journalist and Omar Sharif as a Saudi prince:
"Did I answer well?" asks the warrior prince.
"You answered without saying anything. That's politics," says the writer.
The mayor and I had one of our conversations just before he left for the Winter Games in Torino. That day, the mayor was heading downtown to meet with five prostitutes. He wants to give them free heroin. Well, nothing's free, is it? You'll pay for this and your grandmother who has to pay for her own needles to inject her insulin will pay for this.
So I say to the mayor "Let's say I agree with this scheme - which, as you know, I decidedly do not - but, let's say I do. Then what? You'll give the girls dope, and that will lead to breaking the whole cycle of their street whore culture, jobs, schools, what?"
"Not my concern," he says. "People gave me the wheelchair. What I did with my life was my problem."
The mayor knows that in his case, the notion of "hope" would be an ugly illusion. He has now projected this idea onto all people with addictions, and for them, he abandons hope. He offers, instead, what he considers a comfort.
Cold comfort, indeed.
The mayor believes that prostitutes' problems and addicts' problems are insoluble and that these problems should be managed. The mayor is enshrining slavery.
Tomorrow, I will explain how I came to my own position on these issues.
David Berner is a writer, actor and radio talk show host who also happens to have run a treatment program for addicts.