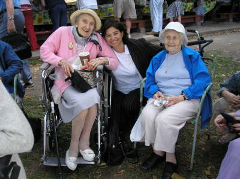 When I volunteered last fall to be the media guy for Sherry Shaghaghi and the NDP in North Vancouver, I thought it would be a pretty straightforward business, made easier (and more interactive) by the Internet.
We would crank out news releases and email them to a host of outlets. We would put up a website with background on the candidate. I'd help arrange interviews, polish the text of ads and do whatever else needed doing. Voters would raise questions and we'd answer them.
After more than 15 years of exploring the Internet and the Web, I figured I was ahead of most of the competition. In the run-up to the Conservatives' leadership race a couple of years ago, I'd even run a story in The Tyee about how little Web savvy our politicians had.
Instead, I learned how little Web savvy I had.
Political campaigns have changed a lot since I was last involved in them, back in the early 1980s. Those were the days of canvassing neighbourhoods door to door, identifying the few supporters in a throng of opponents. Lawn signs were cardboard, sure to rot in the rain. Phone banks were a novelty. In one campaign, I recall a primitive computer being used to track the votes as our scrutineers called in the results.
Perhaps, in some campaigns, they still use canvassers and phone banks. Our campaign had few volunteers and little money. Without going online, we would hardly have had a campaign at all.
But it wasn't just a matter of using email to save on postage. Online political campaigning (at least in the 2006 election) now seems caught between two radically different communication models.
The FedEx model rules
The standard communication model is one-way: send a message that will cause the receiver to do what you want: Buy the product, write the exam, vote for the candidate. I call this the FedEx model, because all it wants to do is deliver the package and get you to sign for it.
This is the traditional model for print, radio, TV and film. Hundreds of thousands of people read a given story in the local paper or on the radio station. Less than one percent actually respond to it and still fewer see their letters published. Email has made it easier to respond. But the message is still essentially one-way, and the message is: do what we say.
Online communication, however, is two-way: send a message, get a response, send another message based on the response. Comments on Tyee articles are a good example. They wander off in directions as unpredictable as any other conversation. The message in this interactive model isn't a command but a question: is this what you want?
This difference in models is a big reason why people increasingly seek news on the Web instead of from TV and the papers. But political campaigns are still committed to the FedEx model and this posed real problems for an underfunded, understaffed operation like ours.
Staying in the Message Box
We were sternly advised not to stray out of the "Message Box." It didn't matter if it was a candidate's speech, or a leaflet's text, or a letter to a constituent. Creativity was not acceptable.
If we left the Message Box, the media would pounce on us the way they had on Randy White in 2004. An ill-chosen remark could cost thousands of votes and who knew how many NDP seats.
To make sure we stayed in the Box, we had to send voters' queries to Candidate Support, which would post party-approved responses on a password-protected site. We could then copy the responses and send them out. Eventually we even got the whole party platform, though it was little use for the flood of email we were dealing with.
Soon after the letters started to come in, I sensed an awful problem. Within a week or two, I knew I was whipped and that Kim Campbell had been right. An election campaign really is no time to debate issues. Even getting out the basic message is almost impossible.
North Vancouver voters wanted our candidate's views on a host of questions: cruelty to animals, support for Canadian TV drama, support for Canadian cultural sovereignty, providing enough aircrew to ensure safety on Air Canada flights, co-op housing, special-needs children, children with autism, breast cancer and support for the visual arts.
In many cases, the same people sent the same message several times. Others wanted answers to several questions. A couple of them wanted to start a cozy chat with the candidate about whether an MP should support her voters' opinions, or her party's position.
I could send these questions to Candidate Support, and then check back to see what the official party line was. But the answers weren't always quick in coming.
Worse yet, our answers had to come from the candidate herself, or at least someone with access to her email account. This meant emailing Candidate Support and then checking back for a reply. The reply then had to be tailored to individual voters ("Dear Ms. Smith"), and sent (with Ms. Smith's email address) to the campaign office. There, some overworked volunteer could fire off the letter with the candidate's name, using the candidate's email address.
Maybe a full-time media boss, with excellent technical skills, could have handled it. I couldn't, even with volunteers willing to help. The sheer volume of correspondence was too great. Much of it was from supporters who had no idea what their letters were costing us in time and energy.
Another problem was pure technology: creating and maintaining a website that would support the party's views, while still conveying something of the candidate's personality and opinions. We did have one or two technically skilled people, but we couldn't match Conservative Cindy Silver's website. We were running Canada's first Iranian-Canadian candidate for parliament, but Silver had a page in Farsi and we didn't.
Supporters hard to reach
Reaching our own people wasn't easy, either. Many North Shore New Democrats are senior citizens and not all have email. Others didn't want to provide their email addresses. So I could write electronic newsletters about the campaign and our need for funds, but I couldn't reach even half our membership.
One consolation was that I could, at least, reach scores of media outlets, from the major newspapers and TV stations to individual political blogs (not to mention The Tyee). Our news releases did have some impact, and resulted in inquiries from many editors and program producers.
These were great opportunities, but we then ran head-first into the Conservatives' version of the Message Box: remembering Randy White, they simply refused to talk. Cindy Silver didn't show up for an all-candidates' meeting at Cap College. Worse yet, when North Van candidates were invited on to Don Newman's "Politics" program on CBC Newsworld, Silver first argued about the right day and then bowed out altogether. The interview was cancelled.
How to do it next time
After election day, I had time to reflect on the campaign. In the 1970s, getting the message out had been a straight FedEx proposition. Interaction had been reserved for door-knocking and all-candidates' meeting. Otherwise, it was all leaflets, signs and ads.
Now, we should have been interacting everywhere, especially in a campaign that couldn't afford to spend much on print media. Instead, the Internet almost paralyzed the campaign. The avalanche of letters couldn't be efficiently answered. Other tasks went undone. Even when we could use the Web and email, it was only to pass along the Message Box just as Candidate Support had passed it along to us.
I can see how an online campaign might have worked better. With four or five full-time volunteers, a couple of them with good Web skills, we could have kept the candidate's website steadily updated. We could have used a blog to post answers to voters' questions. We could have worked more aggressively to get the candidate into other media through interviews and events.
Perhaps many of our mistakes were the result of my own ignorance. Maybe other NDP campaigns ticked smoothly along, answering their emails and FedExing the Message Box to thousands of supporters. If so, I'll try to learn their techniques before the next election.
Thinking outside the message box
But the Internet and traditional political campaigns are still at odds with one another. The politicians are still thinking ballistically, trying to blast a one-way message through the voters' thick skulls. The idea of an online conversation with the voters-with an unpredictable, unscripted outcome-is literally unthinkable. Better to strap down the loose cannons in every party, keep repeating The Message and hope it works.
At some point, however, we will all spend so much of our lives online that the FedEx strategy will simply not work anymore. Not in the next election, maybe not in the one after that, but some day, a party will run an improvisational, interactive online campaign. It may start a year or two before the balloting, but it will continue the conversation with voters right up into the last week. Then the conversation will resume after E-day.
Just as interactive education scares a lot of teachers, interactive politics must scare a lot of politicians. But so did votes for women, votes for Asians and First Nations and votes for people under 21. When politicians and voters actually start talking with one another, something like democracy might finally arise in 21st-century Canada.
Crawford Kilian, a frequent contributor to The Tyee, teaches at Capilano College.