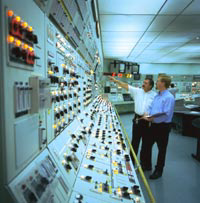 I sit here in my London hotel room and, dammit, it's New Years Eve and it's my bloody birthday (around 39 or so) and as I read what used to be a great paper, the Times - now a tab - the current "Battle of Britain" is over energy.
Sounds like home. Except the Brits don't have much of a hydro option for electricity.
So, instead of worrying about the ravages of age, I thought I'd worry about our own energy problems. While we think of oil and gas depletion in the sense of gas for our cars and electric power as two different things, they are, of course, connected. As is the issue of exporting large quantities of water, but we'll worry about water another day.
Let's start the worry beads by looking at electrical energy and what we're going to do. It seems that the name of the game is wait until our hand is forced and we take the line of least resistance: Site C. We, that is those of us who live in populated areas, think this is the best way because it harms the environment the least - a point you might, if you were a moose or deer, vehemently contend. There is no question that once you have done the environmental damage associated with hydro-electrical power, you're mostly home free.
But are there alternatives?
Earth, wind and fire
Few would argue that we shouldn't get our power from burning oil or natural gas. Even if technology were such that we could fire our turbines with oil and natural gas with little impact on the atmosphere, we get into the other little problem - we're running out of the stuff.
So, what about coal? We're told that with brand-spanking new technology, coal may be a viable alternative. The coal folks tell us that that our prejudices against coal are unreasonable and the science has the answers and to the extent they don't, they will. And coal we have plenty of. Maybe. But my guess is that coal will be a tough sell no matter how persuasive the men in white lab coats are. Those images of the black London of "grimes" and Mary Poppins are strong, indeed.
We also have, of course, the aging 60s hippy-dippy crowd who think that windmills and tidal power are the answer. They may be as long as the question is "how can we get some intermittent, unreliable power?" Both methods carry with them environmental impacts, though, admittedly, nothing like oil, gas and coal do. Anyone who has driven through miles and miles of windmills as in Anglesey in Wales or in Denmark might well think that when it comes to eyesores, only a clear-cut is worse and that clear-cuts eventually heal themselves. And the wind isn't always blowing nor the tides always running.
Going nuclear?
I pause now and urge you to adjourn to the kitchen for a moment - just long enough to pour a stiff Scotch - because I'm going to throw in a word that will give rise to a need for a strong restorative.
Nuclear. What about nuclear? There, I spat it out! Give it at least a fleeting moment's thought.
As long as we in BC had a supply of rivers to bugger up and would tolerate oil or gas powered energy plants, we could sit back and chortle at all those saps in Ontario, parts of the US and Britain who were prepared to glow in the dark for their electricity.
I carry no brief for nuclear - hell, I think photo copy machines are going to nuke me! -- I only ask a couple of questions. What about the safety issue? Are we really to take Chernobyl as the standard by which we judge this issue? A Soviet nuclear plant used years after its recommended shelf life?
What about Three Mile Island? Well, as the wag said, more people died in the front seat of Senator Ted Kennedy's car than died at Three Mile Island!
But what about the problem, big time problem, of getting rid of nuclear waste? Good point and it must be successfully addressed. But if it can, doesn't that make nuclear an option?
Perhaps - but we're told that they are too expensive, taking into account start-up costs, maintenance and their short life-spans. But is that a modern assessment, or one based on 40-year-old technology?
Leave it to the Russians?
These and other questions must be answered, but first they must be asked of those who should know about those things.
My sole argument is that before we make long-term plans for electrical energy, all options should be on the table and debated. All options have financial and environmental problems to be assessed. I believe that because we have a long history of hydro-electric power we are blind to its faults and, to salve our consciences over the environmental wreckage dams cause, we point to other power sources as being worse. Do we do that because we are well informed or because we are biased?
If Site C and other hydro-electric propositions are the best way to go, surely those who propose them can meet the arguments of others. And while their meeting the arguments, I'd ask them if a new version of the Kemano Completion Plan is part of the package?
That's all I ask, a full debate so we (especially I) can be better informed when the decision is to be made. I agree, though, this is not how we usually do things, but it's a novel approach perhaps worth trying.
Postscript: This will make you all feel better. Within a decade, we will, at least in part, depend upon Russian natural gas. Their gas company, GAZPROM, not yet reseized by the government, has just trebled their price to the Ukraine and have threatened to turn the taps off if they don't get paid - yes, right in the middle of winter!
Rafe Mair writes a Monday column for The Tyee. His website is www.rafeonline.com.