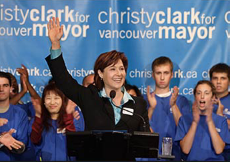 Welcome to The Tyee's all new 'Fast Rewind' of the headlines -- and day 3006 of the CBC lockout. Our top story... Liberal leadership hopeful Christie Clark was run over this weekend by a man in a wheelchair.... Clark says she's, "not bitter about losing the race to lead the Liberals, I mean COPE, I mean the NPA in the next provincial, I mean civic election." However, Clark says the next time she runs for Mayor, she'll try it in a city she actually lives in.
If CBC TV ever returns, Da Vinci's Inquest is set to follow the man who inspired the series from the coroner's office to the Mayor's chair in Da Vinci City Hall. Asked why the popular police drama is moving from the coroner's office to twelfth and Cambie, a CBC spokesman explained, "because Vancouver City Hall is so much bloodier than the coroner's office."
The lawyer for the B.C. Teacher's Federation, Diane MacDonald, claims that a three-month strike, "won't hurt students." Said a BCTF spokesman, "Our lawyer really said that... Tell me you're kidding... please, please tell me your kidding... aw shit." Nope. Not kidding... Explained MacDonald, "everybody knows these kids just ignore teachers all year until it's time to cram for exams.'"
Outsource this
Rumours are spreading of a major breakthrough on the Telus lockout. Telus has announced plans to ship their locked out workers to India.
Actually, the Telus labour situation appears to be improving. Management says "the union's concerns are important to them and they will be answered in sequence with the next available contract."
According to a new survey, homelessness in BC has doubled over the last three years. Says BC Premier, Gordon Campbell, "Who says our government didn't accomplish anything."
The Surrey School Board has denied that they canceled plans to produce a play about the murder of Matthew Shepherd because they're homophobic. Said a board spokesman, "we're not homophobic, we just don't like gay people."
The courts have ruled that nine A & W employees can finally get a taste of their multimillion dollar lottery win. Asked how they plan to celebrate, the employees answered... "By never eating a damn Teen Burger again."
In National news...
Tory leader Stephen Harper's support continues to grow... among members of the Liberals and NDP. Some Tory members have suggested replacing Harper with Peter Mackay - at least until Mackay can find a date to the prom.
New polls show Conservative support continuing to plummet - even in Alberta. But Harper says he "doesn't believe in polls." Or gay rights, abortion or evolution...
In keeping with the Tory spirit, MP Nina Grewal is campaigning to raise the age of consent for sex from fourteen to "until you're married."
Black days
Meanwhile, in Quebec, Justice Gomery has released his preliminary findings that state, "most key Liberals including Paul Martin are guilty of corruption, fraud, treason and should be indicted, imprisoned and forced to share a cell with Conrad Black - but I still ain't voting for that redneck, Harper."
Speaking of Lord Black - or as he's soon to be better known, prisoner 60708-1 -- his right hand man, David Radler, has been sentenced to twenty nine months in jail for criminal fraud. However, some senior Tyee staffers are still hoping he'll also be standing trial for crimes against journalism.
Following revelations that former Prime Minister Brian Mulroney called Jean Chretien, "an asshole," Joe Clark, "stupid," Kim Campbell, "vain" and "incompetent" and Pierre Trudeau a short, ugly, cowardly, bully, his approval ratings are at an all-time high. But 90 percent of people surveyed say they still wish he'd shut the hell up on Canadian Idol.
In International News...
The US has now raised hundreds of millions of dollars in relief money for hurricane Katrina. And president George Bush has pledged to spend all of it... rebuilding Senator Trent Lott's house. The US President has just completed another visit to New Orleans and has declared the emergency officially over... Said Bush, "I drove my Chevy to the levy and the levy was dry and good old boys were drinking whisky and rye." However, just to be safe, President Bush has declared war against hurricanes.
CBC chic
In entertainment news...
Today on the CBC, your national network, don't miss Antiques Roadshow followed by Antiques Roadshow, a BBC special report on how Tony Blair vanished up George Bush's colon followed by the BBC News and a very special episode of Antiques Roadshow.
Public broadcasting fans looking for Canadian content can always log onto the Internet where CBC podcasters in Saskatoon, Toronto, Ottawa and Edmonton interview locked out worked about life on the picket lines, Shelagh Rogers travels to Iqualuit to ask the locals what they think of CBC management, The Tragically Hip sing a new ditty about the importance of the CBC and Don Cherry, Rick Mercer and Peter Mansbridge sing "Solidarity Forever".
Even if the CBC lockout continues, Hockey Night in Canada will be back on the air. Apparently if an agreement isn't reached before the NHL's opening night, the dispute will be settled with a shootout.
Britney Spears had a baby boy and mom's proud to report that little Sean Preston has already had his navel pierced... Actually, it wasn't his navel but kids might be reading this...
Supermodel Kate Moss - one of the women responsible for creating heroin chic - has lost a multimillion dollar modeling contract with fashion giant H&M because she was photographed using cocaine. Said an H&M spokesman, "we'd hired Kate to be a proper role model, for young ladies. You know... a slutty anorexic. "
Mark Leiren - Young, a screenwriter, playwright and journalist, will be filing his 'Fast Rewinds' of the news in BC and beyond monthly or maybe more often depending on how good the raw material.