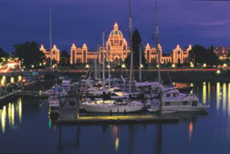 A mournful sadness fell over British Columbia recently as November gave way to December. From Victoria to Vanderhoof, Princeton to Prince George, the Kootenay bus loop to the Kootenays, residents silently went about their daily affairs with eyes downcast, fearful that voicing their inner-most thoughts would bring uncontrollable tears.
The children, as always, were the first to speak. Over dinner tables around the province, boys and girls beseeched their parents to explain the heartbreaking turn of events. "Why, mommy? Why, daddy?" they wailed, "Why didn't Gordon Campbell have an open cabinet meeting in November? He promised in the 2001 election campaign to hold one every month!" A few precocious children made a startling observation: "The government didn't have an open cabinet meeting in October, either. That's two months in a row they've missed!" But mothers and fathers had no answer, and as they tucked their children into bed, they knew that a fitful sleep would be the best that anyone would....
Phooey. The fact is, few people noticed when the Campbell government failed to hold its promised "monthly" open cabinet meeting either in October or November. Certainly, no one cared. (With the probable exception of Western Pro Show Rentals Ltd., the Liberal-friendly firm which to date has been paid about three-quarters of a million dollars to televise the cabinet snorefests.)

It is increasingly evident that many if not all of the 'reform' initiatives the B.C. Liberals presented to voters in 2001 were simple election gimmicks. Does any one recall the 'Waste Buster' web-site?
Died on the vine
Three-and-a-half years after the election, these political artifices are taken seriously by nobody, and especially by the Campbell government. The open cabinet meetings merely are the most obvious of the failed initiatives.
A New Era for British Columbia was the B.C. Liberals' 2001 election platform. One of the key commitments therein was to have "the most open, accountable and democratic government in Canada." To that end there were two specific New Era promises:

* "Hold open Cabinet meetings at least once a month that are televised and broadcast live on the Internet."
* "Ensure that major capital spending decisions and land-use decisions involving the Agricultural Land Reserve, new parks, land claims and tenure reform are decided by Cabinet in public, and not behind closed doors."
The first open cabinet meeting was held June 27, 2001, three weeks after the B.C. Liberal government took power. The meeting opened with new premier Campbell observing that the monthly confabs were "a commitment that we made during the election, and it's one that we intend to keep."
Hardly. Over the past 41 months, the Campbell government has found time for just 30 open cabinet meetings.

Zzzzzzz…
But worse than failing to meet their promised schedule is the steadily deteriorating content of the meetings that are held. Consider the most recent, on September 29. It opened with Campbell's rambling monologue in which he reviewed discussions over the previous several months with luminaries such as other premiers. Nearly 20 sleep-inducing minutes passed before the proceedings were turned over to health minister Colin Hansen, who cheekily likened Campbell's soliloquy to "How You Spent Your Summer Vacation".
Hansen then plodded through an eye-glazing 'Health Update', followed by education minister Tom Christensen's benumbing report on 'Literacy,' after which community services minister George Abbott tortured observers with a review of 'Drought Preparedness.' Those not yet in a deep slumber were treated to a narcoleptic 'Agricultural Update' by agriculture minister John Van Dongen. Finally, after two hours-plus of this stupefying drivel, ministers roused themselves and adjourned, presumably to go to a real cabinet meeting behind closed doors.
Simply, the Campbell government's infrequent open cabinet meetings fail to examine topics either weighty or interesting. To a large extent this is because our provincial government, like all others operating under the British parliamentary system, is bound by the principles of cabinet solidarity and confidentiality.
The closed door tradition
British parliamentary tradition holds that the government (also known as the 'cabinet', and in Canada's provinces is officially called the 'Executive Council') have to stand united behind its policy decisions. That is, once the government has decided on a policy, all cabinet ministers are required to support and defend it. A minister unwilling to do so, in parliament and in public, must resign.
However, prior to the cabinet arriving at a policy decision, government ministers are expected to participate in 'a full and frank' discussion, examining all aspects of the issue at hand. Not surprisingly, disagreements often arise as some ministers prefer one course of action, while others opt for another, or several others. But once a consensus has been reached and a decision made, all disagreements are ended. The government must speak with one voice.
These cabinet discussions are kept confidential, so that those ministers on the losing side of a debate are not viewed or attacked as hypocrites by their political opponents, the press, or the public. Although in cabinet they had argued for a specific policy course, and lost, afterward they must promote and defend in public the policy they earlier had opposed.
It is tempting to conclude that Gordon Campbell, whose governmental experience is grounded in municipal affairs, simply was unaware of this parliamentary convention when he promised open cabinet meetings. He mistakenly believed that the Executive Council was identical or similar to a municipal council, where councillors or aldermen openly debate policy issues and those on the losing side may continue to oppose a policy long after it has been decided.
He evidently also was unfamiliar with British Columbia's decade-old Freedom of Information and Protection of Privacy Act. Section 12 of the statute requires the government to keep secret, for a period of at least 15 years, "the substance of deliberations of the Executive Council or any of its committees, including any advice, recommendations, policy considerations or draft legislation or regulations submitted or prepared to the Executive Council or any of its committees." Section 13 allows some information to be released after just five years, if the cabinet already has publicly announced its decision.
Never serious?
The phrase "substance of deliberations" casts a very wide net, one which could prevent the release of every scrap of information associated with meetings of the cabinet. Yet, Campbell and his colleagues, had they been truly serious about opening-up cabinet deliberations, could have amended the privacy statute to narrow the definition of information to be kept secret; or, alternatively, to broaden the type of information made available to the public. They did neither.
Instead, the Campbell government passed an order-in-council (a decision in a closed meeting of the Executive Council) to expand the description of information to be shielded from British Columbians. In our province, cabinet confidentiality now covers B.C. Liberal MLAs who are not in the cabinet, when they participate in committee meetings with cabinet ministers.
One might think that the B.C. Liberals would maintain at least the pretense of a commitment to open cabinet and open government. But consider the recent request by TransLink for additional taxpayer funds to cover the over-budget RAV line. Transportation minister Kevin Falcon acknowledged to the news media that he had received TransLink's plea for extra funding, but then refused to disclose the amount being sought until consulting with his cabinet colleagues. The next day, it was announced that the province would give TransLink an additional $65 million on top of the $300 million already approved. The decision had been made behind closed doors.

Recall, as mentioned earlier, that one of the New Era commitments was to "Ensure that major capital spending decisions.... are decided by Cabinet in public, and not behind closed doors." And here is what Campbell said at the first open cabinet meeting: "... all major Capital projects and approvals and decisions will be made here in open Cabinet. ... It would include things like the SkyTrain expansion project. There's no reason why those decisions can't be made in public and they will be."

Fading charade
Well, that was then. The additional $65 million going to RAV qualifies as a "major capital project," but the B.C. Liberal government evidently just couldn't be bothered to discuss TransLink's funding plea openly before British Columbia's taxpayers.

Fortunately, the open cabinet charade is dying a slow death. There 10 such meetings in 2002, eight in 2003, and five to date in 2004. As their term in government draws to a close, it would be appropriate for the B.C. Liberals to promise that, if re-elected, they will never again waste taxpayers' funds on televised cabinet meetings.

It will be bad news for Western Pro Show Rentals Ltd., but mothers and fathers, boys and girls around the province will sleep soundly.

Will McMartin a former Socred advisor and political consultant, is a member of CBC Radio's "Early Edition" political panel and writes a regular column for The Tyee.